Second Annual ASR Science Team Meeting Takes Place in San Antonio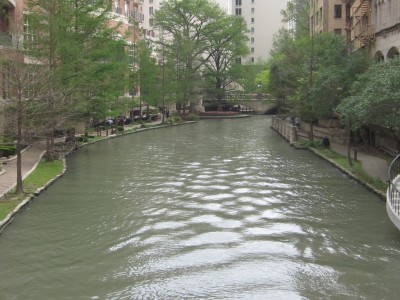 From March 27–April 1, more than 300 participants attended the second annual Atmospheric System Research (ASR) meeting in San Antonio, Texas. This meeting allowed attendees to discuss ASR's core scientific themes and share findings from the past year through posters, talks, and breakout sessions.
Monday's session opened with an orientation to the ARM Climate Research Facility for new and current principal investigators. Plenary sessions on Tuesday, Wednesday, and Thursday morning featured:
ASR programmatic updates from Ashley Williamson, ASR Program Manager, who discussed the goals and status of the program.
An overview of the DOE Climate and Environmental Sciences Division's Climate Modeling programs from Dorothy Koch, manager of the Earth System Modeling program.
An overview of focus groups, formally organized groups that help coordinate and support ASR scientific efforts, presented by Cloud Life Cycle co-chair Matthew Shupe.
Working Group overviews from the Aerosol Life Cycle; Cloud Life Cycle; and Cloud, Aerosol, and Precipitation Interactions group chairs.
Talks from invited speakers Xiaohong Liu, from Pacific Northwest National Laboratory; Robert Houze, from the University of Washington; and Athanasios Nenes, from the Georgia Institute of Technology.

In poster sessions on Tuesday and Wednesday afternoon, attendees presented more than 240 posters in the subject areas of aerosol-cloud-radiation interactions, aerosol properties, atmospheric state and surface, cloud properties, dynamics/vertical motion, field campaigns, infrastructure and outreach, instruments, modeling, precipitation, and radiation. Individual posters were selected for oral presentations throughout the week.

Breakout sessions throughout the week focused on results from previous field campaigns, planning for upcoming field campaigns, and program focus areas.

During Thursday morning's plenary session, People's Choice Poster Awards, voted on by meeting attendees, were presented to Mark Ivey (Sandia National Laboratories), Giri Palanisamy (Oak Ridge National Laboratory), and Mike Ritsche (Argonne National Laboratory). Student Poster Awards selected by the working group chairs were presented to Puneet Chhabra, Stuart Evans, Chunsong Lu, Joanna Slawinska, Sarah Suda, and Kara Sulia.

The meeting wrapped up on Thursday afternoon with breakout sessions for the Working Groups, and attendees were encouraged to participate in the group most closely aligned with their research area. See the ASR meeting website for the full meeting agenda and presentation PDFs.