Program Members Gather in Virginia for Third Annual Atmospheric System Research Science Team Meeting
From March 12–16, more than 300 participants attended the third annual Atmospheric System Research (ASR) meeting in Arlington, Virginia. This meeting allowed attendees to discuss ASR's core scientific themes and share findings from the past year through posters, talks, and breakout sessions.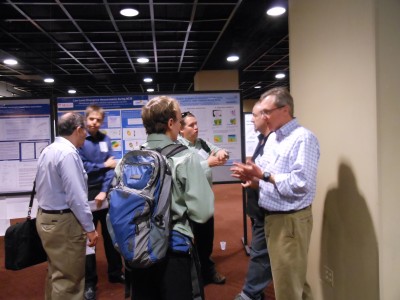 Monday's session opened with an orientation to the
ARM Climate Research Facility
for new and current principal investigators. Plenary sessions on Tuesday, Wednesday, and Thursday morning featured:
Sharlene Weatherwax, Associate Director of Science for Biological and Environmental Research
Gerald Geernaert, Director, Climate & Environmental Science Division
ASR programmatic updates from Ashley Williamson, ASR Program Manager, who discussed the goals and status of the program
Invited presentations from ASR principal investigators Stephen Klein, from Lawrence Livermore National Laboratory; Graham Feingold, from NOAA Earth System Research Laboratory; and John Seinfeld, from the California Institute of Technology
Selected principal investigator talks for the Cloud Life Cycle, Aerosol Life Cycle, and Cloud-Aerosol-Precipitation Interactions (CAPI)
Field campaign talks focusing on three recent campaigns: Carbonaceous Aerosols and Radiative Effects Study (CARES), presented by Rahul Zaveri; the two phases of the Radiative Heating in Underexplored Bands (RHUBC) campaign, presented by David Turner; and the Tropical Warm Pool-International Cloud Experiment (TWP-ICE), presented by Ann Fridlind.
In poster sessions on Tuesday and Wednesday afternoon, attendees presented more than 240 posters in the subject areas of aerosol-cloud-radiation interactions, aerosol properties, atmospheric state and surface, cloud properties, dynamics/vertical motion, field campaigns, infrastructure and outreach, instruments, modeling, precipitation, and radiation.
Breakout sessions throughout the week focused on results from previous field campaigns, planning for upcoming field campaigns, and program focus areas. Two breakout sessions also discussed plans for ARM's two new sites, a fixed site in the Azores and an extended-facility mobile deployment in Oliktok, Alaska.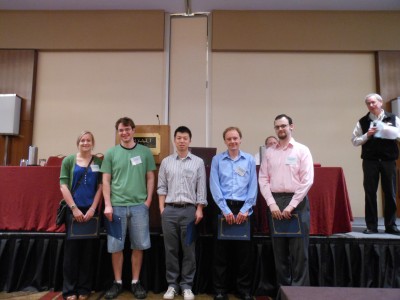 During Thursday morning's plenary session, Student Poster Awards selected by the working group chairs were presented to Sara Christensen, Jeffrey Curtis, Matthew Dawson, Guo Yu, Tyler Thorsen, and Adam Varble.
The meeting wrapped up on Thursday afternoon with breakout sessions for the working groups, and attendees were encouraged to participate in the group most closely aligned with their research area. See the ASR meeting website for the full meeting agenda and presentation PDFs.