2017 Joint Meeting Well Attended Despite Spring Nor'easter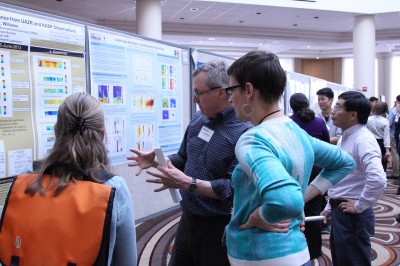 About 285 Atmospheric System Research (ASR) scientists and Atmospheric Radiation Measurement (ARM) Climate Research Facility staff met March 13 to 16—in the middle of a major snow storm—at the 2017 Joint User Facility/Principal Investigator Meeting in Tysons Corner, Virginia, to review progress from the past year and plan future research directions.
With a reorganized agenda, ASR scientists and ARM staff kicked off the meeting with an introduction lunch meeting for new principal investigators (PI) to learn about ASR programmatic expectations and the who-is-who at the ARM Facility, followed by an afternoon of topical meetings.
The three-and-a-half-day meeting opened officially on Tuesday with a plenary that included updates from U.S. Department of Energy (DOE) program managers, a tutorial on scientific product development led by the ARM Facility, and a chance for the four new working groups—Aerosol Processes, Warm Boundary Layer Processes, High Latitude Processes, and Convective Processes—to meet for the first time.
Posters sessions were held late afternoon both Tuesday and Wednesday, after full days of plenary and breakout meeting sessions.
With over 30 plenary presentations, 36 breakout sessions, and 200 science and facility posters in 4 posters sessions, the meeting shared a wealth of information in a very short time frame. You can view the presentations and posters on the ASR meeting website or view the meeting image album.
If you attended, don't forget to UPLOAD your presentations, posters, and breakout reports directly on the agenda web page with links provided next to the agenda item. A form to fill out breakout session reports will be provided by selecting "Submit Summary."
Contact pubs@arm.gov if you need assistance or have a question.
# # #
This work was supported by the U.S. Department of Energy's Office of Science, Office of Biological and Environmental Research as part of the Atmospheric System Research Program.