Data Reveal Smoke Aerosol Presence Higher Than Previously Believed
Particles causing atmospheric changes are common in mid-Atlantic boundary layer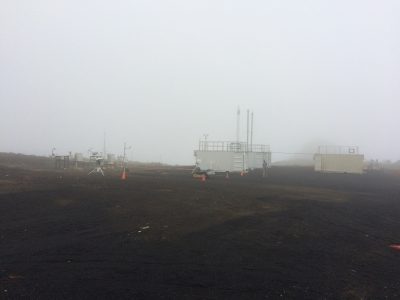 Southern Africa is among the world's largest emitters of biomass-burning aerosols (tiny particles in the air). Their westward transport over the remote southeast Atlantic Ocean colocates some of the largest atmospheric loadings of absorbing aerosols with the least examined of the Earth's major subtropical stratocumulus decks.
Now, Atmospheric System Research scientist Paquita Zuidema and research colleagues from the University of Miami and four national laboratories have written a new paper with findings from the Layered Atlantic Smoke Interactions with Clouds (LASIC) field campaign. The Atmospheric Radiation Measurement (ARM) Climate Research Facility, a U.S. Department of Energy scientific user facility, conducted LASIC from June 2016 to October 2017 on Ascension Island in the South Atlantic Ocean.
Data outlined in the paper, accepted by the journal Geophysical Research Letters, reveal that high amounts of aerosols (tiny particles in the air) that can affect the Earth's energy balance and cloud properties are common in the marine boundary layer during the African burning season (June-October).
"We were surprised by the high levels of smoke and the unique composition," says Zuidema, LASIC principal investigator and a professor at the University of Miami. "There is clear evidence of drizzle suppression from smoke in certain cloud types. I think we're in store for more surprising results."
# # #
This work was supported by the U.S. Department of Energy's Office of Science, Office of Biological and Environmental Research as part of the Atmospheric System Research Program.