Improved Accuracy in Liquid Water Path Retrievals
Turner, D. D., NOAA- Earth System Research Laboratory
Clouds with Low Optical [Water] Depths (CLOWD)
Radiative Processes
Turner, D.D., 2007: Improved ground-based liquid water path retrievals using a combined infrared and microwave approach. J. Geophys. Res., 112, D15204, doi:10.1029/2007JD008530.
Turner, D.D., A.M. Vogelmann, R. Austin, J.C. Barnard, K. Cady-Pereira, C. Chiu, S.A. Clough, C.J. Flynn, M.M. Khaiyer, J.C. Liljegren, K. Johnson, B. Lin, C.N. Long, A. Marshak, S.Y. Matrosov, S.A. McFarlane, M.A. Miller, Q. Min, P. Minnis, W. O'Hirok, Z. Wang, and W. Wiscombe, 2007: Thin liquid water clouds: Their importance and our challenge. Bull. Amer. Meteor. Soc., 88, 177-190.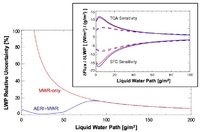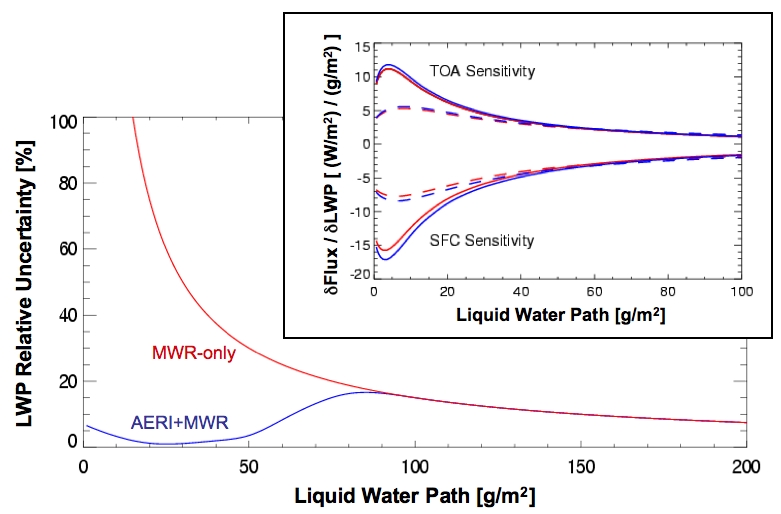 ---
The difference in the LWP uncertainty, as a function of LWP, for the MWR-only and the AERI+MWR retrieval algorithms. The AERI+MWR retrieval algorithm has significantly less uncertainty when the LWP is less than 100 g/m2. This reduction in uncertainty is critical for improving radiative transfer models. This is illustrated in the inset image, which shows the sensitivity of SFC and TOA shortwave radiative flux to changes in LWP for different atmospheres (colored lines) and characteristic particle sizes (solid / dashed lines). [The inset figure is from Turner et al., BAMS, 2007.]
Accurate liquid water path (LWP) observations are critical for understanding cloud and precipitation processes as well as radiative transfer through clouds. For example, the shortwave radiative flux both at the surface (SFC) and at the top of the atmosphere (TOA) is very sensitive to changes in LWP (inset image; the different colored lines denote summer vs. winter atmospheres, the solid vs. dashed lines denote different characteristic sizes of the cloud particles).
The primary LWP dataset used by ARM (to date, anyway) is derived from microwave radiometer (MWR) observations, which have a very large relative error when the LWP is less than 100 g/m2. A new technique has been developed that retrieves LWP simultaneously using observations from the MWR and the spectral infrared observations from the Atmospheric Emitted Radiance Interferometer (AERI). This combined AERI+MWR retrieval algorithm has significantly smaller uncertainty for clouds with small LWP (image). We have shown that the computed surface radiative fluxes, when the LWP retrieved by the AERI+MWR algorithm as opposed to the MWR-only algorithm, are in significantly better agreement with the observed surface radiative fluxes.
Data from this new algorithm are being used to validate and improve radiative transfer models where the radiative transfer is most sensitive to small errors in LWP, and are a key component to evaluating the accuracy of the cloud properties in cloud resolving and single column models.