Testing and Comparing the Modified Anomalous Diffraction Approximation
Mitchell, D. L., Desert Research Institute
Cloud Distributions/Characterizations
Radiative Processes
Mitchell, D.L., A.J. Baran, W.P. Arnott, C. Schmitt, 2006: Testing and comparing the anomalous diffraction approximation. J. Atmos. Sci., 63, 2948-2962.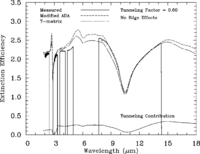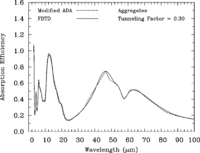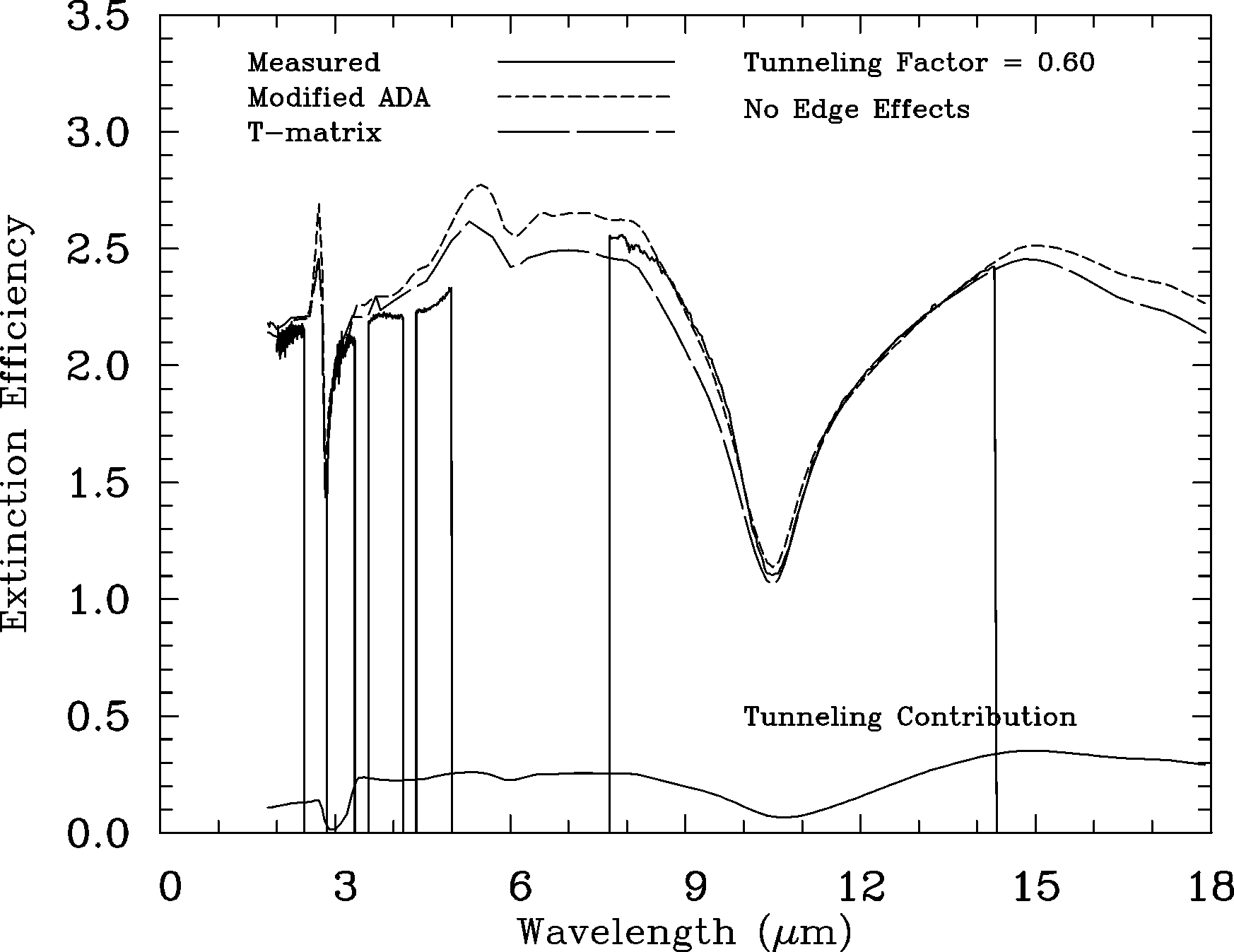 ---
Comparison of MADA and T-matrix with measured Qext. Regions without data were contaminated by water vapor or CO2 absorption. MADA and T-matrix calculations are based on the measured PSD of hexagonal columns having an effective diameter of 14 microns.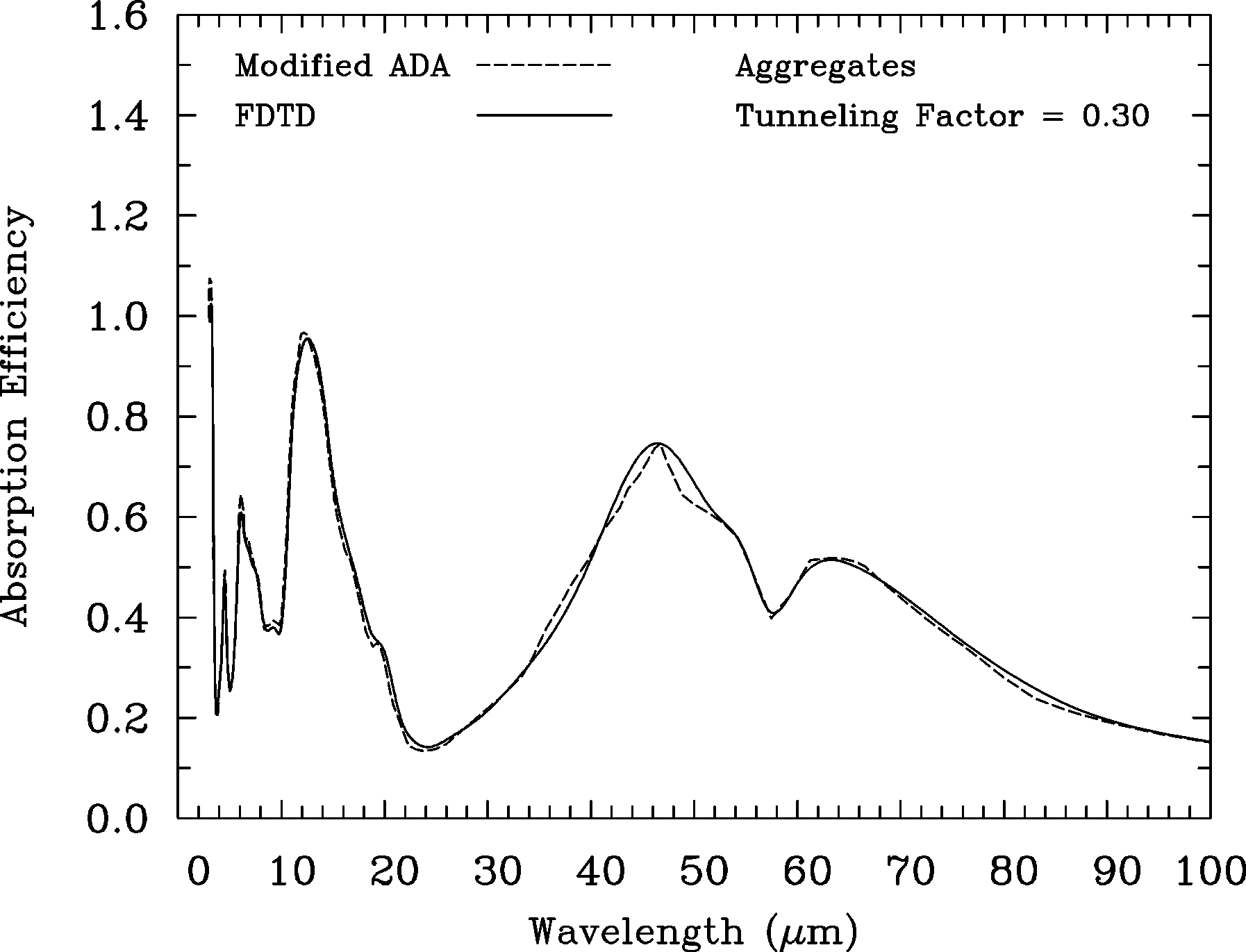 ---
Comparison of the PSD weighted Qabs predicted by FDTD and MADA for a tunneling efficiency corresponding to aggregates.
Cirrus clouds play a large role in the Earth's radiation budget and the way they respond to an initial warming by greenhouse gases may be an important predictor of global climate. To quantify this role, a robust means of quantifying their optical properties in terms of ice particle and size distribution shape is needed—such means are now available.
The modified anomalous diffraction approximation (MADA) calculates the extinction and absorption coefficients in terms of the ice particle size distribution (PSD) and ice particle shapes (including shape "recipes") for all size parameters relevant to cirrus clouds at solar and terrestrial wavelengths. Ice particle shapes are conveniently represented through power laws relating particle mass and projected area to maximum dimension. These power laws are based on observations rather than mathematical models of ice crystals. MADA's analytical formulation makes it very inexpensive computationally, even when used in operational satellite retrievals. Moreover, it is not subject to errors implicit in cloud optics schemes based on an effective diameter (De) or radius (i.e., two PSD having the same De may have different radiative properties). The MADA scheme does not calculate the asymmetry parameter g, but can be used in conjunction with other methods of estimating g for ice clouds.
MADA differs from other optical property schemes in that the processes governing light scattering and absorption are parameterized. One of those processes is optical resonance (also referred to as photon tunneling), whereby radiation beyond the particle's physical cross-section is either absorbed or scattered outside the forward diffraction peak. This process now has been parameterized completely as a function of ice particle shape and aspect ratio or size.
But the question remains; how accurate is MADA? Assuming hexagonal columns, MADA has been tested recently against exact optical methods based on electrodynamic theory—the T-matrix and the Finite Difference Time Domain (FDTD) method. It also was tested against laboratory cloud chamber measurements of extinction efficiency, Qext. MADA errors relative to these Qext measurements were 3.0% on average, while mean MADA errors relative to corresponding absorption efficiencies calculated from T-matrix, over the wavelength range 2 to 18 microns (size parameter range 2 to 22), were 5.9%. The mean error for the single scattering albedo relative to these T-matrix calculations was 2.5%. MADA absorption errors relative to FDTD over the wavelength range 3 to 100 microns for six ice particle shapes were similar to the T-matrix comparison, with no errors greater than 15%. Finally, the absorption coefficients predicted by MADA and two other popular parameterizations generally agreed within 5%.
These tests appear to validate MADA as a reliable means of predicting the optical properties of ice clouds. Moreover, MADA can function as an effective means of explicitly interfacing the ice cloud microphysics with the cloud radiative properties. This capacity can be exploited in remote sensing applications to reduce retrieved cloud property uncertainties, as well as to improve regional and global climate models.