Quantifying Error in the Radiative Forcing of the First Aerosol Indirect Effect
McComiskey, A. C., Brookhaven National Laboratory
Aerosol Properties
Aerosol
Submitted to Geophysical Research Letters, 06-27-2007.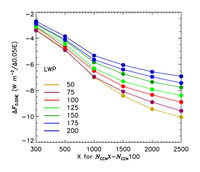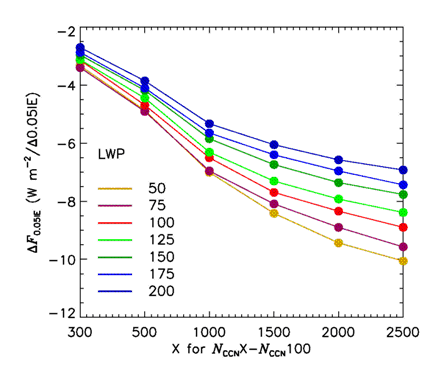 ---
Radiative forcing of aerosol indirect as function of CCN number density and LWP in units of W/m2 per 5% IE error.
A survey of recently published works shows that values used to represent the magnitude of the first aerosol indirect effect, defined as IE, can fall within the range 0.01 <= IE <= 0.33; observations of IE cover this entire range. However, it is unclear the extent to which the range in reported values is physical rather than due to measurement artifacts. We preformed a modeling study to illustrate the impact that this wide range of observations has on calculated radiative forcing and global climate model (GCM) simulations that typically incorporate parameterizations using values from the low end of the range.
Clouds with a range of liquid water path (LWP) and a range of aerosol concentration (NCCN), representing different levels of perturbation of the cloud microphysical properties by aerosol, are considered. The forcing is calculated as the difference in flux at the top of the atmosphere for several different values of NCCN between 300 and 2500 cm-3 and NCCN of 100 cm-3, the latter representing a clean or non-polluted cloud. In the figure, the forcing presented is per unit 0.05 IE, which illustrates the magnitude of the error in radiative forcing that would result from an error of the magnitude 0.05 in the measurement of IE.
For the range of cloud properties considered, the projected impact of IE uncertainties range from -3 to -10 W m-2. This amount of uncertainty is significant when compared to the recent estimate of the Intergovernmental Panel on Climate Change (IPCC) for total net anthropogenic forcing of 1.6 W m-2. The study provides an important link between calculated indirect radiative forcing and the empirical measures of aerosol effects on cloud microphysics.