Can Ice-Nucleating Aerosols Affect Arctic Seasonal Climate?
Prenni, A. J., Colorado State University
Cloud Distributions/Characterizations
Cloud Properties
Prenni, A. J., J. Y. Harrington, M. Tjernstrom, P. J. DeMott, A. Avramov, C. N. Long, S. M. Kreidenweis, P. Q. Olsson, and J. Verlinde, (2006): Can Ice-Nucleating Aerosols Affect Arctic Seasonal Climate?, BAMS, Vol.88, Iss. 4; pg. 541-550.
ACIA, 2004: Impacts of a Warming Arctic: Arctic Climate Impact Assessment. Cambridge University Press, 1020pp.
Additional Key Contact: Long, C. N. , Pacific Northwest National Laboratory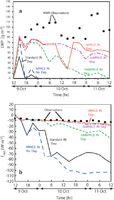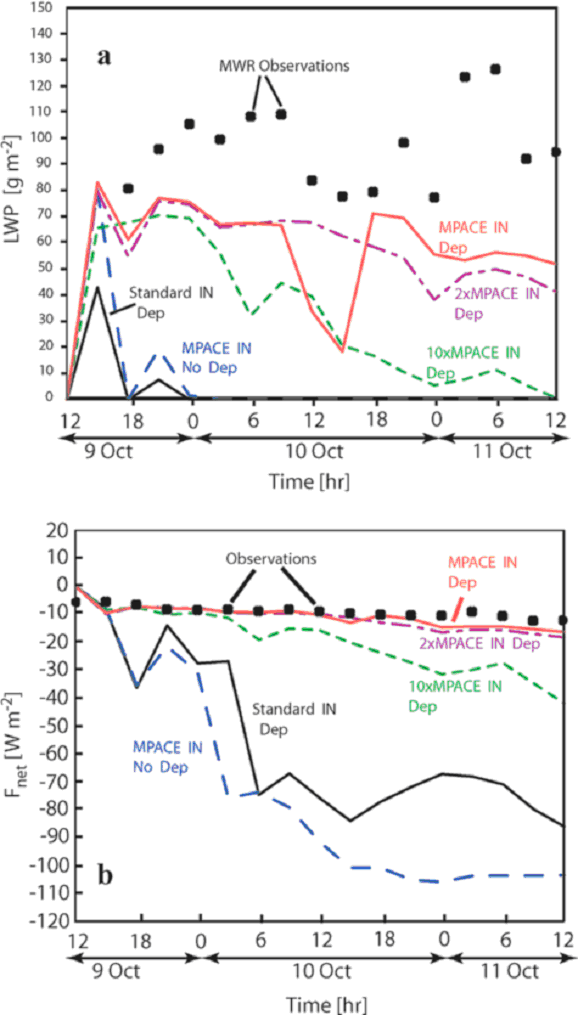 ---
Figure 1. Time series for the 2-day simulation plotted over Oliktok Point for Standard IN and M-PACE IN concentrations: (a) liquid water path (g m–2) and (b) net infrared surface flux (W m–2, F– – F+; negative values indicate surface cooling by infrared emission). The solid black points represent observed values: (a) microwave radiometer measurements over Oliktok Point, and (b) surface infrared flux measurements at Oliktok Point. Multipliers in front of M-PACE IN indicate the factor by which the M-PACE IN concentrations were increased in the model. "Dep" indicates that IN were depleted by ice precipitation whereas "No Dep" indicates that IN were not depleted.
The inability of regional models and global climate models to reproduce arctic clouds and the Arctic radiation budget may be due to inadequate parameterizations of ice nuclei.
Recent studies suggest that arctic climate is more sensitive to changes in climate forcing than other regions on Earth; however, global climate models are less reliable in this region (ACIA 2004). Clouds play an important role for the Arctic surface energy balance and are difficult to model. Based on ice nucleating (IN) measurements collected during the Mixed-Phase Arctic Cloud Experiment (M-PACE) and simulations based on a case encountered during M-PACE, we show one possible reason for this: a difference in the aerosol properties of the Arctic compared to lower latitudes. The global climate models that form the basis for assessments such as the Arctic Climate Impact Assessment (ACIA) use the same cloud and aerosol descriptions in the Arctic as anywhere else on Earth and are calibrated to provide a reasonable global climate. For the global climate, ice clouds such as those found in tropical cirrus anvils are probably more important; however, applying formulations optimized for midlatitude and tropical conditions to the Arctic, where conditions are clearly different, results in a poor representation of this apparently very sensitive region. It also means that global models that underpredict liquid water clouds may feature a larger shift from ice to liquid clouds as the model climate warms. This may constitute an enhanced, unrealistic feedback on climate change. Moreover, global models that underpredict liquid could miss an important aerosol feedback; namely, an increase in arctic IN concentrations may cause a reduction in liquid cloud amounts.
Our challenge is to improve model process representations in special regions like the Arctic, without disrupting apparently well-working formulations for other regions. An important conclusion from these results is a necessity to include realistic treatment of aerosols and aerosol–cloud interactions in future climate simulations.