Sub-Grid Scale Cloud Variability Affects Vertical Structure of Clouds and Radiative Heating
McFarlane, S. A., U.S. Department of Energy
General Circulation and Single Column Models/Parameterizations
Cloud Modeling
McFarlane, S. A., J. H. Mather, and T. P. Ackerman (2007), Analysis of tropical radiative heating profiles: A comparison of models and observations, J. Geophys. Res., 112, D14218, doi:10.1029/2006JD008290.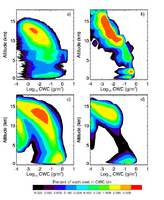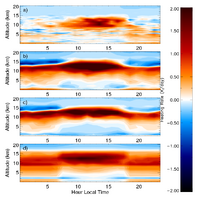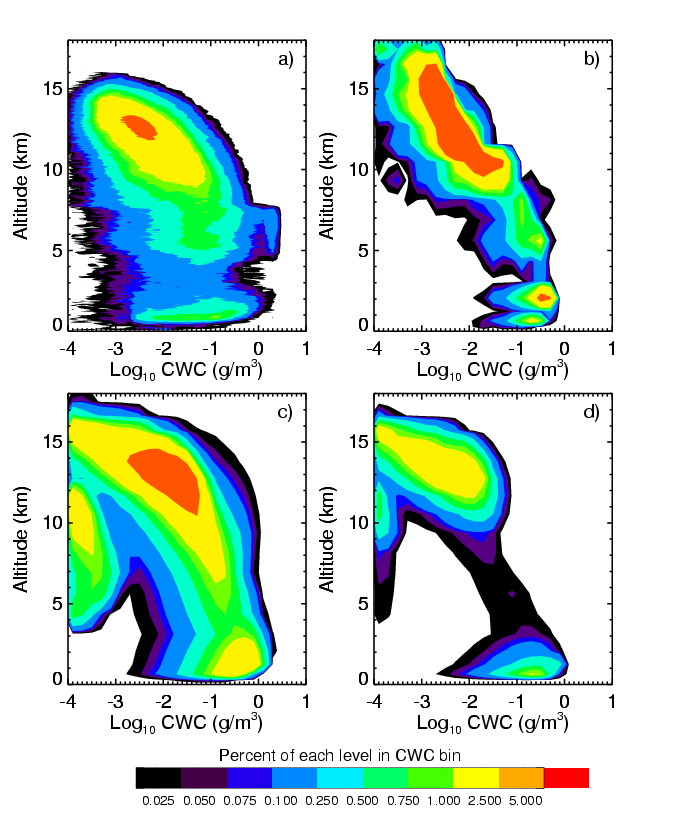 ---
Comparison of the distributions of cloud condensate for the ACRF TWP site at Manus using a) retrievals from the ACRF remote sensors, b) the CAM, c) all MMF columns, and d) MMF columns that do not contain precipitation. Note that the ARM observations do not include precipitation. Each panel consists of the histogram of cloud condensate which is computed separately for each altitude bin and then displayed as a function of height. The CAM has a very narrow range of ice water content in the upper atmosphere compared to the ARM and MMF distributions.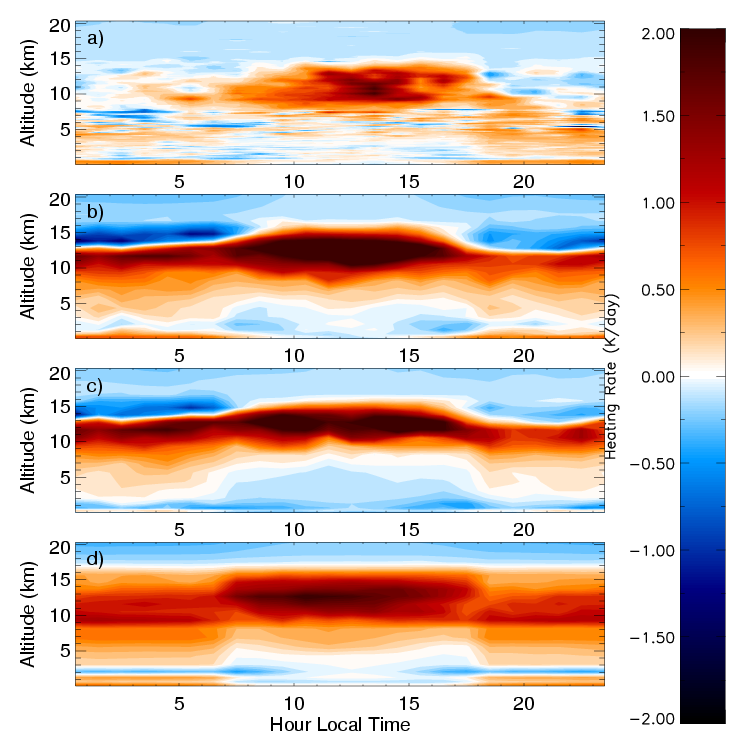 ---
Composites of the diurnal cycle of net radiative heating at Manus for a) retrievals from the ACRF remote sensors, b) the CAM, c) all MMF columns, and d) MMF columns that do not contain precipitation.
The vertical structure of clouds and their associated radiative heating profiles are important elements in determining the impact of clouds on the radiation budget and on local-scale and large-scale dynamics. A cloud with the same microphysical properties (water content, particle size, thickness, etc.) can have very different impacts on the surface and top-of-atmosphere energy budget depending on its height in the atmosphere. Thus, it is important for models to accurately predict the vertical structure of clouds. The active instruments (cloud radar and lidar) located at the ARM Climate Research Facility (ACRF) sites provide unique information about the location and microphysical properties of tropical clouds from which vertical profiles of radiative heating can be estimated. These data sets then can be used to evaluate model simulations.
In this study, we examine the vertical distribution of clouds and radiative heating rates at the ACRF Tropical Western Pacific (TWP) sites and compare them to results from two climate models. The Community Atmosphere Model (CAM) is a typical climate model with 2° horizontal resolution. The Multi-scale Modeling Framework (MMF) is a new approach to climate modeling in which smaller-scale (4 km horizontal resolution) cloud models are nested within a traditional climate model to reduce the dependence of the model on large-scale cloud parameterizations. Significant differences are found in the vertical profiles and diurnal cycle of cloud amount, condensed water content, and the cloud effect on heating rates between the two models and between the models and the observations.
The differences in the simulated cloud property and heating rate profiles indicate the importance of the treatment of sub-grid scale variability of clouds to climate model simulations. The MMF is better able to reproduce the range and variability of cloud properties and heating rate profiles seen in the observations than the CAM, which might have important implications for modeling climate sensitivity.