Encountering a Longstanding Cloud Physics Question in the Arctic: How Is Ice Formed in Moderately Supercooled Clouds?
Fridlind, A. M., NASA - Goddard Institute for Space Studies
Cloud Distributions/Characterizations
Cloud Modeling, Cloud Properties
Fridlind, A.M., A.S. Ackerman, G.M. McFarquhar, G. Zhang, M.R. Poellot, P.J. DeMott, A.J. Prenni and A.J. Heymsfield, 2007: Ice properties of single-layer stratocumulus during the Mixed-Phase Arctic Cloud Experiment (M-PACE): Part II, Model results. J. Geophys. Res., in press.
McFarquhar, G.M., G. Zhang, M.R. Poellot, G.L. Kok, R. McCoy, T. Tooman, A. Fridlind, and A.J. Heymsfield, 2007: Ice properties of single layer stratocumulus during the Mixed-Phase Arctic Cloud Experiment (M-PACE): Part I. Observations. J. Geophys. Res., in press.
Prenni, A. J., J. Y. Harrington, M. Tjernström, P. J. DeMott, A. Avramov, C. N. Long, S. M. Kreidenweis, P. Q. Olsson, and J. Verlinde, 2006: Can Ice-Nucleating Aerosols Affect Arctic Seasonal Climate?, Bull. Amer. Meteorol. Soc., 88, 541-550.
Verlinde, J., J. Y. Harrington, G. M. McFarquhar, V. T. Yannuzzi, A. Avramov, S. Greenberg, N. Johnson, G. Zhang, M. R. Poellot, J. H. Mather, D. D. Turner, E. W. Eloranta, B. D. Zak, A. J. Prenni, J. S. Daniel, G. L. Kok, D. C. Tobin, R. Holz, K. Sassen, D. Spangenberg, P. Minnis, T. P. Tooman, M. D. Ivey, S. J. Richardson, C. P. Bahrmann, M. Shupe, P. J. DeMott, A. J. Heymsfield, and R. Schofield, 2007: The Mixed-Phase Arctic Cloud Experiment, Bull. Amer. Meteorol. Soc., 88, 205-221.
Additional Key Contacts: Andrew Ackerman, Greg McFarquhar, Gong Zhang, Michael Poellet, Paul DeMott, Anthony Prenni, and Andrew Heymsfield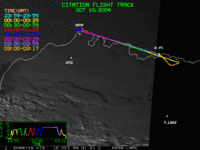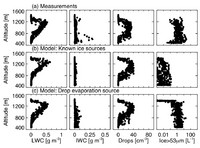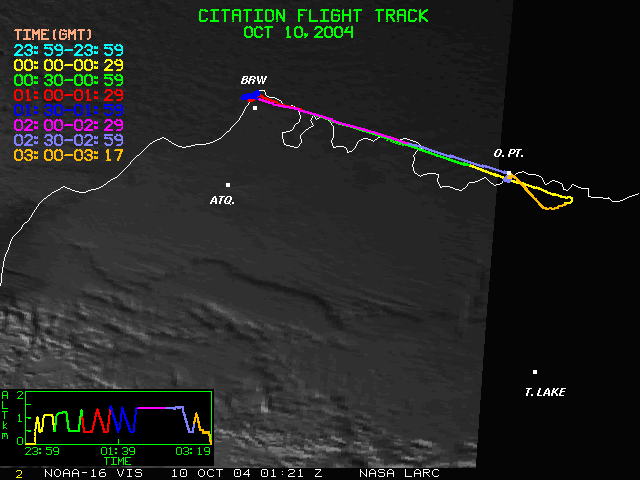 ---
Figure 1. Measurements were gathered in persistent mixed-phase stratocumulus along the Alaska coastline during the analyzed flight on 10 October 2004.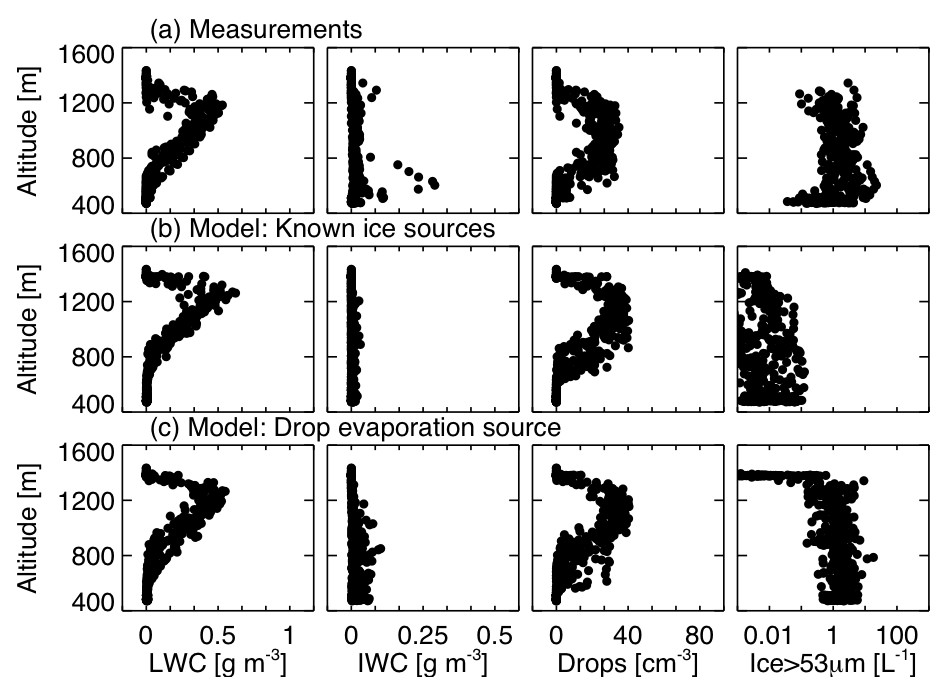 ---
Figure 2. Model results with all known ice sources underestimate measured ice concentrations by two orders of magnitude (a versus b), but proposed ice sources related to drop evaporation could explain the measurements (c). Additional measurements are required to either confirm or rule out such sources.
Mixed-phase boundary-layer clouds play a crucial role in the surface energy budget of the Arctic, a region that is threatened with rapid climate change. However, these clouds have not been modeled (or understood) well because of a dearth of measurements—both of their microphysical properties and of the cloud condensation and ice nuclei upon which they depend. There is increasing evidence that such clouds are very poorly represented in virtually all global and regional climate models. The primary goal of the 2004 ARM Climate Research Facility's Mixed-Phase Arctic Cloud Experiment (M-PACE) was to collect a comprehensive data set of vertical profiles in both boundary-layer and multi-level mixed-phase clouds in order to remedy these gaps in understanding and model performance.
As reported in Verlinde et al. (2005), M-PACE was highly successful in providing a myriad of in situ measurements within the target cloud types. As reported in Part I of this work (McFarquhar et al., 2007), focusing on the simpler single-layer cloud cases, in-depth processing of the cloud property measurements was required in order to tease out cloud properties that no single instrument can measure, such as total ice crystal number concentration within particular particle size ranges. In Part II of this work—using data from McFarquhar et al. (2007), ice nuclei measurements reported by Prenni et al. (2006), and meteorological data—we performed computationally intensive large-eddy simulations, which incorporate virtually everything currently known about the processes controlling the evolution of liquid and ice within such clouds. Our results show that known ice formation mechanisms (or sources, Figure 2b) produce two orders of magnitude fewer crystals than measured during M-PACE (Figure 2a). This is consistent with decades of past literature, but is now demonstrated with a modern data set and modern computational techniques. After a wide-ranging literature search for proposed ice formation mechanisms (going back to the early years of research on weather modification), we tested mechanisms one by one and found that ice formation mechanisms (sources) related to drop evaporation (first hypothesized in the 1950s and only sparsely studied since) show significant promise for explaining the M-PACE measurements (Figure 2c), although uncertainties remain. We propose a new instrument design to further constrain ice formation processes in future field campaigns.
These results open up the possibility that current representations of ice microphysics in large-scale numerical weather prediction and global climate models may lack representation of some of the dominant ice formation mechanisms.