Theoretical Formulation for Cloud-to-Rain Transition
Liu, Y., Brookhaven National Laboratory
Cloud Distributions/Characterizations
Cloud Modeling
Liu, Y., P. H. Daum, R. McGraw, M. Miller, and S. Niu, 2007: Theoretical formulation for autoconversion rate of cloud droplet concentration. Geophys. Res. Lett., 34, L116821, doi:10.1029/2007GL030389.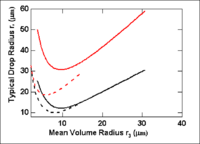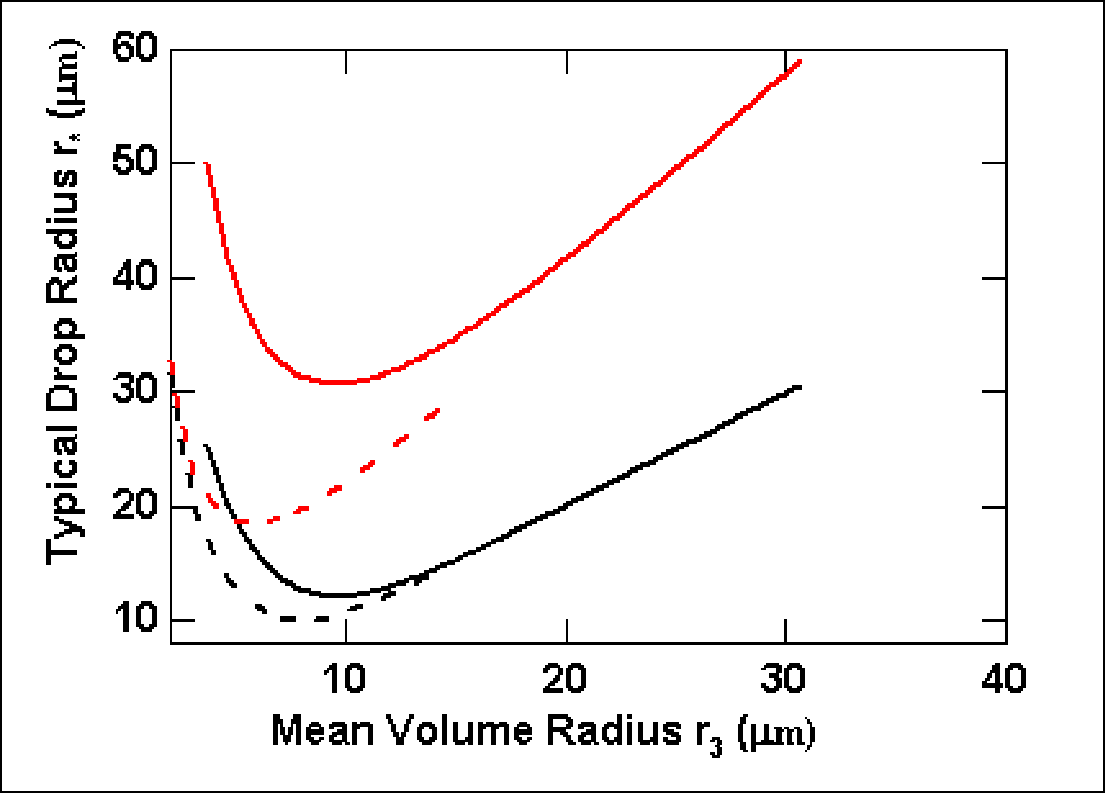 ---
The "typical drop radius" r* as a function of the mean volume radius r3 derived from the new theoretical formulation. (r* is a sort of average radius for all the embryonic raindrops formed by the autoconversion process.) The solid and dashed lines are for droplet concentrations of 50 and 100 cm-3, respectively. The black and red colors are for drop-size-distribution relative dispersions of ε = 0.33 and 1, respectively. Evidently, r* depends on the mean-volume radius, on droplet concentration, and on spectral shape of the droplet size distribution, and thus is not a constant as commonly assumed.
The process called autoconversion, whereby cloud droplets grow into embryonic raindrops, needs to be accurately represented in atmospheric models in order to predict precipitation and climate correctly. "One-moment" schemes, which predict only the cloud liquid water content, have dominated since the 1960s. However, one-moment schemes, among other deficiencies, are incapable of dealing with indirect effects of aerosols on climate, one of the hottest topics in climate studies today. Multi-moment schemes that predict at least the cloud droplet number concentration, in addition to the liquid water content, are needed. However, the few autoconversion parameterizations used in existing multi-moment schemes are empirical in nature, with little theoretical basis.
In a paper published in the August 28 issue of the Geophysical Research Letters, Yangang Liu and coauthors present a general theoretical formulation of the autoconversion process. This new formulation is applicable to any moments of the droplet size distribution (including liquid water content, droplet concentration and radar reflectivity), and can be readily used to improve the representation of the autoconversion process in atmospheric models. This research also reveals major deficiencies of existing empirical schemes (see the figure).
In addition to evaluating aerosol indirect effects and improving the representation of cloud and precipitation processes in climate models, the new theoretical formulation also helps interpret cloud radar observations.