ARM Science Applications of AERI Measurements
Smith, W. L., NASA - Langley Research Center
Radiation Processes
Cloud Modeling
DeSlover, D. H. 1996. Analysis of Visible and Infrared Cirrus Cloud Optical Properties Using High Spectral Resolution Remote Sensing, M.S. Thesis, University of Wisconsin — Madison.
Ho, S.-P. 1997. Atmospheric Profiles From Simultaneous Observations of Upwelling and Downwelling Spectral Radiance, Ph.D. Thesis, University of Wisconsin — Madison.
Knuteson, R. O., F. A. Best, H. B. Howell, P. Minnett, H. E. Revercomb, W. L. Smith. 1997. "High Spectral Resolution Infrared Observations at the Ocean-Atmosphere Interface in the Tropical Western Pacific using a Marine Atmospheric Emitted Radiance Interferometer (MAERI): Applications to SST Validation and Atmospheric Spectroscopy." Ninth conference on Atmospheric Radiation (AMS), Long Beach, CA, 2-7 Febuary, 1997.
Minnett, P. J. and R. O. Knuteson. 1997. "Measurements of the skin effect and diurnal thermocline in the Tropical Western Pacific Ocean. Seventh ARM Science Team Meeting San Antonio, TX, 3-7 March 1997.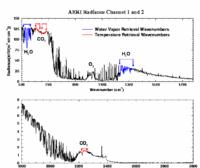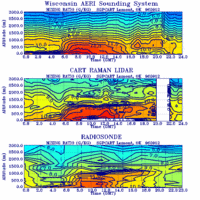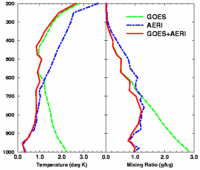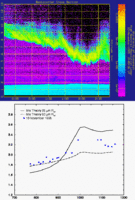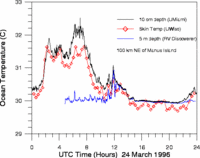 Atmospheric Emitted Radiance Interferometer (AERI) data are being used to study meteorological processes in the Planetary Boundary Layer (PBL), quasi-continuous sound the atmosphere through the synergistic use of GOES data, diagnose cloud radiative properties, validate theoretical calculations of atmospheric and cloud radiation, and parameterize cloud radiative properties in terms of predictable atmospheric parameters.
One of the primary ongoing activities involving AERI is the thermodynamic profiling of the PBL. The retrieval technique associates temperature and water vapor structure in an atmospheric column with AERI measured high spectral resolution carbon dioxide and water vapor radiance spectra as shown in Figure 1.
Figure 2 illustrates temperature and water vapor cross-sections compared to 3-hourly radiosonde measurements and raman lidar during the WV-IOP for a day with a cold front passage over the CART site. Of particular interest is the ability of AERI to resolve an elevated moist layer, verified by the higher resolution lidar data but not well defined by the 3-hourly radiosondes.
It is worthy to note the AERI profiling resolution degrades rapidly with altitude, which is obvious from Figure 2. Combining geostationary satellite radiance information soundings synergistically to AERI sounding radiances will improve the retrieval in the free troposphere above the PBL. Figure 3, from the work of Ho (1997), shows theoretical performance expectations of the combined AERI and GOES systems compared to the individual accuracies of each instrument.
The high spectral resolution of the AERI also provides atmospheric data between absorption lines, useful to characterise cloud radiative properties (DeSlover 1996). Spectral visible to infrared optical depth ratios can be derived for cirrus clouds when combined with High Spectral Resolution Lidar (HSRL) measured aerosol optical depth profiles. Figure 4a illustrates HSRL backscatter cross-section for a cirrus cloud of increasing optical thickness. Figure 4b shows the spectral visible to infrared optical depth ratios compared to Mie theory for ice spheres.
Lower portion of figure shows measured visible to infrared optical depth ratios as a function of wavenumber.
A Marine AERI (MAERI) has been developed to provide validation data for the EOS satellite inferences over the world's oceans. The MAERI participated in the Combined Sensor Program involving measurements from the RV-Discovery in the Tropical Western Pacific (TWP). The results, presented more extensively by Knuteson et al. (1997) and Minnett and Knuteson (1997), confirm a 'cool skin' of the ocean in the warm pool of the TWP of as much as 0.5 C, due to evaporation, Figure 5.
Future studies will include a real-time implementation of GOES and AERI soundings. Absolute calibration of SGP CART raman lidar using AERI and microwave radiances, which will improve AERI temperature retrieval using the RASS virtual temperature and raman water vapor profile measurements when available. Cloud radiative properties will be derived using Micropulse lidar and AERI data at SGP CART site. AERI and HIS cloud base and top radiative properties will be compared for various field campaigns to study the vertical inhomogeneity of cloud radiation. SGP CART measurements will provide information necessary to parameterize cloud radiative properties in terms of predictable atmospheric variables as needed to incorporate cloud radiative effects in climate models.