Optical Properties of the 1997 TWP Smoke Event
Spinhirne, J., University of Arizona
Radiation Processes
Radiative Processes
N/A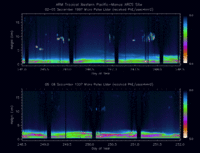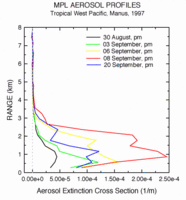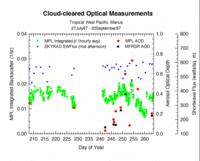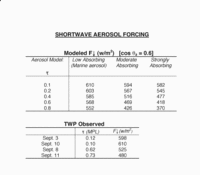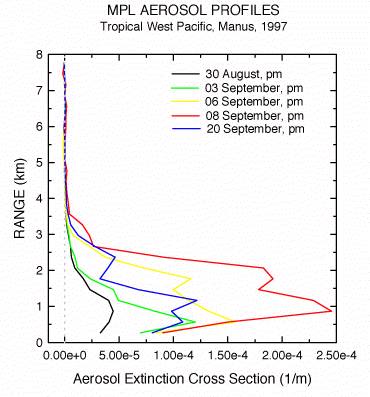 ---
Figure 2. Selected aerosol extinction cross section profiles at the ARM TWP site during 1997 showing progression of aerosol loading.
The effect of clouds and aerosol on the atmospheric energy balance is a key global change problem. Full knowledge of aerosol distributions is difficult to obtain by passive sensing alone. Aerosol and cloud retrievals in several important areas can be significantly improved with active remote sensing by lidar.
Micro Pulse Lidar (MPL) is an aerosol and cloud profilometer that provides a detailed picture of the vertical structure of boundary layer and elevated dust or smoke plume aerosols. MPL is an eyesafe, ground-based, zenith-pointing instrument capable of full-time, long-term unattended operation at 523 nm. The original MPL vertical resolution was 300 meters but the newer versions have a resolution of 30 meters. MPL's are deployed at all three Atmospheric Radiation Measurement (ARM) sites.
The MPL analysis team has developed instrument correction and backscatter analysis techniques for ARM to detect cloud boundaries and analyze vertical aerosol structures. For this poster, a time history of MPL data was analyzed from July through September, 1997 and compared to data from the Multifilter Rotating Shadowband Radiometer (MFRSR) and the SKYRAD solar flux instruments at the ARM Tropical West Pacific (TWP) site at Manus, Papua New Guinea.
Drought conditions and population pressures in Indonesia and surrounding areas of the Tropical West Pacific sparked massive biomass burning episodes during September-November of 1997. Some of this smoke advected over the Manus Island ARM ARCS site. Vertical profiles of processed MPL data show the chronology and vertical distribution of this advection. Fig. 1 displays a one week time series image of MPL signal strength showing aerosol loading during and just prior to the initial smoke event in September.
MPL case studies were calibrated with the MFRSR to develop aerosol optical depth and aerosol extinction cross section values of the smoke layer at various times during the episodes. Fig. 2 shows average aerosol profiles calculated from 90 minute time periods based on MPL backscatter and MFRSR aerosol optical depth calculations.
Haze and boundary layer characteristics during the smoke episodes were contrasted with conditions preceding the episodes. Planetary boundary heights increased from 1.5 km before to 3.0-3.5 during the smoke haze, while aerosol optical thickness calculated from the calibrated MPL increased from .04 in late August to .73 in mid September. The smoke haze remained in the boundary layer. A time history of the link between MPL integrated backscatter, shortwave flux measurements, and aerosol optical depths (aod) during cloud-cleared periods is plotted in Fig 3.
MPL aerosol optical depths in this plot were calculated based on a fixed calibration of a smoke-free day with the MFRSR. The effect of the smoke and haze on the shortwave surface flux is determined by applying radiative transfer code using three levels of aerosol absorption and various optical depths to calculate predicted levels of shortwave flux, then comparing to the observed flux under observed optical depth conditions. Fig. 4 shows the results of this comparison in tabular form.
The drop in surface shortwave flux during hazy periods was observed to be around 100 w/sq. m. The observations compared best to the radiative transfer model when it used moderately absorbing aerosols as input.
Significant smoke and haze episodes occurred at the ARM TWP site in September through November, 1997. Aerosol optical depths increased to 0.6-0.8 during smoke haze episodes. The aerosols show moderate absorbing characteristics. Based on these case studies, preliminary aerosol shortwave forcing from smoke haze is around -100 w/sq. m. Based on aerosol extinction profiles and MPL signal images, the planetary boundary layer height increased 1 to 2 km during the smoke haze episodes, but transport to the upper troposphere was not seen.