Modeling Cloud Forcing in the Tropical West Pacific
Kiehl, J., NCAR
General Circulation and Single Column Models/Parameterizations
Cloud Modeling
Petch, J.C., and J.T. Kiehl, 1997: "Investigating Cloud Radiative Forcing in the Tropical West Pacific Using a Single Column Model." In Proceedings from the Seventh ARM Science Team Meeting, U.S. Department of Energy, Washington, D.C.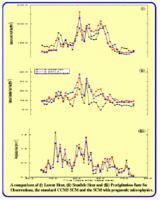 Here is summary of the poster "Investigating Cloud Radiative Forcing in the Tropical West Pacific Using a Single Column Model" (Petch and Kiehl) presented at the ARM 7th Science Team Meeting in San Antonio, Texas, March 1997.
SCCM3, a single-column version of CCM3, has been forced with TOGA-COARE data from 1 December 1992 to 1 February 1993. By taking daily average cloud forcing and scatter plotting LWCF versus SWCF, a relationship similar to the full model (CCM3) can be seen. This relationship is not in good agreement with ERBE satalite data and changes are made to the model to investigate what features improve this relationship. Other fields such as OLR are compared to ISCCP satellite data.
For quick reference, there are five figures on this web page.
Figures 1 and 2 are line plots of various fields for a 39-day period beginning on 5 December. This period coincides with a cloud-resolving model (CRM) study by Xu et al. (1997) who are also responsible for some processing of the ISCCP Satellite data (Zhang et al., 1995) used as a validation field.
Figure 3 shows a time/height contour plots of cloud mixing ratio as seen by the radiation scheme for a highly convective 10-day period where the SCCM3 predicted temperature poorly (not shown).
Figure 4 shows daily mean longwave cloud forcing (LWCF) versus shortwave cloud forcing (SWCF) for all 62 days of the model run. Figure 5 contains a table detailing averages for the 39-day period and a table of slopes fitted to the cloud forcing scatter plots.
SCCM3 underestimated the OLR for a convectively active 39 day period from TOGA-COARE but reproduced the overall trends well.
Surface latent heat was predicted well but a systematic temperature difference in the lower layer caused an overestimation of the sensible heat flux.
Precipitation rate was reproduced very well but this is not a good diagnostic for any SCM.
SCCM3 temperature differed from observed by +/- 10 K but there was no large system arctic drifts (either warm or cold), most likely due to the constraint of a prescribed sea surface temperature.
Including prognostic microphysics improved some aspects of the simulation but deteriorated others. It appears that the direct effect (latent heating) improves the simulation but the clouds are optically too deep or too persistent with prognostic microphysics.
It appeared that SCCM3 may be used to reproduce trends seen in plots of LWCF versus SWCF from the full CCM3 but more alike runs are needed to confirm this. It also appears that there is a better cancellation between LWCF and SWCF when prognostic microphysics is included in the model. Again, further work is required to confirm this.
Crudely including snow in the radiation influenced the simulation and should be investigated further by including it explicitly instead of treating it the same as ice.