Anthropogenic Aerosols: a Clearer Understanding
Daum, P., Brookhaven National Laboratory
Aerosol Properties
Aerosol
Liu, Y., and P. H. Daum, 2002: "Indirect warming effect from dispersion forcing," Nature 419(6872):580-581.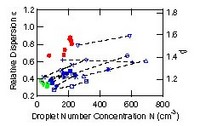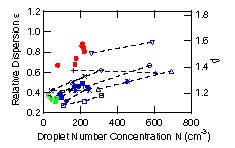 ---
Figure 1. Key = Green symbols: triangle - FIRE, northeastern Pacific; Crossed circles - SOCEX, Southern Ocean; Filled circle - ACE1, Southern Ocean; Blue symbols: Filled circles - ASTEX 8, northeastern Atlantic; Diamonds - SCMS 8, Florida coast; Filled triangles - Sounding 9, ASTEX; Filled squares - horizontal 9, ASTEX; Open inverted triangles - level 1; Open upright triangles - level 2; Open circles - level 3, all from southwest of San Diego 10; open diamonds - SCMS 11; stars - vertical, ASTEX 12; plus signs - horizontal, ASTEX 12; multiplication signs - ASTEX 13; squares - INDOEX, Indian Ocean (G. M. McFarquhar, personal communication); Red circles: MAST 6,14,15, California coast.
It is well known that anthropogenic aerosols—tiny particles that are major contributors to smog and haze—can enhance cloud reflectivity by increasing the number concentration of cloud droplets. Because smaller particles scatter more sunlight back to space than do larger particles, this effect can produce a cooling effect on the Earth. However, atmospheric scientists funded by the U.S. Department of Energy's ARM Program recently discovered that anthropogenic aerosols have another effect on cloud properties that involve changes in the way in which water is distributed among cloud droplets in polluted air. This change in spectral shape decreases the cooling effect.
In figure 1, the relationship between the relative dispersion of cloud droplet size distribution and the number concentration of cloud droplets is shown. The N. symbols indicate programs and/or references from which the data points were derived. Connected points represent cases previously identified as evidence for an indirect aerosol effect.
Prior to this research, the prevalent assumption in the evaluation of indirect aerosol effects was that an increase in anthropogenic aerosols did not change the spectral shape of the cloud droplet size distribution. However, by examining data from a number of field studies, it was found that polluted clouds exhibit not only a larger number concentration of cloud droplets, but also a larger relative dispersion compared to clean clouds. The increased dispersion acts to offset the cooling by the Twomey effect, and this reduction is sufficiently large that it needs to be included in the calculation of the indirect aerosol effect in climate models. This finding could help to improve our understanding of the indirect aerosol effect, which is one of the most challenging issues in the global warming problem.
One reason for the simultaneous increases in droplet concentration and dispersion is that anthropogenic aerosols have a more complex chemical composition and a broader size distribution, and that the more numerous small droplets formed in a polluted cloud compete for water vapor and broaden the droplet size distribution. By comparison, clean clouds have a more uniform chemical composition, fewer droplets and less competition, leading to a cloud with larger droplets that are more uniform in size. More studies are needed to quantify this phenomenon.