Hemispherical Simulations Show Impact of Aerosols on Cloud Reflectivity
Rotstayn, L., Commonwealth Scientific and Industrial Research Organization
Aerosol Properties
Aerosol
Rotstayn, L., and Y. Liu, Sensitivity of the First Indirect Aerosol Effect to an Increase in Cloud Droplet Spectral Dispersion with Droplet Number Concentration, Journal of Climate: Vol. 16, No. 21, pp.3476-3481, May 2003.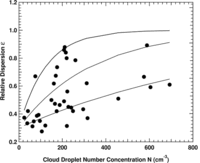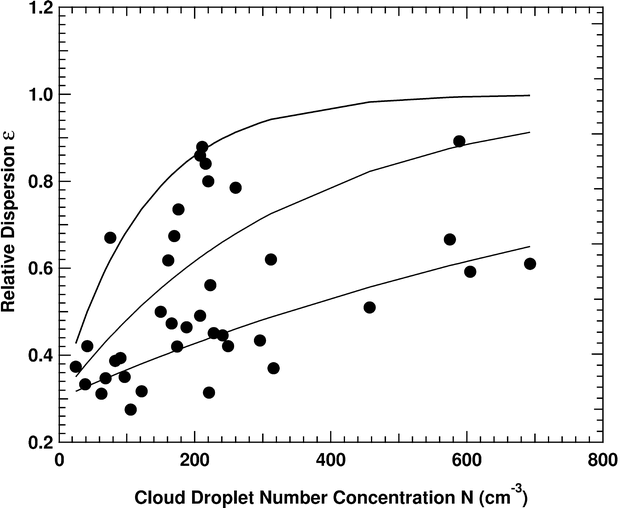 ---
Figure 1. Measurements of the relation between the relative dispersion of the cloud droplet spectrum and the cloud droplet number concentration (N). The lower, middle, and upper curves show the parameterizations used in the LOWER, MIDDLE, and UPPER simulations, respectively.
A recent study by DOE Atmospheric Radiation Measurement (ARM) Program researchers in partnership with atmospheric scientists in Australia indicates that global climate models (GCMs) may not be as sensitive to the effect of aerosols on cloud reflectivity as traditionally thought. Based on their evaluation using an empirical parameterization of the increase of relative dispersion (the width of the distribution of cloud droplet sizes) with cloud droplet number concentration (N), the estimated magnitude of this effect is reduced by 12 percent to 35 percent.
The basic cloud physics of the aerosol effect is that as N, the droplet number, increases, the average radius of the droplets decreases. This in turn increases the cloud reflectivity because small droplets reflect more solar energy back to space. Previously recorded observations from polluted and unpolluted warm stratiform and shallow cumulus clouds in a variety of locations showed a systematic increase in the width of the cloud droplet spectrum with increasing N. Using those data (restricted to the region between 45½N and 45½S), the researchers developed three curves (see Figure 1) to represent an average variation of the relative dispersion with N, plus lower and upper bounds of the variation.
In addition, they considered a control with a single value of dispersion over land and ocean, and introduced the dependence of droplet effective radius on dispersion as well as droplet number. They applied this parameterization in four experiments using the Commonwealth Scientific and Industrial Research Organization (CSIRO) Mark 3 GCM. Each of the experiments consisted of one 16-year simulation with pre-industrial sulfur emissions, and another with modern day sulfur emissions. The radiative changes due to this aerosol effect were calculated as the difference in the net shortwave flux at the top of the atmosphere between the modern-day and pre-industrial runs.
Relative to the control simulation, the new parameterization showed a 12 to 35 percent reduction in the magnitude of the aerosol effect. This suggests that future estimates of the indirect effects of aerosols should account for variations in droplet dispersion. However, there is no definitive explanation for the increase in droplet dispersion with droplet number. Future ARM studies in the area of cloud dynamics applied to the scale of GCM grid boxes will further reduce the large uncertainties associated with the effect of aerosols on relative dispersion.