Dust in the Wind... and the Clouds... and the Atmosphere
Sassen, K., University of Alaska, Fairbanks
Aerosol Properties
Aerosol
Sassen, K., P.J. DeMott, J.M. Propsero, and M.R. Poellot, Saharan Dust Storms and Indirect Aerosol Effects on Clouds: CRYSTAL-FACE Results, Geophys. Res. Ltt., 30(12), 1633, doi:10/1029/2003GL017371, 2003.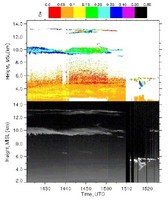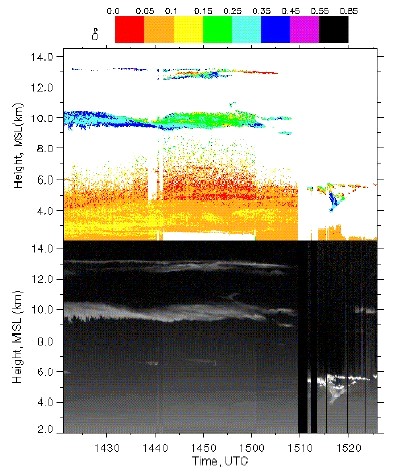 ---
PDL linear depolarization ratio (color scale on top) and relative returned power (in gray scale) of height versus time displays obtained on July 29, 2002, during the CRYSTAL-FACE experiment. Depicted are strong depolarizing upper tropospheric clouds (~10km), aerosols (δ ~.10 to .15) extending up to ~5.5km, and at lower right (scale adjusted to account for signal saturation), a supercooled liquid altocumulus cloud that freezes as it descends into the dust layer.
Scientists continue to uncover evidence that extensive aerosol layers directly affect the radiative balance of the Earth-atmosphere system through scattering and absorption of cloud particles, resulting in cooling of the Earth's surface and heating of the atmosphere. In the northern hemisphere, major dust storms play a role in modulating climate through indirect aerosol effects. Indirect aerosol effects occur when aerosol particles modify cloud properties, thereby affecting the radiative impact of the clouds. The Mongolian and Saharan deserts are the two major source regions for dust storms that are capable of transporting aerosol particles extremely long distances. In a field experiment led by the National Aeronautics and Space Administration and supported by the Department of Energy's Atmospheric Radiation Measurement (ARM) Program, university researchers used aircraft and polarization lidar to obtain data showing the potential cloud-altering properties of transported Saharan dust.
Primarily conducted to research subtropical thunderstorms and the cirrus anvils produced by convection, the Cirrus Regional Study of Tropical Anvils and Cirrus Layers-Florida Area Cirrus Experiment (CRYSTAL-FACE) took place in southern Florida in July 2002. This is the time of year when Saharan dust clouds typically move from the Mid-Atlantic Ocean into the Caribbean and southern Florida.
During a flight on July 29, 2002, the polarization diversity lidar (PDL) observed an aerosol layer extending from about 1.7 km above sea level (the top of the boundary layer) to about 5.5 km. The moderate depolarization observed in this layer indicates that the particles are non-spherical, which is typically the case for windblown dust. An altocumulus cloud that developed near the top of the dust layer turned to ice as it encountered the dust layer. Simultaneous in situ data detected a gradual increase in aerosol concentrations starting just below 4.0 km, followed by a strong increase at about 1.7 km. Heterogeneous ice nuclei concentrations of up to 1.0 cm-3 were the highest ever measured with the CFDC. The in situ evidence confirms the presence of large aerosol particles within the region in which the lidar detected supermicron-sized particles, and that these particles were unusually active with respect to ice nucleation.
The in situ and remote sensing data, combined with historical records, suggest an aerosol of African origin dominated by soil particles. Based on the heterogeneous ice-nucleation observed at the upper boundary of the aerosol layer, the Saharan dust particles are strongly suggestive of a cloud seeding effect from introduced ice nuclei. These secondary findings from CRYSTAL-FACE provide important data as the scientific community expands its knowledge of dust-climate interactions and their implications on climate models.