Parameterization of Ice Fall Speeds in Midlatitude Cirrus: Results from SPartICus
Mishra, S., DOE - SunShot Initiative, AAAS S&T Policy Fellow

General Circulation and Single Column Models/Parameterizations
Cloud Life Cycle
Mishra S, DL Mitchell, DD Turner, and RP Lawson. 2014. "Parameterization of ice fall speeds in midlatitude cirrus: Results from SPartICus." Journal of Geophysical Research: Atmospheres, 119(7), 10.1002/2013jd020602.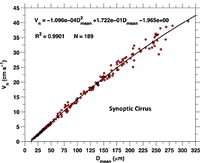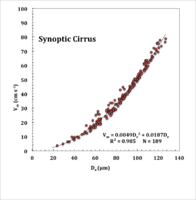 ---
Vn related to mean ice particle size for synoptic cirrus clouds, where each point corresponds to a PSD measurement. Curve fit formulas, their r2 values and the number of PSD sampled are shown.
While general circulation models (GCMs) represent the most complete description of all the interactions between the processes that define the primary cloud feedbacks on climate, this description is highly sensitive to the representation of clouds and their feedbacks. The ice fall velocity (Vi) has a strong impact on cloud radiative forcing and climate feedback due to its influence on cirrus cloud lifetime (i.e., coverage), optical thickness (via ice water path), and upper tropospheric water vapor which is important for determining climate sensitivity.
In spite of its importance, Vi in climate models is highly uncertain, due in part to its dependence on the ice particle size distribution (PSD), which has been plagued with measurement uncertainties. Historical measurements of ice crystal concentrations, mass, and area have been erroneous owing to the presence of large concentrations of small (< 60 µm) ice crystals produced due to the shattering of larger ice crystals on inlets of cloud probes. Recently, data processing techniques used in conjunction with new probes in recent field campaigns appear to have significantly reduced the artifact concentration of small ice particles. However, it should be noted that the issue of ice shattering as a source of measurement contamination and uncertainty continues to be a concern. The focus of this study is to improve the parameterization of the mass-weighted (Vm) and number weighted (Vn) ice fall velocity in GCMs by using data from the new and improved two-dimensional Stereo (2D-S) cloud probe.
In this study Vm and Vn in midlatitude cirrus clouds are computed from in situ measurements of ice particle area and number concentration made by the 2D-S probe during the Small Particles In Cirrus (SPARTICUS) field campaign, where mass was estimated from ice particle projected area. For single-moment ice microphysical schemes, Vm (as well as the ice PSD effective diameter De) was parameterized in terms of cloud temperature (T) and ice water content (IWC). For two-moment schemes, Vm and Vn were related to De and the mean maximum dimension —D, respectively. For single-moment schemes, although the correlations of Vm (or De) with T were higher than the correlations of Vm (or De) with IWC, it is demonstrated that Vm (or De) is better predicted by using both T and IWC. The parameterization relating Vm to T and IWC is compared with another scheme that relates Vm to T and IWC, with the latter based on millimeter cloud radar measurements. Regarding two-moment ice microphysical schemes, a strong correlation was found between De and Vm and between —D and Vn owing to their similar weightings by ice particle mass and number concentration, respectively. In most GCMs, the Vi calculation is not based on the ice particle mass/projected area ratio as the physics of fall speeds dictates. Relating Vi to De preserves this physical relationship since De is essentially the PSD mass/projected area ratio. This practice couples the GCM cloud microphysical and radiation treatments since De is used to calculate both Vm and the ice optical properties, and Vm has a strong impact on cloud coverage and ice water path (which strongly affect radiation transfer).