Filling Gaps Within Instrument Records
Kennedy, A. D., University of North Dakota
Cloud Distributions/Characterizations
Convective Processes
Kennedy AD, X Dong, and B Xi. 2015. "Cloud fraction at the ARM SGP site: reducing uncertainty with self-organizing maps." Theoretical and Applied Climatology, 124(1-2), 10.1007/s00704-015-1384-3.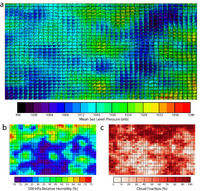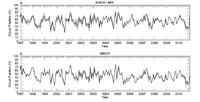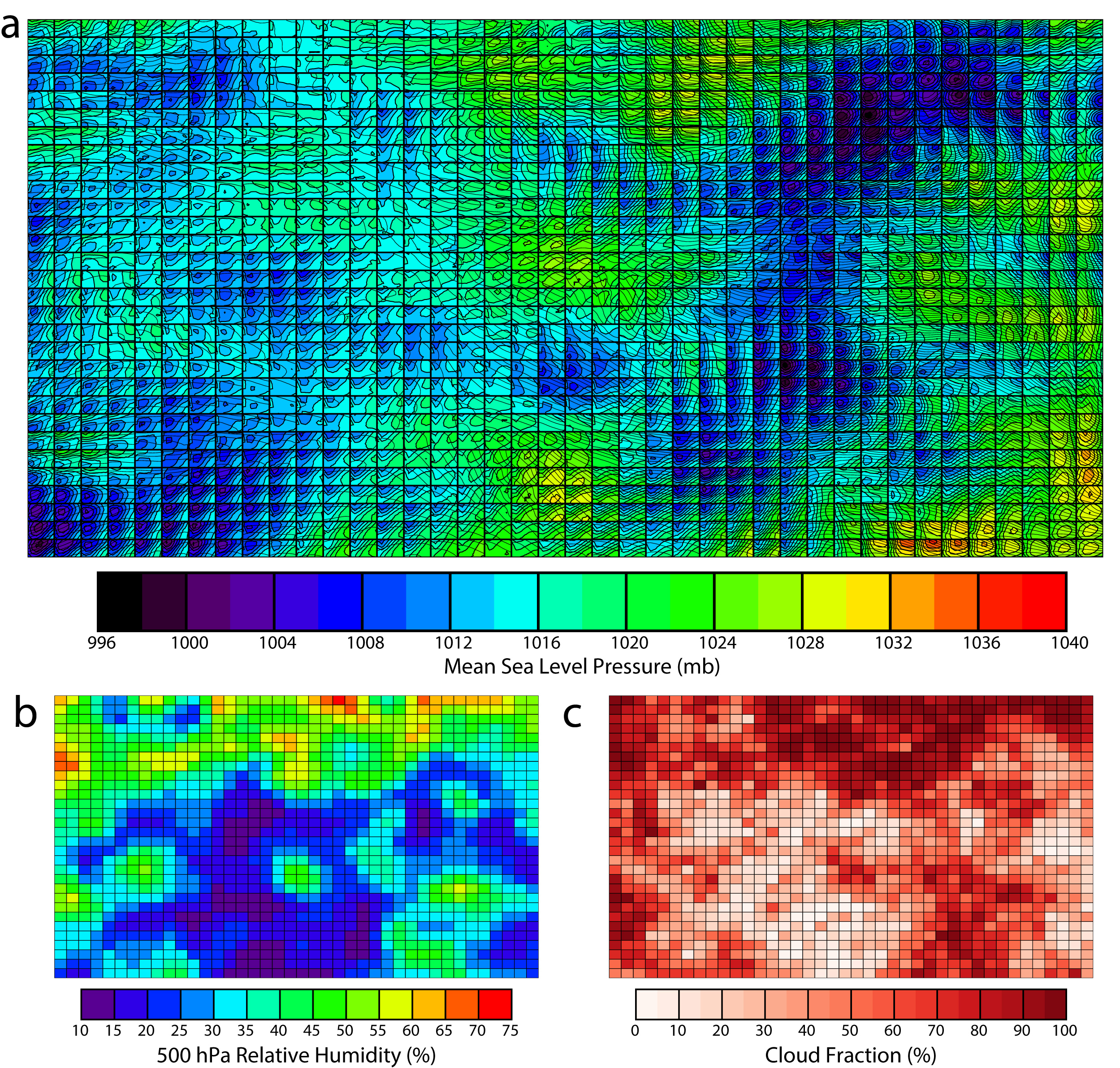 ---
Example of a large, 40x30 (1200 class) SOM generated from 14 years of synoptic states provided by the North American Regional Reanalysis (NARR). a) 500 hPa geopotential height and MSLP. b) Class mean 500 hPA relative humidity for the point over the ARM SGP site. c) Class mean total Cloud Fraction as observed by the MMCR and MPL.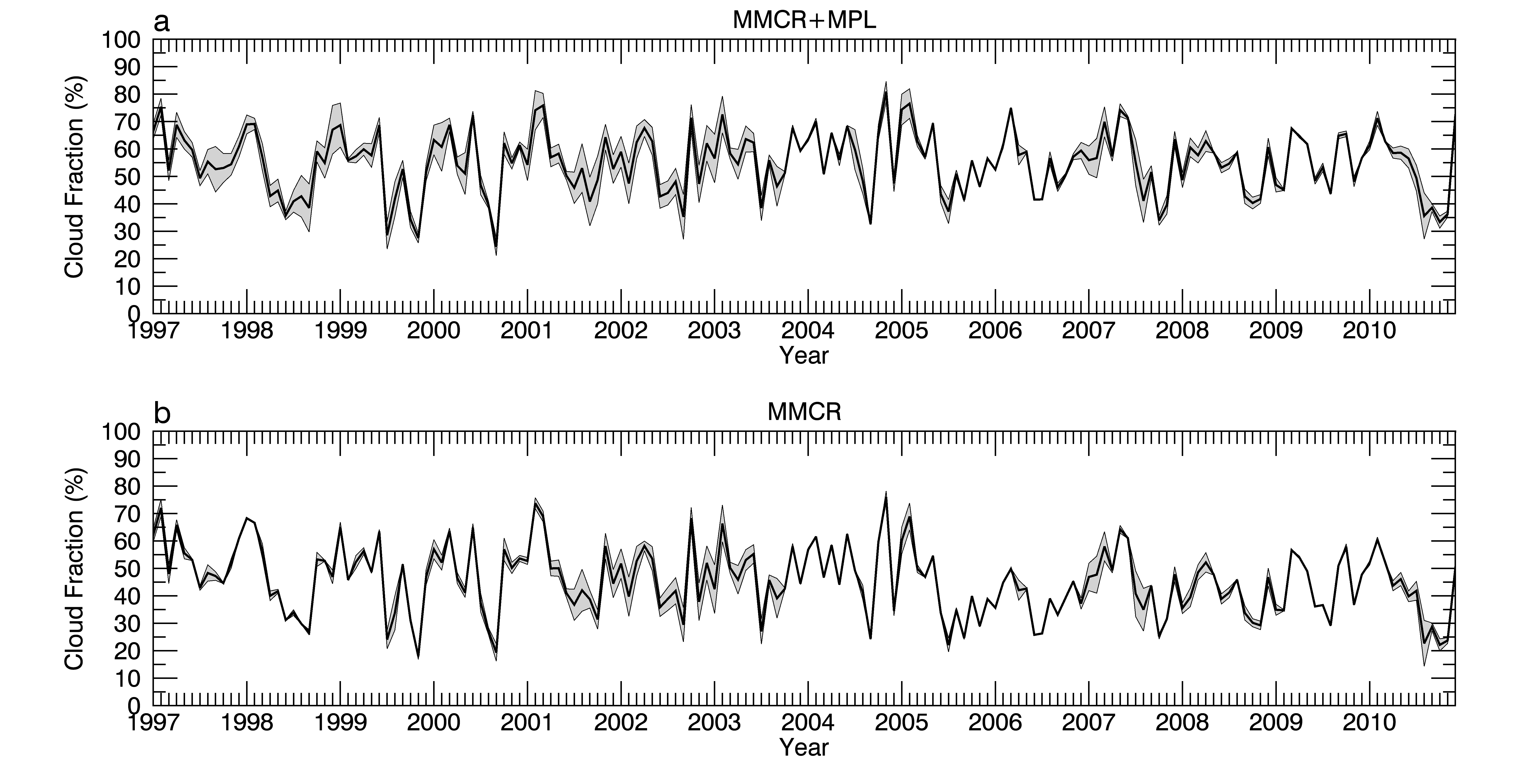 ---
Monthly records of Cloud Fraction from 1997-2010 using observations filled with information from a monthly series of 96-class SOMs. 95% confidence intervals are shaded in grey.
The ARM SGP site in Lamont, Oklahoma, is home to one of the longest records of actively sensed cloud information anywhere on the planet. Despite the best efforts of the program, instruments occasionally misbehave or are taken down for maintenance, resulting in holes within this record. Utilizing the Active Remote Sensing of Clouds Value-Added Product (ARSCL VAP, Clothiaux et al. 2000, 2001), Kennedy et al. (2014), took these gaps into consideration and developed confidence intervals for a monthly record of total cloud fraction (CF) at the ARM SGP site. At times, these intervals are quite large due to downtime by the micropulse lidar (MPL) or millimeter cloud radar (MMCR). This leads to difficulties in comparing observations to model simulations or diagnosing trends in the observations.
Testing a number of configurations of SOMs, it is shown that uncertainty in the monthly total CF record can be reduced significantly. Although all SOMs improved the instrument record, those with a large number of classes, and separated by month, provided the largest gains. This result may be due to a manifestation of seasonally dependent biases in North American Regional Analysis (NARR). With use of the SOMs, the average uncertainty in monthly total CF was reduced in half from the values calculated in Kennedy et al. (2014).
This proof-of-concept work opens the door to a number of other opportunities. While some sensitivity testing will be required, this methodology is adaptable to other ARM sites. Further, the results suggest that a combination of ARM observations and reanalyses can provide a better historical record of cloud occurrence prior to the existence of actively sensed observations. Finally, this work can move beyond total CF, which is an overly simplistic depiction of cloud occurrence. Instead, the techniques can be applied to records of specific cloud types.