Spiraling Through a Storm
Giangrande, S., Brookhaven National Laboratory
Cloud Processes
Convective Processes
Giangrande SE, T Toto, A Bansemer, MR Kumjian, S Mishra, and A Ryzkhov. 2016. "Insights into riming and aggregation processes as revealed by aircraft, radar, and disdrometer observations for a 27 April 2011 widespread precipitation event." Journal of Geophysical Research: Atmospheres, 121(10), 10.1002/2015jd024537.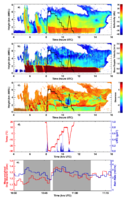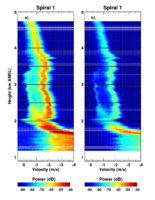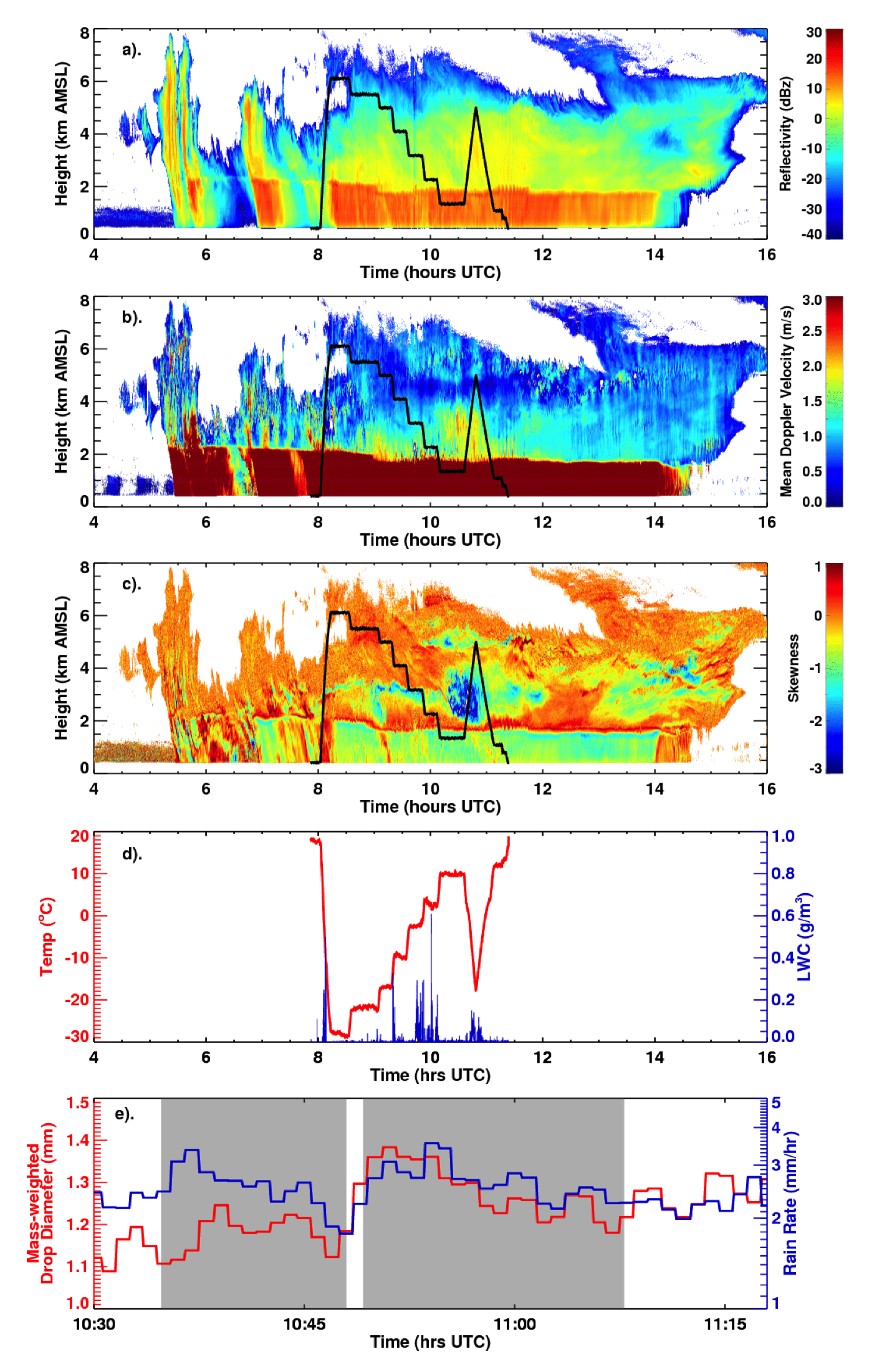 ---
A multi-sensor look at the aircraft spirals through a widespread precipitation event over the ARM SGP on 27 April, 2011.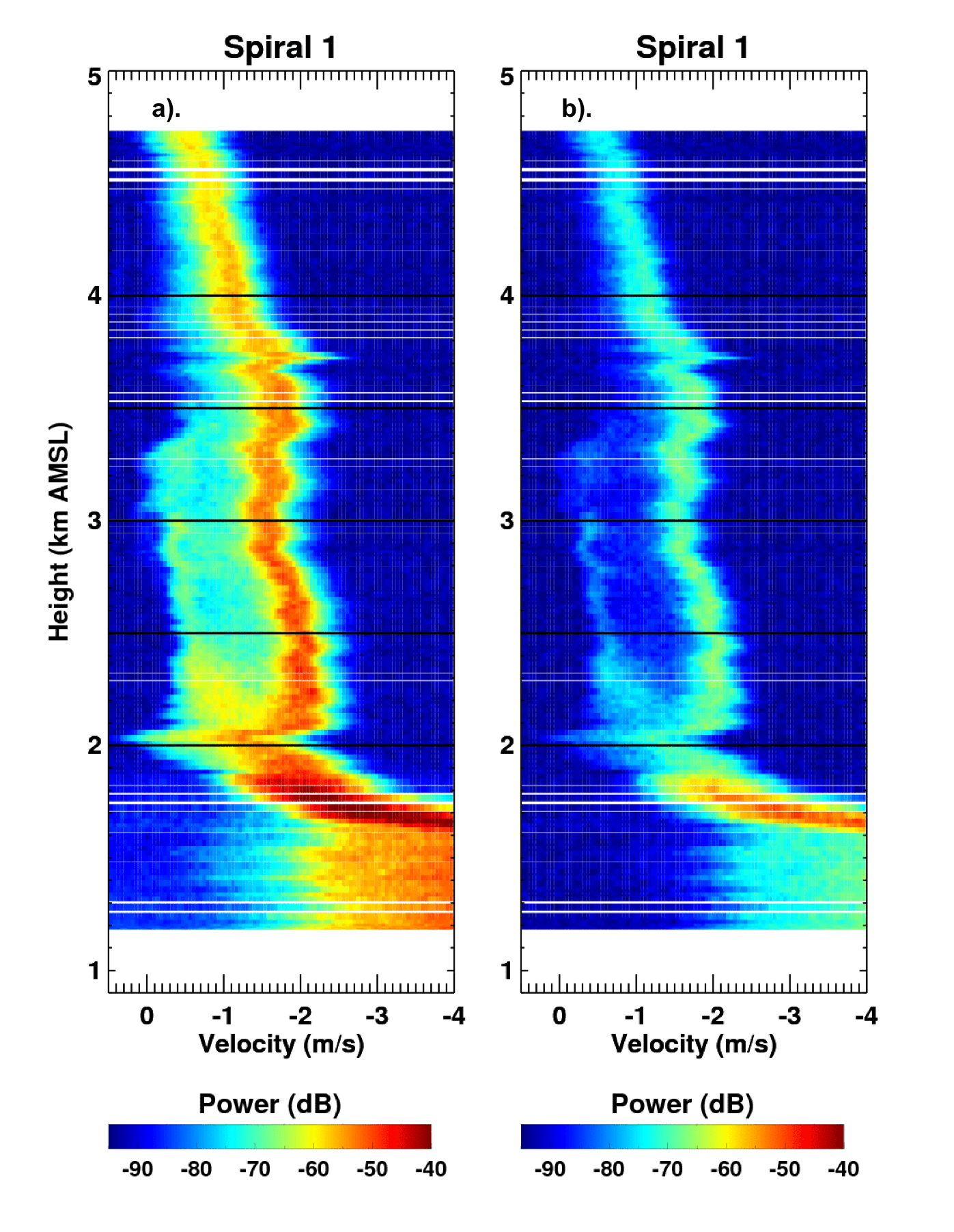 ---
ARM KAZR "spectragrams" inform on spiral particles and processes, including the presence of slower-falling ice needles and faster-falling graupel.
Science
A multi-sensor effort that blends observations from UND Citation aircraft spirals and ground-based ARM scanning precipitation and cloud radars to investigate the signatures associated with riming and aggregation processes.
Impact
Newer ARM radar technologies demonstrate beneficial sensitivity to riming, aggregation, and melting layer processes. This includes an ability to detect the presence/absence of higher-density ice needles near the riming regions aloft. Understanding when and where these processes are acting and under what conditions they may be dominant is critical for simulating realistic cloud behavior and life cycles in climate models.
Summary
This study presents aircraft spiral observations intercepting a transition to riming processes during widespread precipitation. The sequence is documented using collocated ARM radar, including longer-wavelength ARM dual-polarization measurements and shorter-wavelength Doppler spectra. Riming regions are supported using aircraft measurements recording elevated liquid water concentrations, spherical particle shapes, and saturation with respect to water. Profiling cloud radar observations indicate riming regions as having rapid time-height changes and eventual bimodalities in Doppler spectra. These riming signatures are coupled to scanning dual-polarization radar observations of higher differential reflectivity (ZDR) aloft. Reduced melting layer enhancements and delayed radar bright-band signatures in the column are also observed during riming periods, most notably with the profiling radar observations. The bimodal cloud radar Doppler spectra captured near riming zones indicate two time-height spectral ice peaks: one rimed particle peak and one peak associated with pristine ice needle generation and/or growth between -4 °C and -7 °C also sampled by aircraft probes. This pristine needle population gives a partial explanation for the enhanced ZDR we observe near this rimed particle region.