Sub-Micrometre Particulate Matter Is Primarily in Liquid Form over Amazon Rain Forest
Zaveri, R., Pacific Northwest National Laboratory
Aerosol Properties
Cloud-Aerosol-Precipitation Interactions
Bateman AP, Z Gong, P Liu, B Sato, G Cirino, Y Zhang, P Artaxo, AK Bertram, AO Manzi, LV Rizzo, RA Souza, RA Zaveri, and ST Martin. 2016. "Sub-micrometre particulate matter is primarily in liquid form over Amazon rainforest." Nature Geoscience, 9(1), 10.1038/ngeo2599.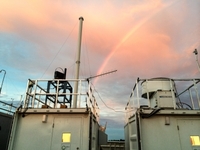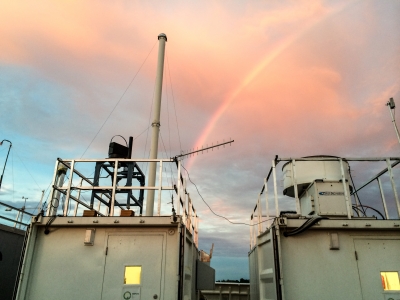 ---
The ARM Mobile Facility aerosol container on the left was a part of the GoAmazon research. The container on the right was the data system container with the W-band radar on top of it.
Science
A team of scientists, including U.S. Department of Energy-funded researchers, found that particles with diameters smaller than 1 μm are primarily in liquid form over the tropical rainforest of central Amazonia, where the relative humidity is greater than 80% more than 70% to 80% of the time during the dry and wet seasons. These findings are in stark contrast with another study in a boreal forest of Northern Europe where the organic particles were found to be in semi-solid or solid forms.
Impact
Properly representing these processes in atmospheric models will enable better simulation of particulate matter and improve understanding of their impact on climate.
Summary
Atmospheric particles influence the Earth's energy balance directly by altering or absorbing the Sun's rays, and indirectly by influencing cloud formation. Under clean conditions in forested environments, submicron particles are produced by the oxidation of biogenic volatile organic compounds (BVOCs). Whether the particles exist in a liquid, semisolid, or solid state can affect particle growth and reactivity, as well as particle number, size, and composition. Liquid form tends to favor the growth of larger particles because of the rapid absorption of semi-volatile organic vapors, which suppresses the growth of smaller particles. Overall, the team found that a biome-dependent distribution of liquid and non-liquid matter occurs over forested regions. These differences arise both because of intrinsic differences related to BVOC emissions and oxidation pathways, as well as extrinsic differences in climate and temperature.