Towards Retrieving Critical Relative Humidity from Ground-based Remote-sensing Observations
Van Weverberg, K., Met Office - UK
General Circulation and Single Column Models/Parameterizations
Convective Processes
Van Weverberg K, IA Boutle, CJ Morcrette, and RK Newsom. 2016. "Towards retrieving critical relative humidity from ground-based remote-sensing observations." Quarterly Journal of the Royal Meteorological Society, 142(700), 10.1002/qj.2874.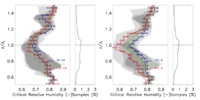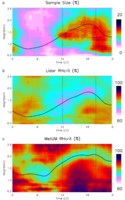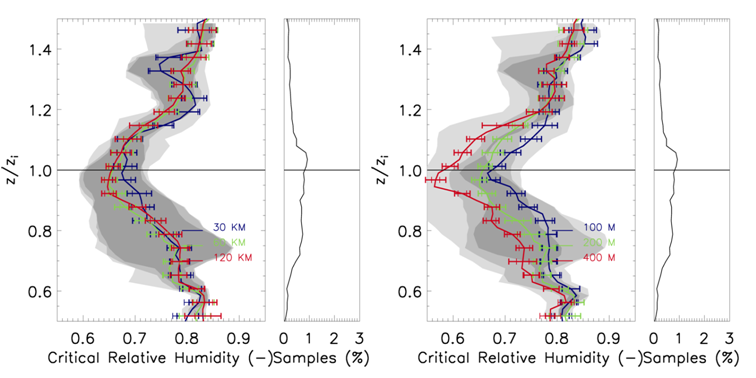 ---
Vertical profiles of RHcrit as derived from Raman lidar for (a) a range of horizontal and (b) vertical grid spacings. Only grid points with a integral time scale larger than 10 s and signal-to-noise ratios larger than 0.3 are used. Grey bands denote the 25th and 75th percentiles of the derived RHcrit. Noise and sample errors are shown with thin and thick error bars respectively.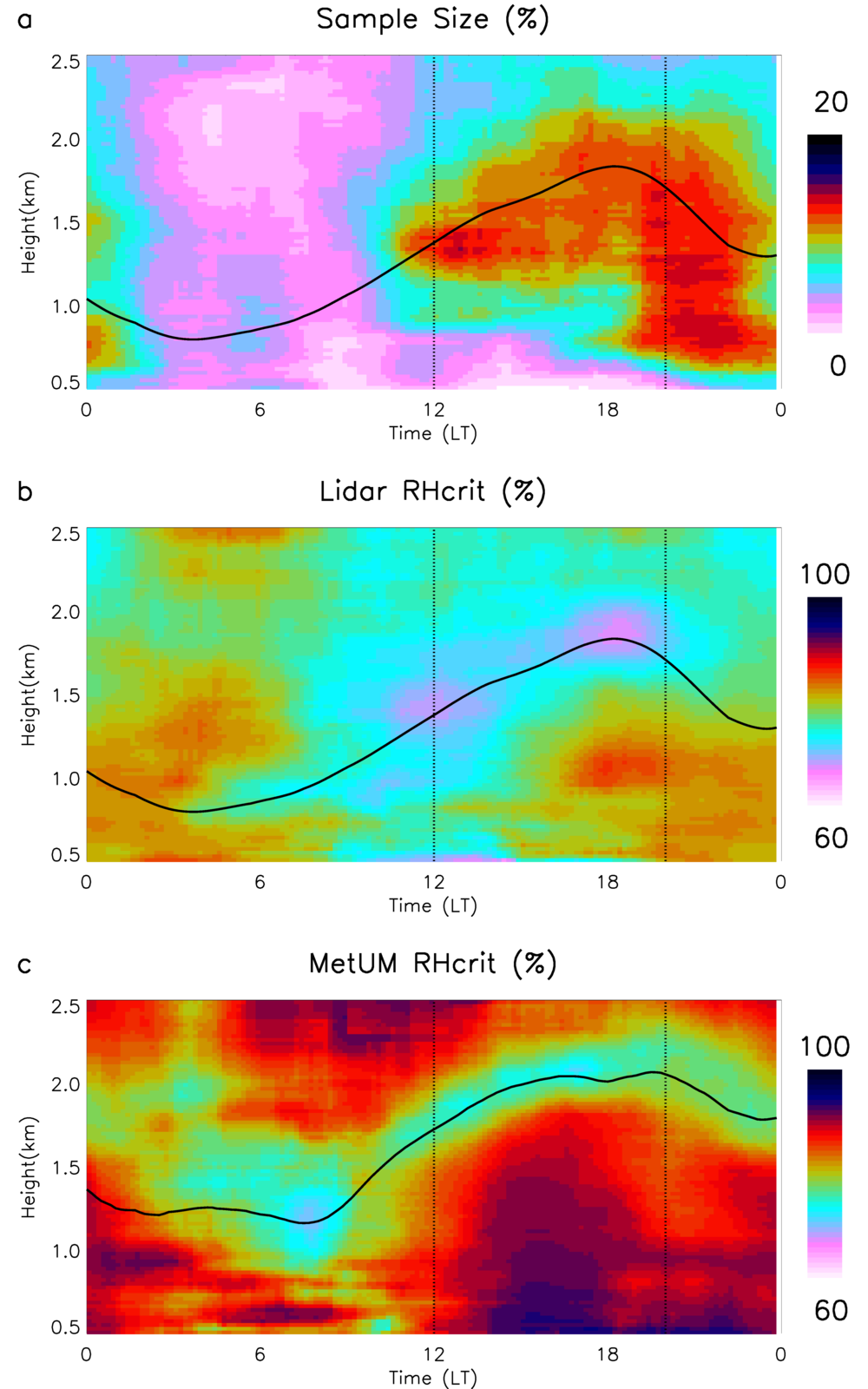 ---
Time-height plots of the diurnal cycle of RHcrit statistics during MC3e campaign: (a) the fraction of the time that data quality was sufficient to retrieve RHcrit from lidar, (b) RHcrit as retrieved from lidar, and (c) the RHcrit as simulated by the turbulence-based RHcrit parameterization in the MetUM. The boundary-layer height is added as a thick black line. Only RHcrit values for which both the model and the observations had valid data points were used to construct this diurnal cycle.
Science
In a Global Circulation Model (GCM), cloud should form before the grid-box-mean state becomes saturated. Therefore, assumptions about sub-grid variability in temperature and water vapour are necessary, which are typically combined in the critical relative humidity (RHcrit), the relative humidity at which cloud forms a sub-saturated GCM grid box.
Impact
For the first time, the critical relative humidity has been 'observed' using high-resolution temperature and water vapour measurements from the Raman Lidar at the Southern Great Plains Central Facility, for a variety of assumed GCM grid box sizes.
Summary
We present an exploratory study aimed at understanding whether current noise levels of lidar-retrieved temperature and water vapour are sufficiently low to obtain a reasonable estimate of RHcrit. We show that vertical profiles of RHcrit can be derived with an uncertainty of a few percent. RHcrit tends to be smallest near the boundary-layer top and seems to be insensitive to the horizontal grid spacing at the scales investigated here (30-120 km). However, larger sensitivity was found to the vertical grid spacing. RHcrit is observed to decrease by 10% as the vertical grid spacing quadruples.
By way of example, the lidar-retrieved RHcrit profiles were used to evaluate a parameterization that estimates RHcrit from variances diagnosed from the boundary-layer parameterization. It is shown that this parameterization overestimates RHcrit by up to 10 %, but captures the diurnal variability of RHcrit well, with lower values of RHcrit near the boundary-layer top.
While we show that the uncertainties associated with the retrievals are large, lidar observations seem promising to diagnose and evaluate a very important parameter to predict cloud fraction in climate and numerical weather prediction models.