Field Testing the Next Generation of Radiosondes
Jensen, M., Brookhaven National Laboratory

Atmospheric Thermodynamics and Vertical Structures
Warm Boundary Layer Processes
Jensen MP, DJ Holdridge, P Survo, R Lehtinen, S Baxter, T Toto, and KL Johnson. 2016. "Comparison of Vaisala radiosondes RS41 and RS92 at the ARM Southern Great Plains site." Atmospheric Measurement Techniques, 9(7), 10.5194/amt-9-3115-2016.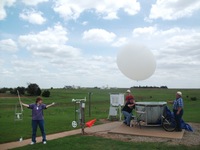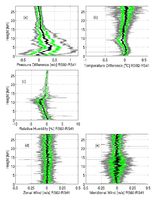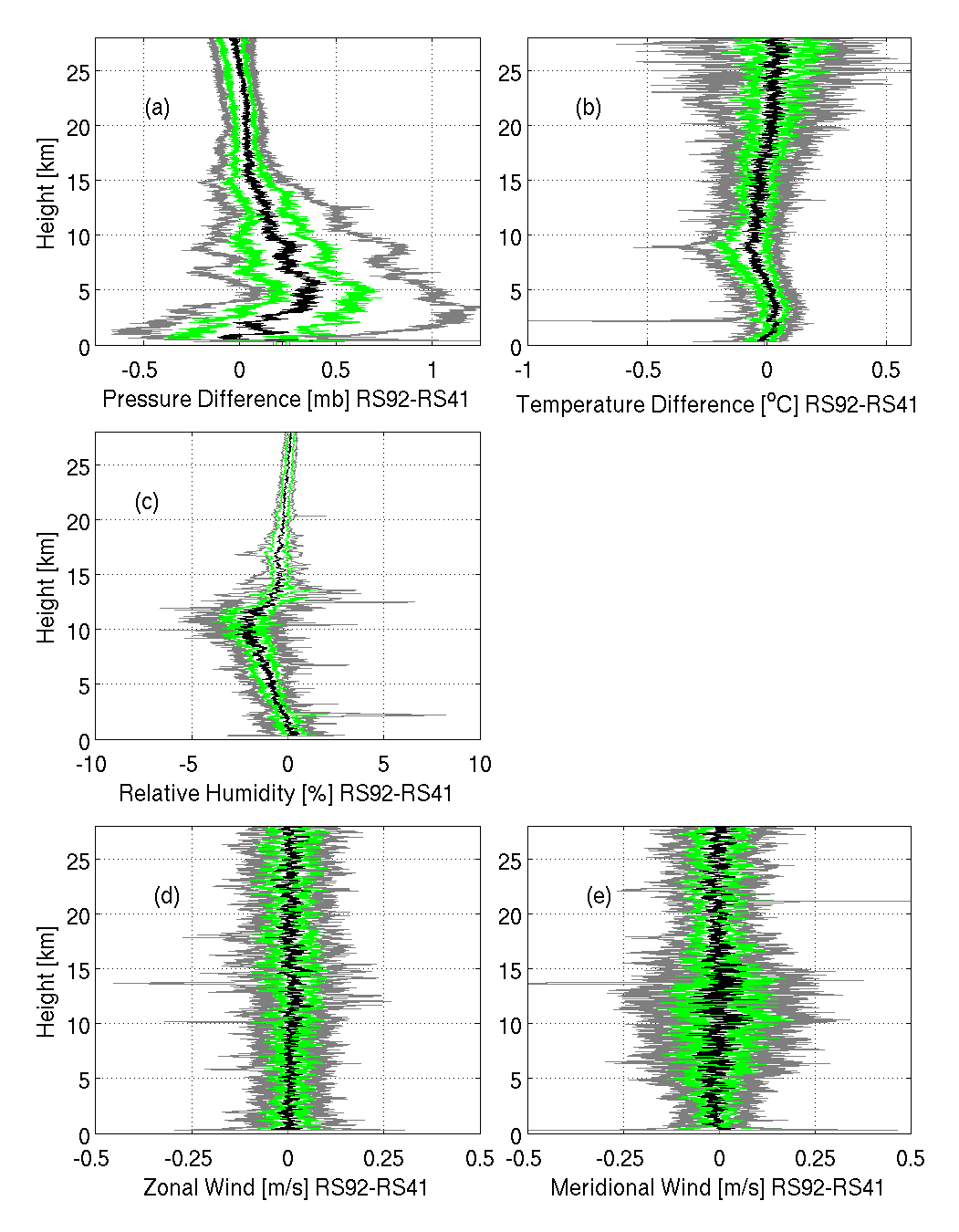 ---
Vertical profiles of the median (black), 25-75th percentile (green) and 10-90th percentile (grey) differences between RS92 and RS41 observations for (a) pressure, (b) dry-bulb temperature, (c) relative humidity, (d) zonal wind and (e) meridional wind.
Science
During 3-8 June 2014, an intercomparison study of Vaisala radiosondes RS92 (the current ARM instrumentation) and RS41 (next generation) was undertaken at the ARM SGP site. The results indicate that the sounding measurements generally agree well within manufactured-defined uncertainties with notable exceptions when exiting liquid cloud layers where evaporative cooling impacts are mitigated for the RS41 measurements.
Impact
A comparison of 20 twin-radiosonde balloon flights show that the new RS41 and older RS92 radisondes generally agree within the manufactured-defined uncertainties of the instruments. Exceptions were noted after traversing liquid cloud layers where instrument wetting and evaporative cooling impacts have been mitigated in the RS41. For many science applications, a switch from the RS92 to RS41 will likely have little impact. However, for long-term trend analysis further characterization is needed.
Summary
During 3-8 June 2014, 20 twin-radiosonde balloon flights were performed at the ARM SGP site in order to evaluate and quantify differences in atmospheric state variable measurements from the current-generation Vaisala RS92 and the next-generation RS41 radiosondes. Complementary observations from the ARM site were used to put these measurements in context, including Ka-band ARM zenith radar (KAZR) observations for documenting cloud occurrence and microwave radiometer observations for integrated water vapor. Efforts were made to sample the diurnal cycle and a variety of cloud and weather conditions. The results show small biases and root mean square (rms) differences between the radiosonde measurements over all conditions and heights. A closer examination shows that when exiting liquid cloud layers the RS41 measurements show less impact related to instrument wetting and evaporative cooling.