Impacts of the Manaus Pollution Plume on the Microphysical Properties of Amazonian Clouds
Machado, L. A., INPE-CPTEC

Radiation Processes
Warm Boundary Layer Processes
Cecchini MA, LA Machado, JM Comstock, F Mei, J Wang, J Fan, JM Tomlinson, B Schmid, R Albrecht, ST Martin, and P Artaxo. 2016. "Impacts of the Manaus pollution plume on the microphysical properties of Amazonian warm-phase clouds in the wet season." Atmospheric Chemistry and Physics, , 10.5194/acp-16-7029-2016.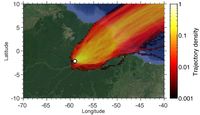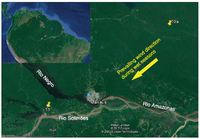 ---
Density of back trajectories of air masses arriving at the T0a site during the wet season from 1 March to 31 May 2014. Back trajectories were originated at 100 m above the ground every 30 min using the HYSPLIT model with 0.5° resolution winds from the US National Oceanic and Atmospheric Administration Global Data Assimilation System. Map data: Google.
Science
We compare cloud properties in regions affected or not by the pollution from Manaus city, in the Amazon. Cloud formed under the pollution effect present different microphysical properties, with more numerous and smaller droplets.
Impact
This new airborne campaign in the Amazon collected statistics of clouds and aerosols as well as the atmospheric chemistry of the background and anthropogenic-affected air.
Summary
This work analyzes the impacts of Manaus urban pollution on the microphysical properties of warm-phase clouds. It is part of the GoAmazon2014/15 Experiment, with the measurements being carried out between February and March 2014 (local wet season). The main cloud property of interest is the droplet size distributions in the range 1 µm ≤ D ≤ 50 µm in order to capture the processes leading up to precipitation formation. The wet season largely presents a clean background atmosphere characterized by frequent rain showers. As such, the contrast between background clouds and those affected by the Manaus pollution can be observed and detailed. The pollution-affected clouds are found to have smaller effective diameters and higher droplet number concentrations. The differences range from 10 to 40% for the effective diameter and are as high as 1000% for droplet concentration for the same vertical levels. The growth rates of droplets with altitude are slower for pollution-affected clouds (2.90 compared to 5.59 µm km−1), as explained by the absence of bigger droplets at the onset of cloud development. The overall shape of the droplet size distribution (DSD) does not appear to be predominantly determined by updraft strength, especially beyond the 20 µm range. The aerosol conditions play a major role in that case. However, the updrafts modulate the DSD concentrations and are responsible for the vertical transport of water in the cloud. This study shows that the pollution produced by Manaus significantly affects warm-phase microphysical properties of the surrounding clouds by changing the initial DSD formation.