To Evaporate or Not to Evaporate: the Question of Secondary Organic Particulate Matter Lability
Martin, S. T., Harvard University
Aerosol Properties
Aerosol Processes
Liu P, YJ Li, Y Wang, MK Gilles, RA Zaveri, AK Bertram, and ST Martin. 2016. "Lability of secondary organic particulate matter." Proceedings of the National Academy of Sciences, 113(45), 10.1073/pnas.1603138113.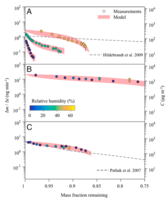 ---
Evaporation rates (Δm/Δt) and vapor mass concentrations C for decreasing remaining mass fraction of different organic films. Experiments conducted at different relative humidity (RH) are separated by coloring of the data points. The evaporation rates slowed significantly as the remaining mass fraction decreased in the toluene SOA film at low RH. In contrast, the evaporation rates in isoprene and a-pinene SOA films were relatively higher and showed no dependence on RH.
Science
New research highlights a nonlabile-to-labile transition for material representative of anthropogenic secondary organic particulate matter at a threshold humidity range. This behavior differs markedly from materials representing biogenic aerosol sources, which lack such a transition.
Impact
The results allow for an improved representation of anthropogenic and biogenic secondary organic aerosol formation in climate models.
Summary
Mass lability of atmospheric organic particulate matter, meaning its tendency to evaporate, is an important property in the mechanisms governing the climate effects. This property is affected by both the volatility and the molecular diffusivity of the constituent organic species. Via a series of laboratory experiments, the researchers directly determined the mass labilities of films of secondary organic material representative of anthropogenic and biogenic organic particulate matter (PM). The evaporation rates for anthropogenic organic PM increased above a threshold relative humidity (RH) between 20% and 30%, indicating rapid partitioning above a transition RH. Below the threshold, the characteristic time for equilibration was estimated at up to 1 week for a typically sized particle. In contrast, for films representing biogenic PM, no RH threshold was observed, suggesting equilibrium partitioning is rapidly obtained for all RHs. The effective molecular diffusivity for the biogenic case was at least 1000 times greater than that of the anthropogenic case.