Reconciling Aerosol Optical Thickness and Surface Particle Mass Through Aerosol Liquid Water
Ghate, V. P., Argonne National Laboratory

Aerosol Properties
Aerosol Processes
Nguyen TK, VP Ghate, and AG Carlton. 2016. "Reconciling Satellite Aerosol Optical Thickness and Surface Fine Particle Mass Through Aerosol Liquid Water." Geophysical Research Letters, 43(22), 10.1002/2016gl070994.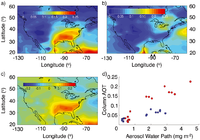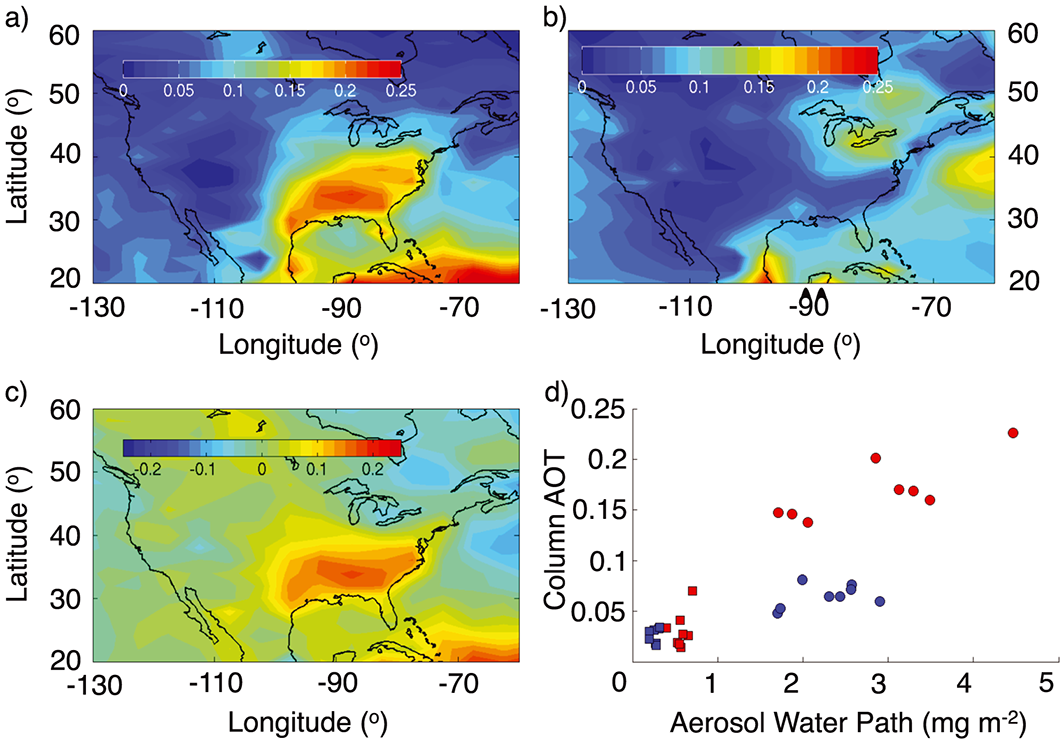 ---
(a) Averaged CALIPSO-measured Aerosol Optical Thickness (AOT) during the summer (JJA) months of 2006-2014. (b) Averaged CALIPSO-measured AOT during the winter (DJF) months of 2006-2014. (c) Difference between the CALIPSO-measured AOT during the summer and the winter months. (d) Scatter plot between the CALIPSO-measured AOT and calculated aerosol water path during summer (red) and winter (blue) over the Southeast U.S.
Science
Scientists have long debated the cause of an anomalous pattern over the Southeast United States, where the satellite-measured summertime aerosol optical depth is greatly enhanced over its wintertime values. Ground-based measurements of aerosol mass and chemical composition, however, are inconsistent with these space-based observations.
Impact
In this study we provide a plausible explanation to resolve this debate through the calculation of aerosol liquid water (ALW), an aerosol constituent that scatters radiation affecting satellite measurements, but is largely removed in surface mass measurements. Spatial and temporal patterns in ALW improve agreement between satellite and surface observations.
Summary
Summertime aerosol optical thickness (AOT) over the southeast United States is sharply enhanced over wintertime values. This seasonal pattern is unique and of particular interest because temperatures there have not warmed over the past 100 years. Patterns in surface fine particle mass are inconsistent with satellite reported AOT. In this work, we attempt to reconcile the spatial and temporal distribution of AOT over the United States with particle mass measurements at the surface by examining trends in aerosol liquid water (ALW), a particle constituent that scatters radiation and affects satellite AOT but is removed in mass measurements at routine surface monitoring sites. We employ the thermodynamic model ISORROPIAv2.1 to estimate ALW mass concentrations at Interagency Monitoring of Protected Visual Environments (IMPROVE) sites using measured ion mass concentrations and North American Regional Reanalysis meteorological data. Excellent agreement between Cloud-Aerosol Lidar and Infrared Pathfinder Satellite Observations (CALIPSO) AOT and estimated ALW provides a plausible explanation for the discrepancies in the geographical patterns of AOT and aerosol mass measurements.