Impact of Dispersion on CAM5 Cloud Radiative and Aerosol Indirect Effects
Liu, Y., Brookhaven National Laboratory
Cloud-Aerosol-Precipitation Interactions
Warm Boundary Layer Processes
Xie X, H Zhang, X Liu, Y Peng, and Y Liu. 2017. "Sensitivity study of cloud parameterizations with relative dispersion in CAM5.1: impacts on aerosol indirect effects." Atmospheric Chemistry and Physics, 17(9), 10.5194/acp-17-5877-2017.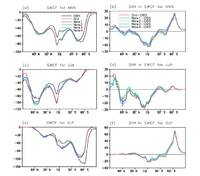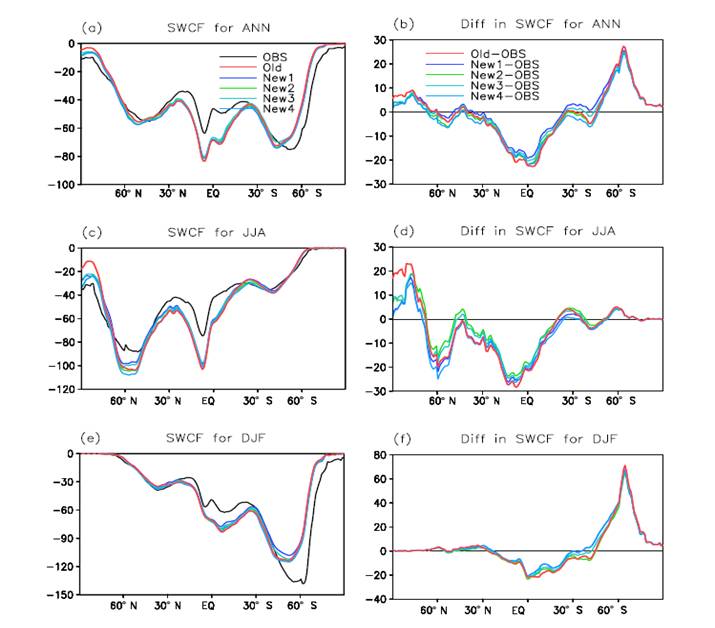 ---
Annual (ANN), JJA, and DJF zonal mean of shortwave cloud radiative forcing (SWCF, Wm2) derived from CAM5.1 (a, c, and e) and the CERES-EBAF observations (OBS), and their difference between OBS and CAM5 results with different ways of representing dispersion effect (b, d, and f).
Science
Accurate representation of cloud microphysics and aerosol-cloud interactions is essential to improving the ability of large-scale models to simulate clouds, precipitation, and aerosol indirect effects, and much remains to be done. Particularly understudied is the spectral dispersion of cloud droplet size distribution--how water is distributed among cloud droplets of different sizes--and its influence on large-scale models. This study examines and demonstrates the crucial role of spectral dispersion in CAM5-simulated cloud radiative and aerosol indirect effects.
Impact
The remarkable influence of the spectral dispersion on CAM5 and the potential existing problems revealed by this study reinforce the pressing need to improve understanding and representation of the spectral shape of cloud droplet size distribution in large-scale models in general.
Summary
Although the role of the spectral shape of cloud droplet size distribution in determining cloud and precipitation properties has been known, its representation in large-scale models is still in its infancy. This study explores this important topic by implementing into CAM5 the effective radius and autoconversion parameterizations developed by Brookhaven National Laboratory scientists and collaborators to consider spectral dispersion. It is shown that the shortwave cloud radiative effect is much better simulated with the new cloud parameterizations as compared to the standard scheme in CAM5. Consideration of the dispersion effect can significantly reduce the changes induced by anthropogenic aerosols in the cloud-top effective radius and the liquid water path, especially in the Northern Hemisphere. The influences on longwave cloud radiative forcing and surface precipitation are minimal, however, which may be related to the fact that cloud microphysics and aerosol-cloud interactions have not been considered in deep convection.