The Importance of Updraft Width
Trapp, R. J., University of Illinois at Urbana-Champaign

Vertical Velocity
Convective Processes
Trapp R, G Marion, and S Nesbitt. 2017. "The Regulation of Tornado Intensity by Updraft Width." Journal of the Atmospheric Sciences, 74(12), 10.1175/JAS-D-16-0331.1.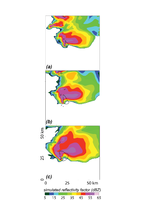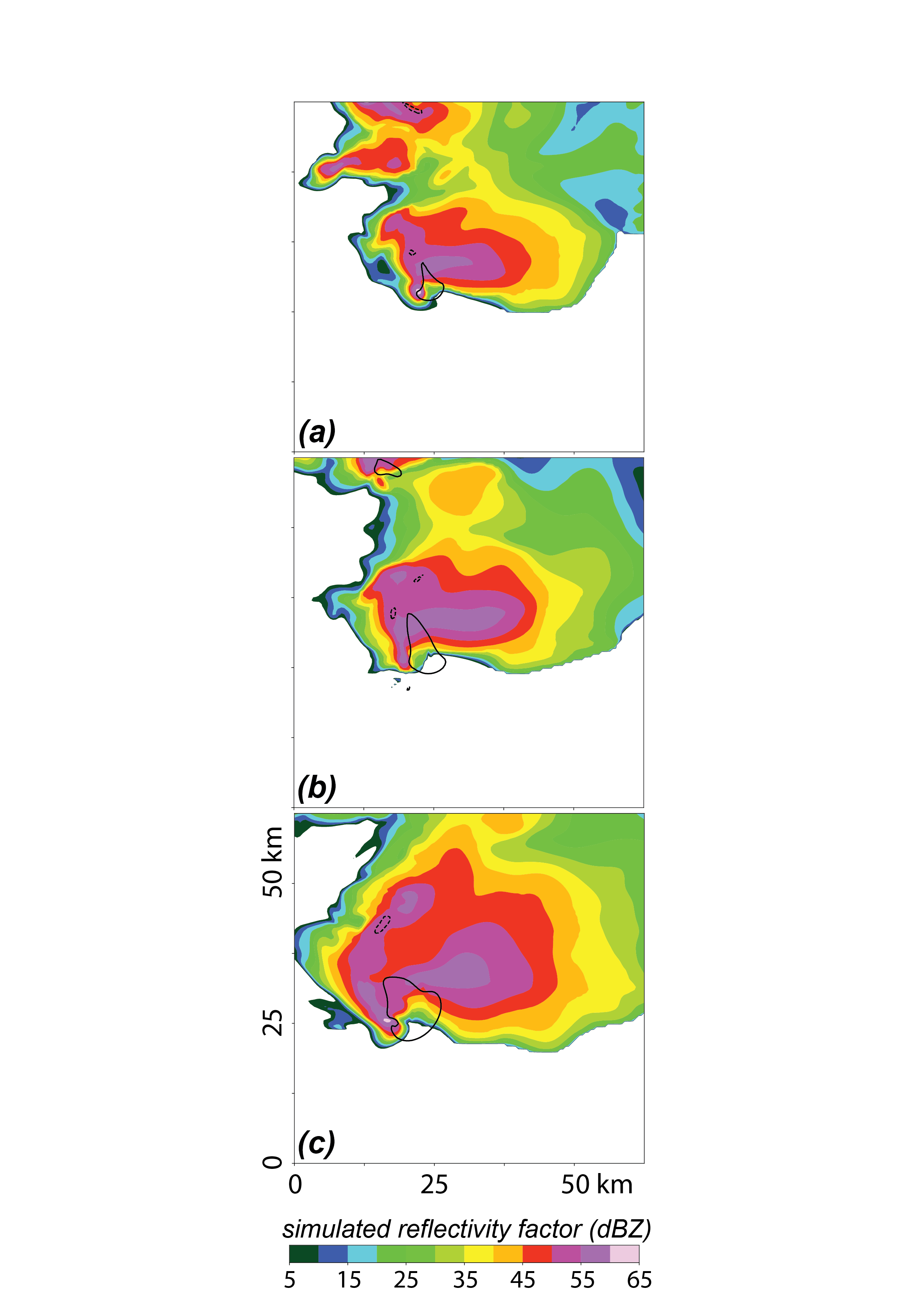 ---
Plan view of simulated radar reflectivity factor (color fill; dBZ) at z = 1.25 km, overlaid by the 20 m s-1 vertical velocity contour at z = 6.25 km (solid) and the 8 m s-1 vertical velocity contour at z = 3.25 km (dashed), for the CM1 experiment with hodograph radius of (a) 6 m s-1, (b) 8 m s-1, and (c) 10 m s-1. Fig. 3 from Trapp et al. (2017).
Science
Vertical wind shear exerts a strong control on the width of thunderstorm updrafts and, in turn, on the width of thunderstorm downdrafts and the depth of associated cold pools.
Impact
This new understanding of how updrafts, downdrafts, and surface-based cold pools are inter-related within organized storms has implications for how these processes should be treated in weather and climate models. In the current generation of such models, updrafts are "parameterized" without any regard to the external influence of vertical wind shear.
Summary
A fundamental yet outstanding question about deep cumulus convection regards how convective updrafts, downdrafts, and surface-based cold pools are inter-related within organized storms, and how these three convective components are modulated by external and internal factors. In Trapp et al. (2017), we leverage ongoing tornado research with our ASR objectives, and address this question through a series of idealized simulations using environments described by analytic thermodynamic and wind profiles. Supercellular convection is the particular focus of this paper, and we find that environmental vertical wind shear exerts a significant control on supercellular updraft width, especially when the shear is characterized by a curved hodograph; our separate analyses of linear and nonlinear dynamic pressure forcing readily explain this control. In agreement with our physical arguments, increases in updraft width are accompanied by corresponding increases in supercellular downdraft width and cold-pool depth.
This research emphasizes updraft (and downdraft) width as a physically relevant metric for analysis and comparison with ARM observational data, including those collected during MC3E (and to be collected during CACTI). It also introduces the concept of using "overshooting top area" as a means to estimate updraft width using satellite-derived brightness temperature.
Our concurrent investigation of the roles of different hydrometeors (rain, graupel, and hail) in influencing the convective drafts and ultimately the cold pool area, depth, and propagation speed, will be reported in a forthcoming publication.