Surface Characterization Data for the ARM SGP CART Site
Cialella, A. T., Brookhaven National Laboratory
Surface Properties
N/A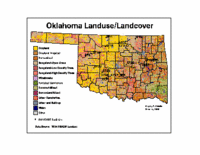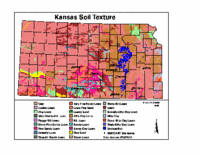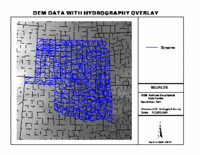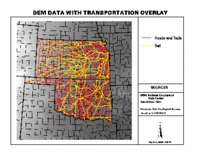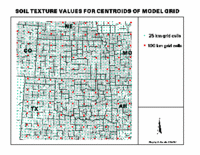 The ARM External Data Center (XDC) is continually searching for surface characterization data for the ARM CART sites. These data can provide a better understanding of geophysical parameters, allowing for more accurate parameterization within General Circulation Models (GCMs), thus improving their preditive power. Below are a sample of surface characterization data available and their sources:
The land use/land cover map above was provided by Oklahoma State University (Figure 1). Eighty-eight covertypes, interpreted from county orthophotos, were generalized to 25 cover types. The resolution of the data is 200m by 200m.
Figure 2 was provided through the Soil Conservation Service (SCS) State Soil Geographic Database (STATSGO). The soil maps for STATSGO were created from a generalization of more detailed soil survey maps. Quadrangle units (1 degree by 2 degrees) were merged to create statewide coverages. The intented scale of use is 1:250,000. Caution should be exercised before drawing any interpretations at a county level.
In Figure 3, the hydrography stream data for Kansas and Oklahoma are shown at a scale of 1:250,000. Hydrography data include flowing water, water bodies, and wetlands. The data source is the U.S. Geological Survey. Digital Elevation Model (DEM) data are shown as an underlying base layer at 1-km grid cell resolution. The USGS Earth Resources Observation System (EROS) Data Center (EDC) provides DEM data for the continental U.S. from 30-arc second data resampled to the Lambert projection with 1-km grid cells. The data were then projected to Albers projection to conform with the other CART site geographic database.
Similarly, transportation data shown in Figure 4 are provided by the U.S. Geological Survey at a scale of 1:250,000. Roads and trails are distinguished from railroads on this map. Pipelines and transmission lines are also available.
Figure 5 provides an example of an application of ARM surface characterization data. Soil texture values are determined for the centroids of a model grid. Here 25-km and 100-km grid overlays are shown in green and red, respectively. These values would then be used as input to a model.
An interactive website is being developed that will allow the user to choose from a set of data coverages (e.g., soil texture), point data (e.g., ARM site facilities), and line data (e.g., hydrology) to create a map "on the fly" and save as a postscript or gif file.