Exploring the Role of Water Vapor in the Oxidation of Monoterpenes
Smith, J., University of California, Irvine

Aerosol Processes
Aerosol Processes
Li X, S Chee, J Hao, J Abbatt, J Jiang, and J Smith. 2019. "Relative humidity effect on the formation of highly oxidized molecules and new particles during monoterpene oxidation." Atmospheric Chemistry and Physics, 19(3), doi:10.5194/acp-19-1555-2019.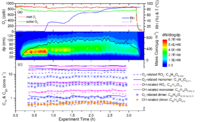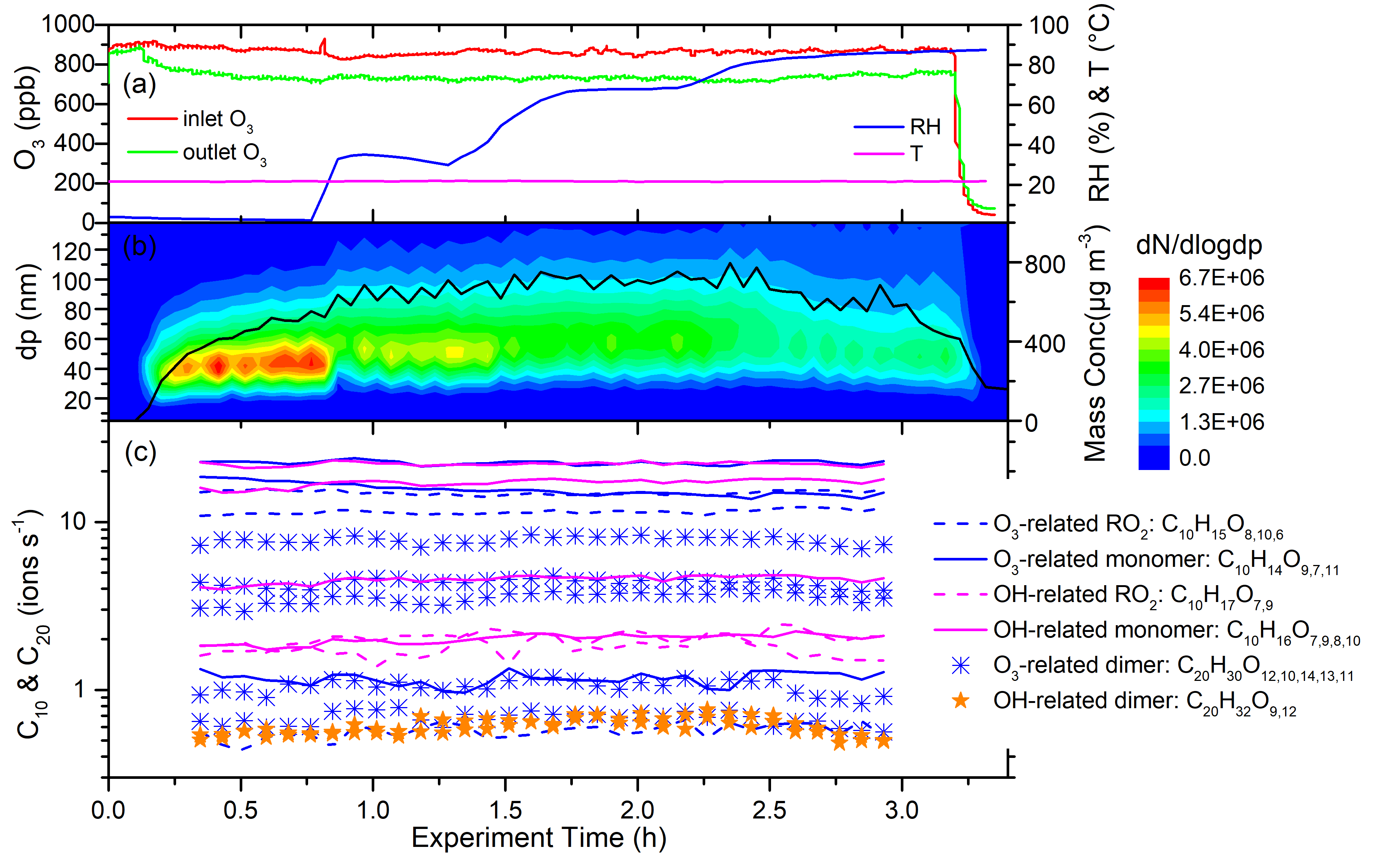 ---
These plots show that the detected products from monoterpene oxidation did not change with RH, despite the fact that particle number concentrations decreased as humidity increased.
Science
We performed lab experiments to explore the role of relative humidity in atmospheric monoterpene oxidation and new particle formation. These studies will provide insights into the most important steps in the process, while also more accurately representing the real atmosphere.
Impact
We found that all of the gas-phase reaction products that we detected using mass spectrometry did not change with relative humidity, even though particle concentration clearly decreased as humidity increased. This observation rules out the role of autoxidation of organic peroxy radicals (the reaction pathway that we observe through these reaction products) in the initial steps of new particle formation.
Summary
The current study explores how relative humidity (RH) affects the formation of highly oxidized molecules (HOMs), which are key components of new particle formation and initial growth from oxidized organics. The oxidation of selected monoterpenes was studied under low NOx conditions and 3-90% RH in a temperature-controlled flow tube. A novel transverse-ionization chemical ionization mass spectrometer detected HOMs and number-size distributions of generated particles were measured.
A major finding from this work is that neither the detected HOMs nor their abundance changed significantly with RH, which indicates that the detected HOMs must be formed from water-independent pathways. In fact, observed peroxy radicals (RO2), HOM monomers, and HOM dimers could mostly be explained by the autoxidation of RO2 followed by bimolecular reactions with other RO2 or hydroperoxy radicals (HO2), rather than from a water-influenced pathway such as the formation of a stabilized Criegee intermediate (sCI). However, as RH changed from 3 to 90% the particle number concentrations decreased by a factor of 2-3 while particle mass concentrations increased or decreased only slightly. Thus, while high RH appears to inhibit new particle formation, this reduction is not caused by a decrease in RO2-derived HOMs formation.