Updraft Constraints on Entrainment: Insights from Amazonian Deep Convection
Anber, U., Brookhaven National Laboratory

Cloud Processes
Convective Processes
Anber U, S Giangrande, L Donner, and M Jensen. 2019. "Updraft Constraints on Entrainment: Insights from Amazonian Deep Convection." Journal of the Atmospheric Sciences, 76(8), 10.1175/JAS-D-18-0234.1.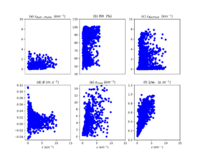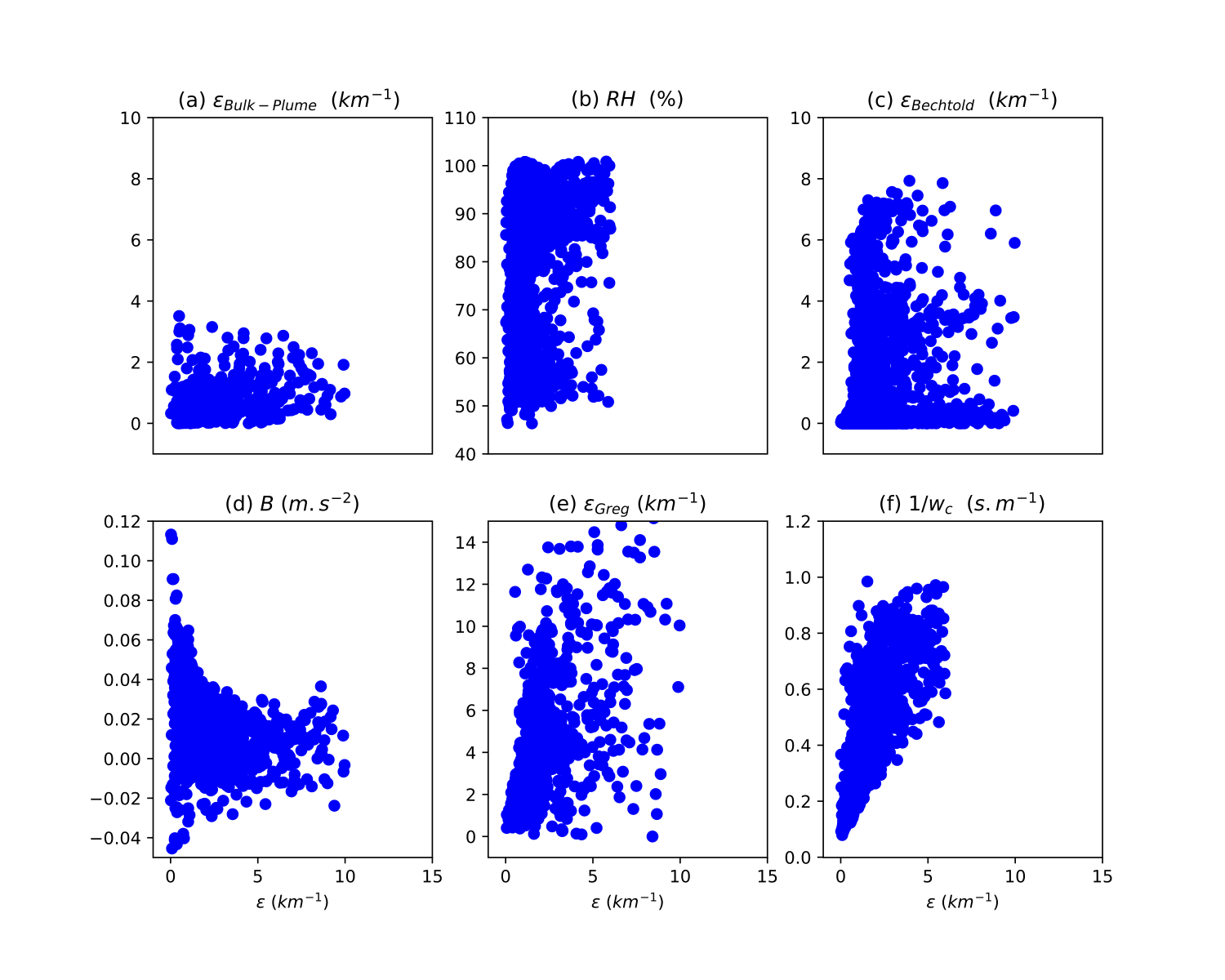 ---
Relationship between the model-diagnosed entrainment rate from GoAmazon simulations (x-axis) and: (a) estimated bulk-plume entrainment using equivalent potential temperature, (b) relative humidity, (c) estimated entrainment rate using the Bechtold et al. (2008) empirical formula, (d) buoyancy, (e) estimated entrainment rate using the Gregory (2001) vertical velocity equation, and (f) inverse of updraft vertical velocity. The correlation coefficient for the latter relationship is 0.77.
Science
Entrainment rate as a convective process has been identified as a major contributor to erroneous climate predictions made by modern comprehensive climate and numerical weather prediction models. Despite receiving extensive attention, the ad hoc treatment of this convective-scale process in global models remains poor. On the other hand, while limited-area, high-resolution, non-hydrostatic models can directly resolve entrainment, their sensitivity to model resolution, especially with the lack of benchmark mass flux observations, limits their applicability. In this paper, the data set from the GoAmazon2014/15 campaign focusing on radar retrievals of convective updraft vertical velocities is used with the aid of cloud-resolving model simulations of deep convective events over the Amazon to provide deeper insights into entrainment.
Impact
Scarcity of observed updraft vertical velocity in deep convection resulted in negligence of its critical role in representing atmospheric processes in climate and weather prediction models including entrainment rate -- a sub-grid process to which climate simulations are most sensitive.
In this paper, by using the observed updraft velocity from the GoAmazon 2014/15 field campaign and cloud-resolving model simulations of Amazonian deep convection, a strong relationship between the vertical velocity and entrainment is presented. The results indicate that recalibrating the observed updraft velocity in climate models could lead to an improved estimate of entrainment rate and therefore could unlock some grand challenges in weather climate science such as convective organization and climate forcing and sensitivity.
Summary
Sensitivity of weather and climate prediction models' simulations to the representation of entrainment rate is a long-standing problem in modern atmospheric science. Here, a unique data set of the updraft vertical velocity of deep convection from the GoAmazon 2014/15 field campaign, combined with cloud-resolving model simulations of the Amazonian deep convective events, reveals a distinct relationship between entrainment rate, as directly diagnosed from the model, and the updraft vertical velocity. This relationship enables a robust estimation, on average, of the mixing time scale that the environment requires to interrupt the convective cloud cores. The results also show a weak correlation with other environmental and cloud variables widely used in convective parameterization schemes.