How Do Aerosols Impact Tropical Deep Convection and Precipitation? an Idealized Modeling Study
Anber, U., Brookhaven National Laboratory

Cloud-Aerosol-Precipitation Interactions
Convective Processes
Anber U, S Wang, P Gentine, and M Jensen. 2019. "Probing the response of tropical deep convection to aerosol perturbations using idealized cloud-resolving simulations with parameterized large-scale dynamics." Journal of the Atmospheric Sciences, , 10.1175/JAS-D-18-0351.1. ONLINE.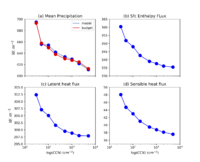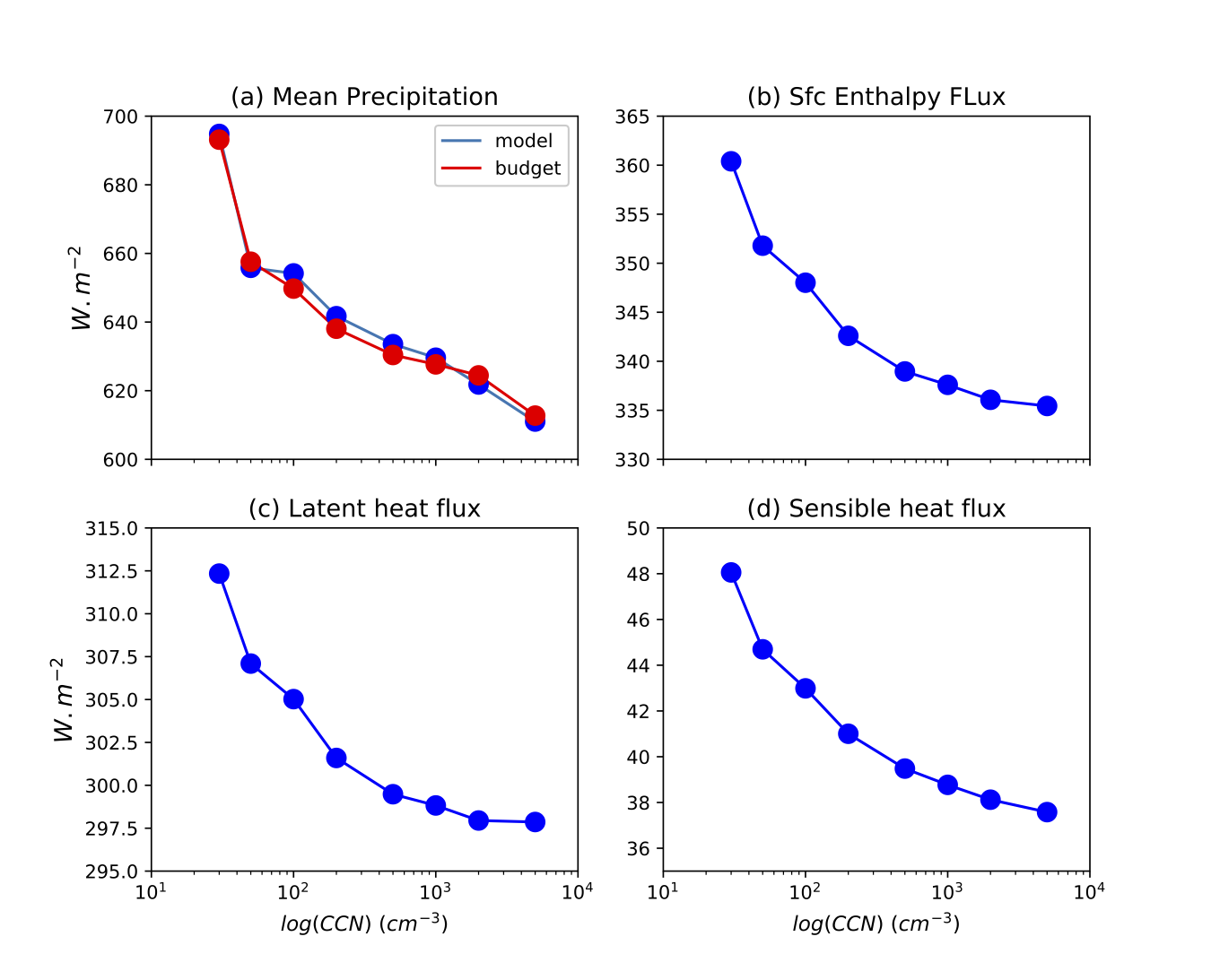 ---
Mean values of (a) surface precipitation, (b) surface enthalpy fluxes (sum of sensible and latent heat flux), (c) sensible, and (d) latent heat flux for different aerosol number concentrations. The values of surface precipitation are those from the model output (in blue) and those calculated from the energy budget equation (in red).
Science
The effect of aerosols on deep convection and the resulting rainfall has been a subject of ongoing scientific debate over the last two decades. This is due to the complexity of aerosol-cloud interactions from both observational and modeling perspectives. To provide a clearer understanding of the impact of aerosol on tropical rainfall, we use idealized numerical simulations to remove several layers of complexity, isolating the major influence of aerosol concentration on precipitation.
Impact
Climate models generally resolve the large-scale circulation and parameterize smaller-scale convective processes. Here we use the opposite approach, parameterizing the large-scale dynamics using a spectral weak temperature gradient approximation for a limited-domain, cloud-resolving model. This method is capable of representing the two-way interaction between convection and the environmental large-scale vertical velocity, an effect previously ignored in cloud-aerosol interaction studies. Mean precipitation is found to decrease when the aerosol number concentration increases as convection gets weaker. This decrease in precipitation results from the reduction in surface heat fluxes as an energy source to the atmospheric column induced by the coupling of the large-scale motion. The results suggest that changes in convection and mean precipitation are unlikely to be caused by the impact of aerosols on cloud droplets and microphysical properties, as previously shown in many studies, but rather by accounting for the feedback from convective adjustment with the large-scale dynamics.
Summary
We investigate the role aerosols play in modifying convection and rainfall rate using a series of idealized, limited-domain, cloud-system-resolving model simulations with parameterized large-scale circulation, representing a tropical region experiencing deep convection. Mean precipitation was shown to exhibit a small monotonic reduction with weaker convection as aerosol concentration increases. Analysis of the vertically integrated moist static energy budget indicates that this reduction is attributed to the reduction in surface enthalpy fluxes. Increasing aerosol concentration changes the domain-mean cloud liquid and ice water mixing ratio and redistributes heat and moisture in the atmospheric column. Only when these changes are coupled to the large-scale dynamics are changes in precipitation manifested. We also show that while the microphysical picture remains consistent with the macrophysical counterpart, it is not sufficient to explain the decrease in precipitation.