Broadband Albedo Observations in the Southern Great Plains
Lamb, P. J., University of Oklahoma
Aerosol Properties
Aerosol
Journal of Applied Meteorology and Climatology, Vol. 45, 2006, pp. 210-235.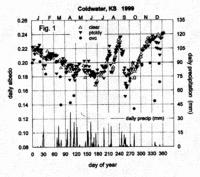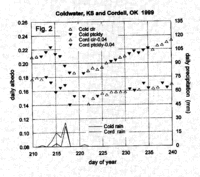 Because surface reflection of solar radiation plays a fundamental role in the surface energy budget, knowledge of its spatial and temporal variability is important for understanding the weather and climate of a specific region. Research instrumentation at the U.S. Southern Great Plains site—one of three locales around the world managed by the U.S. Department of Energy's Atmospheric Radiation Measurement Program—continuously collects these types of data to help scientist investigate differences in the way localized surface properties affect regional energy budgets.
Figure 1 shows daily albedo and daily rainfall for 1999 at the Coldwater Extended Facility located in rangeland in west south-central Kansas. The overall connection of albedo to rainy and dry periods is unmistakable. For example, the 22 mm rainfall on day 217 (5 August) and much smaller amounts on preceding days resulted in a decrease in albedo of 0.04. As another example, the rain-free period from day 282 (9 October) to 337 (3 December) produced an increase in albedo of 0.06. Respectively, the changes in albedo were a consequence of darkening of the soil with wetting and brightening with drying. In general, we found that the greater the vegetation cover, the lesser the impact of rainfall on albedo because of reduced soil exposure.
Figure 2 is an expanded view of days 210 to 240 for Coldwater Extended Facility and the Extended Facility at Cordell, OK, 220 km to the south. Cordell is also located in rangeland, but whereas the soil type at Coldwater is loamy sand, the soil at Cordell is silty clay loam.
Given the comparatively similar cloudiness at both sites, but twice as much rainfall at Cordell than at Coldwater, the systematic increase in albedo at Coldwater relative to that at Cordell may be due, in significant part, to the lower soil water retention of sandy soil than clay-like soil. (Note that to separate the two data sets, the albedo at Cordell has been offset by -0.04.)