ASR Research on Display in Austin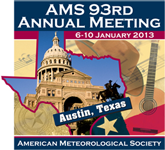 Next week, scientists funded by the DOE Atmospheric System Research program are sharing their latest findings at the 93rd American Meteorological Society Meeting in Austin, Texas. Held at the Austin Convention Center from January 6-10, more than 3,000 scientists, professors and students from around the world attend this annual gathering to collaborate and catch up on the latest advances in weather and climate science and technology.
View the presentation page for more information about ASR and related research to be shared at the meeting.