'Dramatic Clearing Events' in Marine Cloud Cover
In Science, newly documented findings on rapid erosion over large areas of subtropical marine low cloud cover, with pronounced implications for climate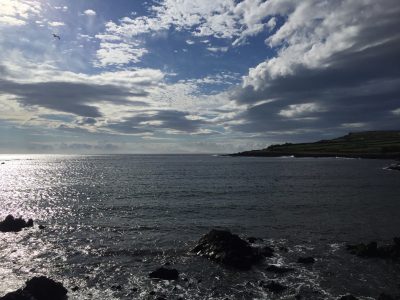 A new paper in the July 19 issue of Science reports novel findings with implications for the Earth's radiation budget. It documents abrupt erosion of the low marine cloud cover that cools and blankets the subtropical southeast Atlantic Ocean.
This newly documented phenomenon could help climatologists understand how clouds affect Earth's heating and cooling.
"We have documented dramatic clearing events of large regions of low marine clouds over the southeast Atlantic off the coasts of Angola and Namibia," wrote co-authors Sandra E. Yuter and David B. Mechem in a joint email. "The clouds are rapidly eroded along an organized line the length of California."
In the paper they likened such rapid reductions in marine cloud cover to "pulling away a sun shade."
The line of cloud erosion moves westward at about 22 miles per hour, they add, "removing large areas of marine clouds for a day or more."
Yuter, a professor at North Carolina State University, and Mechem, a professor at the University of Kansas, are both experts in cloud microphysics and dynamics. They are joined in the paper by North Carolina State University co-authors John D. Hader and Matthew A. Miller.
Their cloud-erosion work was funded in part by grants from the U.S. Department of Energy's Atmospheric System Research program.
"Clouds profoundly influence climate," wrote Yuter and Mechem in the email, describing some of the implications of their work. "The greatest uncertainty in projections of climate is tied to the representation of clouds."
Atmospheric Gravity Waves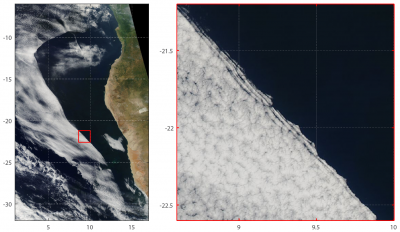 Based on their observations and analysis, Yuter and Mechem hypothesize "that the abrupt clearing is caused by atmospheric gravity waves."
Such waves are associated with up and down motions in the atmosphere. These buoyancy oscillations are well understood in terms of cloud formation, but "cloud-eroding waves defy easy explanation," the paper says.
The authors hypothesize that offshore winds from Africa interact with stable air over the ocean to make these waves, which then move through the cloud field and promote mixing and cloud evaporation.
To arrive at their results, the researchers studied 377 erosion boundaries in the southeast Atlantic, derived from 1911 days from May 2012 through July 2017.
Cloud erosion occurs year-round, with a peak of about 20 such events in May.
The paper states: "Persistent, wide-area reductions in cloud fraction over 100's of km scales associated with these westward moving cloud erosion boundaries contribute to a lower March-April-May average cloud fraction in the subtropical southeast Atlantic compared to any season in the subtropical southeast Pacific or the subtropical northeast Pacific."
To learn more, Yuter, Mechem, and others are currently using observations, reanalysis, and mesoscale modeling to investigate the meteorological conditions associated with the formation of cloud erosion boundaries.
In the future, the paper says, more work is needed "to resolve the mechanisms for rapid cloud erosion along cloud eroding boundaries."
The authors suggest "targeted observations in the subtropical southeast Atlantic" that include dropsondes (atmospheric measurement devices dropped from aircraft) as well as airborne radar and lidar measurements.
# # #
This work was supported by the U.S. Department of Energy's Office of Science, Office of Biological and Environmental Research as part of the Atmospheric System Research Program.