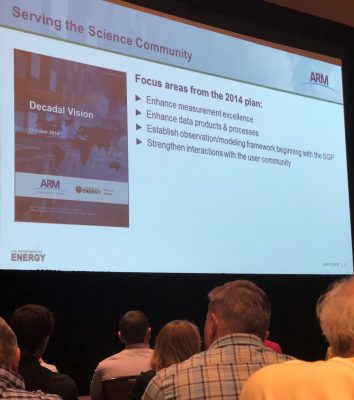 The annual ARM/ASR joint meeting matched its forecast—a deluge of talks
When more than 300 atmospheric scientists arrived at a conference in Rockville, Maryland, it was raining. Soon, however, the real downpour was indoors.
From June 10 through 13, the 2019 Joint ARM User Facility/Atmospheric System Research (ASR) Principal Investigators Meeting was a deluge of working group reports, plenary and breakout sessions, tutorials, poster discussions, and informal gatherings around the Bethesda North Marriott Hotel and Convention Center.
As always, the annual meeting of ARM staff and data users and ASR principal investigators was a time to share research, establish collaborations, and celebrate a longtime, science-rich pairing of U.S. Department of Energy (DOE) entities.
At a June 11 plenary session on programmatic updates, Gary Geernaert, director of DOE's Climate and Environmental Sciences Division, observed that Congress "is thinking quite fondly of us" amid early good signs of funding renewals. "They recognize the value of the science being done."
The View from ASR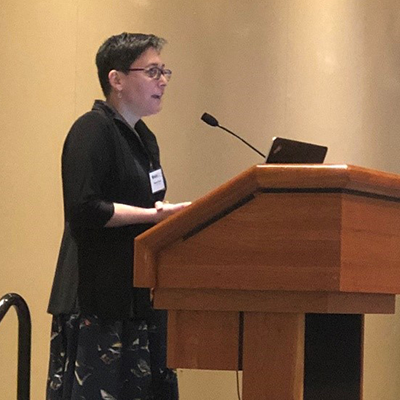 In the same plenary session, ASR program manager Shaima Nasiri announced job opportunities, personnel changes, and retirements. She also reported that in fiscal year 2018 (FY2018), 19 projects (out of 78 applications) were awarded $10.7 million in funding and that the FY2019 call for proposals yielded 110 pre-applications and 94 proposals.
ASR has $13.2 million to spend on approved projects, which are expected to number between 20 and 24. (Selection rates are typically around 20 percent.)
Formal declaration letters will not go out until late summer 2019. The next call for proposals will go out in early fall, focusing on the FY2020 theme of modeling.
Nasiri also noted work to update the ASR website, which will be "easier to search and better coordinated with the ARM website," she said.
ARM Updates
In her update, ARM program manager Sally McFarlane detailed personnel changes on the Infrastructure Management Board, welcoming Adam Theisen of Argonne National Laboratory and Heath Powers of Los Alamos National Laboratory.
In the wake of the December 2018 retirement of ARM's Gulfstream-159 (G-1) research aircraft, McFarlane introduced its replacement: a Bombardier Challenger 850 regional jet, which could fly its first mission as early as FY2022. The DOE-owned plane is undergoing extensive modifications to convert it from a business to research aircraft.
McFarlane credited ARM Aerial Facility (AAF) Manager Beat Schmid and others at Pacific Northwest National Laboratory (PNNL) in Washington state for executing the formal project management process.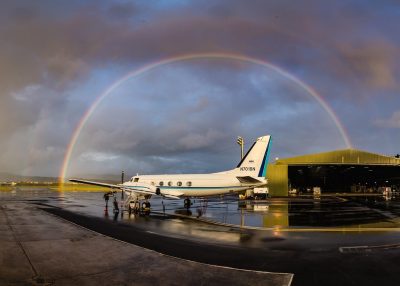 She also pointed to tethered balloon experiments taking place this year in Oklahoma and Alaska, calling out Fan Mei, the AAF's PNNL-based director of science and Dari Dexheimer of Sandia National Laboratories. (There will soon be a call for related field campaign proposals.)
During the same plenary session, the first-ever ARM Service Awards were announced. (See sidebar feature.) ARM Director Jim Mather announced the winners while Geernaert and McFarlane distributed the certificates.
Coming ARM Campaigns
In FY2020, McFarlane said, there will be a surge of large field campaigns, including two on high-latitude science: the Multidisciplinary Drifting Observatory for the Study of Arctic Climate (MOSAiC) and Cold-Air Outbreaks in the Marine Boundary Layer Experiment (COMBLE). She noted the hard work that the ARM infrastructure, including the ARM mobile facility operations team, mentors, and data system personnel were putting into preparing for these challenging deployments.
"We're going to have a large focus on the Arctic this year," she said.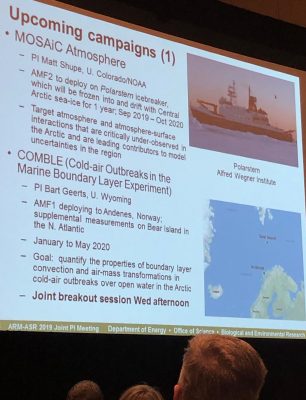 In April 2021, in the Houston, Texas, area, ARM will begin a year-long field campaign on urban convective storms, the Tracking Aerosol Convection Interactions Experiment (TRACER). By the end of FY2021, an extended deployment of the third ARM Mobile Facility (AMF3) at Oliktok Point, Alaska, will wind down. The mobile facility, which has collected data there since 2013, will be moved to another location—likely in the southeastern United States.
McFarlane also mentioned smaller field campaigns coming up at ARM's Southern Great Plains observatory in Oklahoma. One will focus on water vapor and four others on aerosols, including a uniquely instrumented look at aerosol growth and property changes led by Don Collins of the University of California, Riverside.
Plenaries, Posters, Breakouts—Oh, My
Two days of posters, from Ahlgrimm to Zieger—207 in all—detailed research updates on everything from aerosols and ARM infrastructure to the boundary layer and convection, microphysics, radiation, recent ARM field campaigns, and warm low clouds.
Talks at plenary and breakout sessions cast a wide net.
Plenary sessions featured successive talks for attendees gathered in one big room. In six breakout sessions, talks took place in separate rooms.
There were detailed presentations on ice nucleating particles, aerosol scavenging, snow regimes in Alaska, aerosol-cloud radiative effect, convective turbulence, the upcoming TRACER field campaign, warm boundary layer processes, machine learning and deep learning for ARM and ASR science, DOE's Energy Exascale, Earth System Model (E3SM), and the recently completed Cloud, Aerosol, and Complex Terrain Interactions (CACTI) field campaign in Argentina,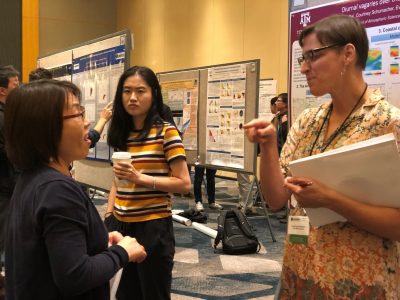 Other talks touched on:
improving ARM observations for earth system models
using ARM aerosol data to support ASR science
expanding the LES ARM Symbiotic Simulation and Observation workflow (LASSO) beyond the single present regime of shallow convection
assessing measurement needs for cloud and precipitation science
looking at research activities in the Southern Ocean
and updating research progress from the 2015-2017 ARM West Antarctic Radiation Experiment (AWARE). (So far, 16 publications using AWARE data are either published, in review, or accepted.)
A final note to attendees: Some of you still need to submit posters and presentations here.
# # #
This work was supported by the U.S. Department of Energy's Office of Science, Office of Biological and Environmental Research as part of the Atmospheric System Research Program.