A veteran scientist investigates snowmelt periods, including the complex evolution of albedo and its links to snow properties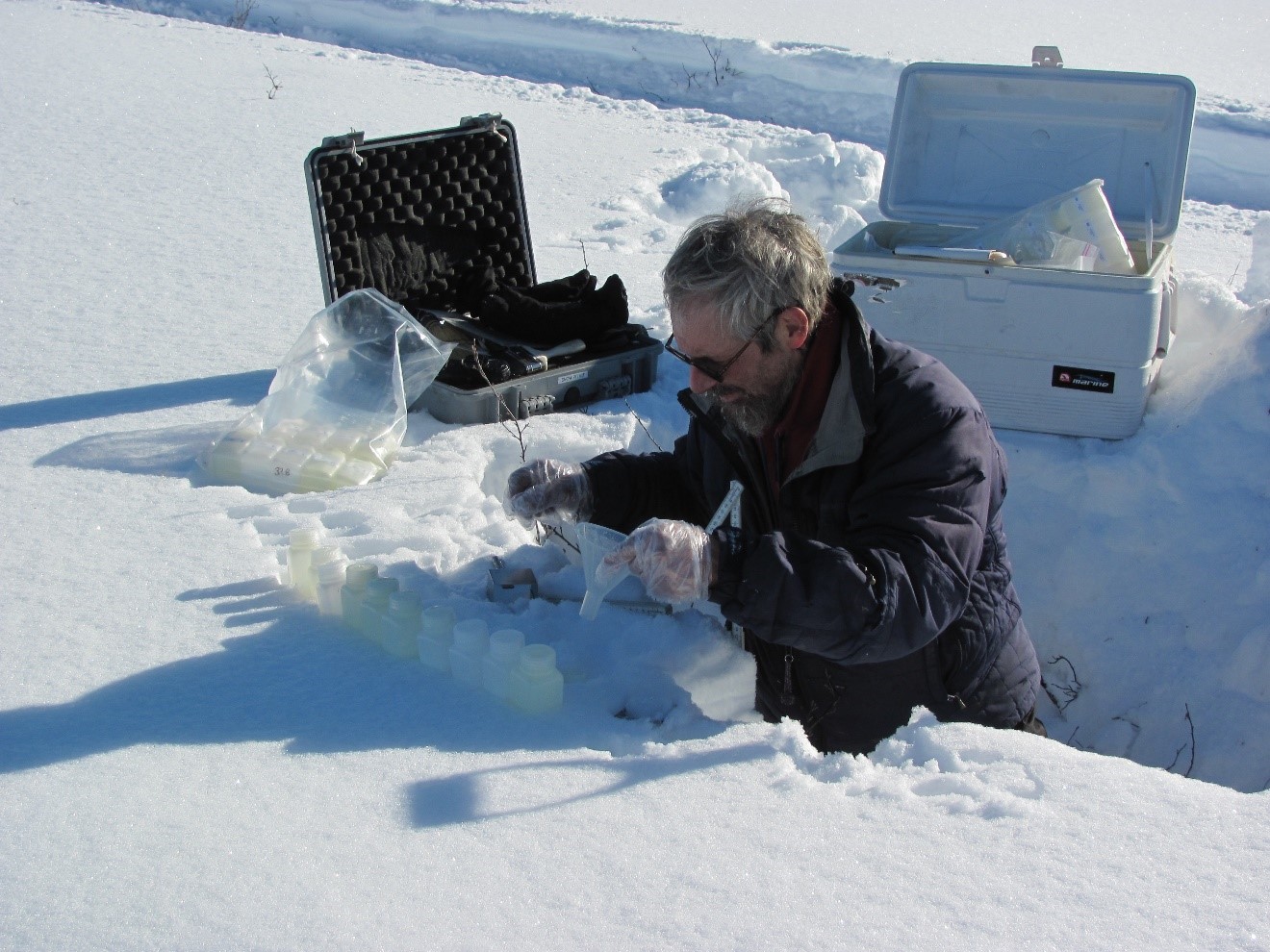 On the page listing geophysicist Matthew Sturm as a Fellow of the American Geophysical Union, his primary affiliation is identified as the cryosphere―that part of the Earth where water is frozen solid. The cryosphere's polar ice sheets, glaciers, ice caps, shelf ice, tundra, and snow all fall within Sturm's decades-long realm of study.
If you ask him nicely enough, Sturm could probably recite the words to "Ice is Nice," an anthem penned in praise of ice and snow. Its author is his onetime PhD mentor Carl Benson, a glaciologist once known as the dean of arctic science.
"We are still close and good friends," says Sturm. "The best thing that ever happened was to go up (to Fairbanks) in 1981 to be his graduate student."
The anthem's refrain begins with "ice is nice and good for you." Sturm, a professor geophysics at the University of Alaska Fairbanks, could not agree more. Now at the university's Geophysical Institute, he has been a student of snow and ice in its myriad forms for nearly 40 years―and will argue that Earth is losing too much of it.
Snow and ice are four to seven times better at getting rid of heat than any other planetary surface, he says in a 2019 field-work video. "We've been shrinking the amount of the world that's got these surfaces. That should be a concern to anybody who lives on planet Earth."
Sturm is lead scientist for the Snow ALbedo eVOlution (SALVO) field campaign, a three-year investigation of snowmelt where land, sea, and sea ice join in northernmost Alaska. Snowmelt is a period during which an arctic landscape covered in snow and ice three-quarters of the year transitions to one dominated by heterogeneous patches of tundra, bare ice, and open melt ponds.
When covered in ice and white snow, such a landscape reflects 80% of the solar energy that reaches it. Taken at a global scale, that reflectivity helps control planetary temperatures. Sturm calls snow "the radiator of planet Earth."
Chasing Albedo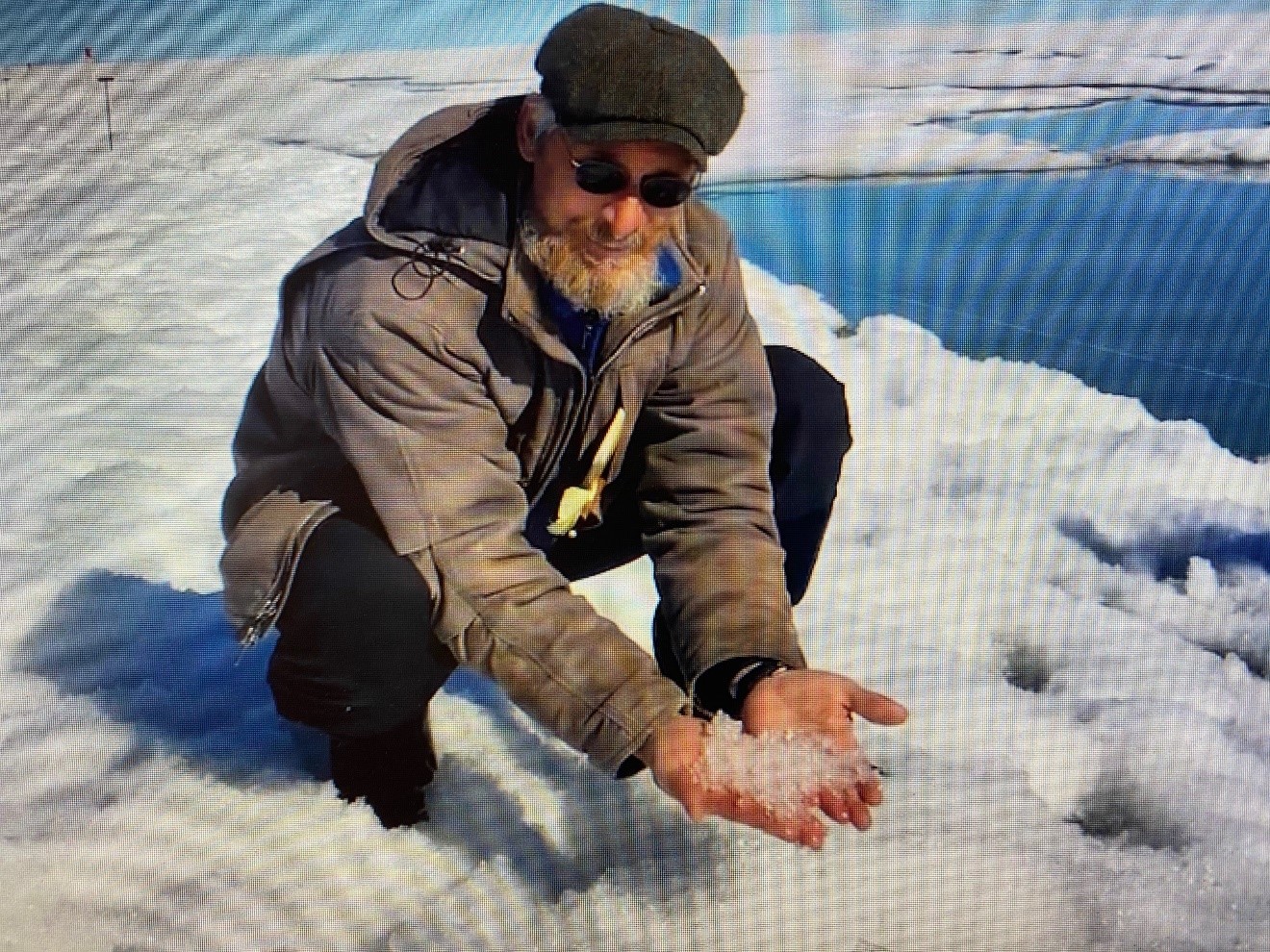 The consequential nature of snow and ice makes Sturm a student of albedo ("whiteness," in Latin). Based on a scale of zero to 1, albedo is the measure of how efficiently a surface reflects incident radiation. The higher the number, the more solar energy reflects back into space and the cooler the surface remains.
Sturm studies the Alaskan high Arctic, where the albedo of snow-blanketed tundra and sea ice can reach a blindingly high 0.9. But snowmelt in the springtime is a period of maximum solar irradiance. Albedo can fall to a six-times lower value, often within the space of weeks. That's because darker patches like tundra and open water appear and readily soak up heat.
This period of rapid snowmelt captivates Sturm and gave rise to SALVO, which combines seasonal measurements with photography and modeling. Together, says Sturm, these approaches will produce a uniquely fruitful dataset on albedo processes.
SALVO will also provide clues to the key processes involved in polar amplification. That is a phenomenon in which any change in the Earth's radiative balance causes higher and faster temperature changes in polar regions than anywhere else in the world.
Tundra and Ice Cover
SALVO is supported by the Atmospheric System Research (ASR) program at U.S. Department of Energy (DOE). ASR is funding a 2018―2021 project led by Sturm to investigate the evolution of albedo during snowmelt. He and his co-investigators are also looking into how that evolution is influenced by snow properties, including depth, density, and grain structure.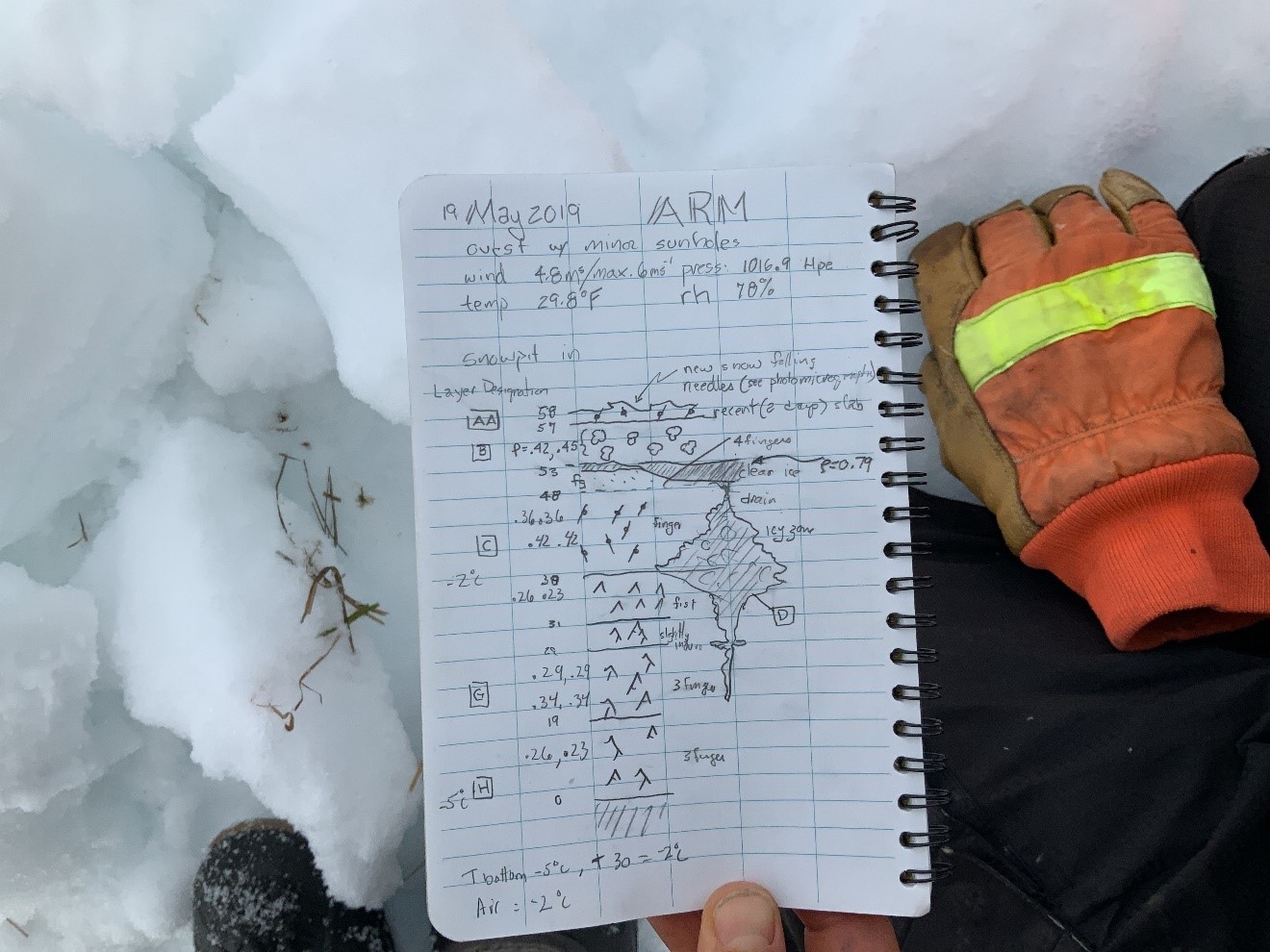 Adding support is the DOE's Atmospheric Radiation Measurement (ARM) user facility, which maintains fixed and mobile observatories around the world. One of them is the North Slope of Alaska (NSA) atmospheric observatory, where so far the SALVO team has managed one springtime data outing, in April through June 2019. In the spring of 2020, COVID made fieldwork impossible. But Sturm still hopes SALVO will eventually record a whole three seasons of data.
For the study, he and his team chose three separate plots, each 200 by 20 meters (656 feet by 65 feet). Two are on tundra; the third is on ice cover in the Elson Lagoon, a saltwater system at the edge of the Beaufort Sea.
The Might of Modeling
Sturm's co-investigators in the ASR project are scientific research developer Jennifer Delamere, also at the University of Alaska Fairbanks, and Donald Perovich of Dartmouth College, a longtime albedo researcher.
A modeling practitioner, Delamere is an expert in a high-performance broadband radiation code called RRTMGP. It's the third generation of the rapid transfer model RRTM first developed in the 1990s to calculate longwave fluxes and cooling rates. (Longwave radiation is the kind emitted from the Earth's surface.) RRTM was part of ARM's early efforts to quantify radiative transfer in clear-sky conditions.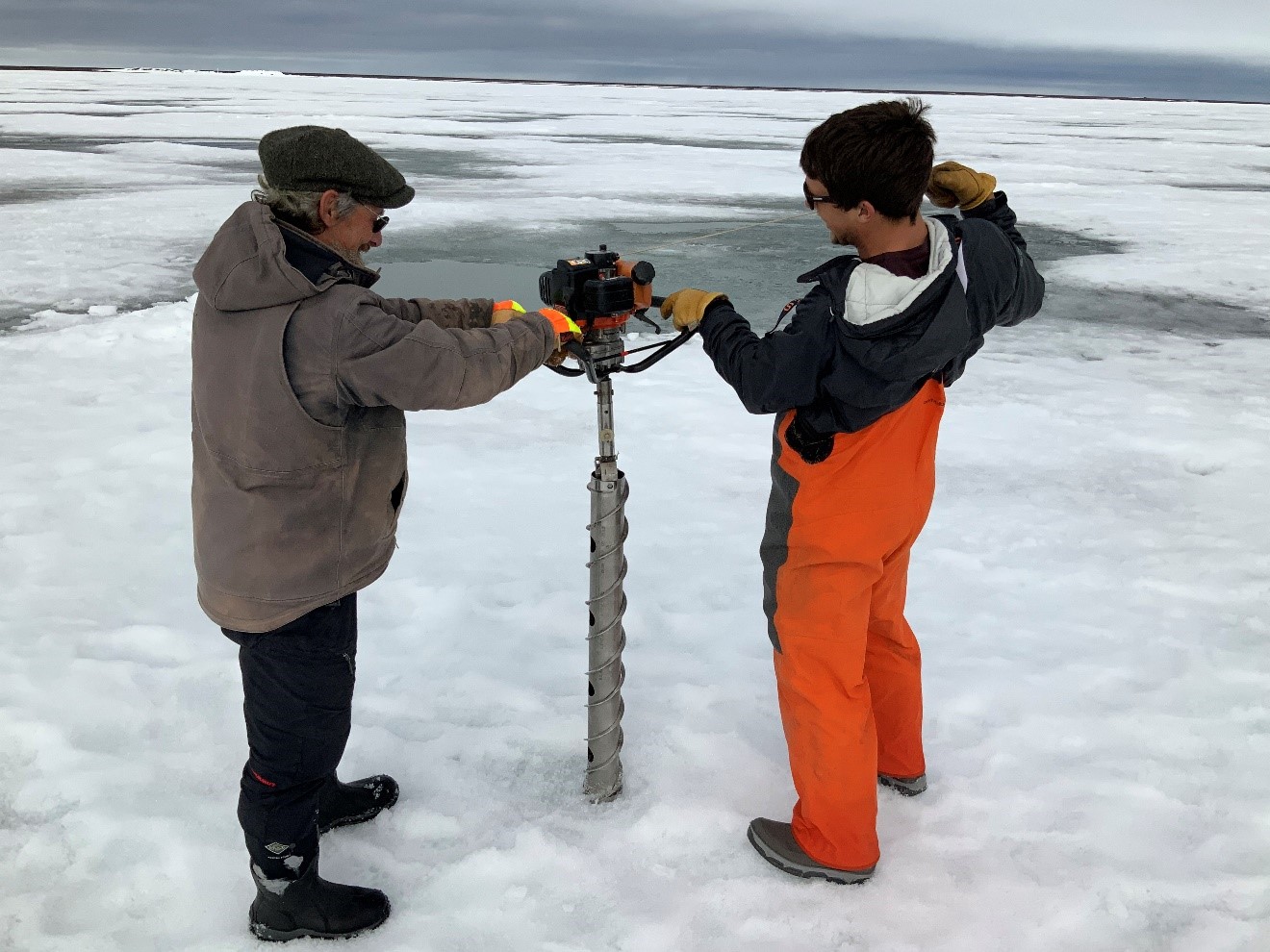 RRTMGP is the modeling foundation for Sturm's ASR project, which aims to simulate the optical properties and radiative transfer of snowpack on both ice and tundra.
The complex evolution of albedo during springtime snowmelt directly impacts the energy balance of the Arctic, Sturm says. In the case of NSA, SALVO's snowmelt albedo data will add valuable context to NSA's routine albedo and radiation measurements.
In the field, Sturm and four of his graduate and undergraduate students measure spectral albedo and snow properties. They collect snow samples from specially dug pits and map the topology of each site with images from a camera. It's either mounted on a telescoping seven-meter (23-foot) pole or on a weather balloon hooked to a fishing rod.
Coincident images from several sources are coupled with campaign measurements: the moderate resolution imaging spectroradiometer (MODIS), the satellite-mounted visible infrared imaging radiometer suite (VIIRS), and NASA's Worldview tool for browsing full-resolution satellite imagery.
Without contextual data of the kind SALVO supplies, says Sturm, global climate models may not adequately represent the full range of processes that govern albedo.
A Busy Writer
Sturm isn't always hunkered in a snow pit taking samples or in the saddle of a snowmachine. (He has logged about 40,000 snowmachine miles in his career so far.) He is also a busy writer, turning out peer-reviewed papers and book chapters that cover snow, sea ice, snow cover, and field techniques.
His research has appeared in Science and Nature. One enduring 2001 study in Nature, on the increase of shrub abundance in the Arctic, has earned almost 1400 citations.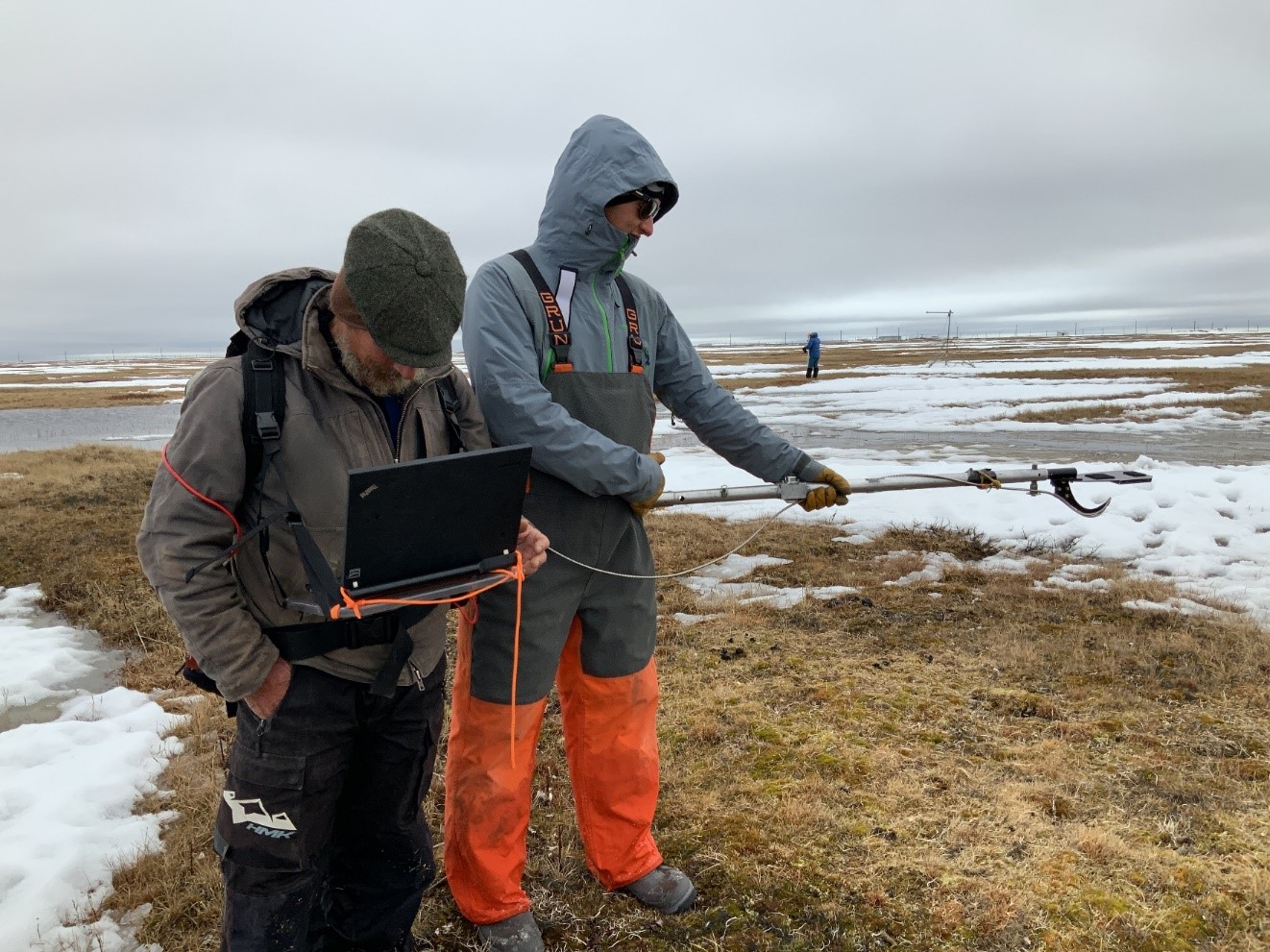 In December 2020, Sturm's Field Guide to Snow will be published by the University of Alaska Press. ("I tried to translate what I know and understand about snow for the lay person," he says.) Sturm turned the galleys in just before setting off in early November 2020 with his wife Betsy on a wilderness road trip from Fairbanks to family in New Mexico.
"We're avoiding snow," he confesses. "We like to hike."
'Snow Guys'
Sometimes Sturm gives his work a second bounce in popular science sources, including Scientific American, with titles like "Arctic Plants Feel the Heat."
Another piece in the same magazine, "Meltdown in the North," from 2003, was co-written with SALVO co-investigator Perovich. He has been a warm cold-weather friend for decades and was one of the "snow guys" Sturm says joined him aboard the Canadian icebreaker Des Groseilliers during Surface Heat Budget of the Arctic Ocean (SHEBA). The 1997―1998 field campaign, from a ship drifting with an ice pack on the Arctic Ocean, set the stage for later shipborne explorations.
Rare among researchers, Sturm is also the author of a children's book, Apun: The Arctic Snow, a 44-page all-season guide to snow cover and its cycles that appeared in 2010. ("Apun" is an Inupiaq word for arctic snow cover.) He did the illustrations too. ("I grew up drawing," says Sturm.)
He wrote Apun while working at the U.S. Army Cold Regions Research and Engineering Laboratory at Fort Wainwright in Fairbanks, a 27-year career that preceded his stint as a professor. (He retired from the Army job in 2012.)
"A kid's book," Sturm says, "is going to have as much of an impact as any scholarly paper I'll write."
Scales of Understanding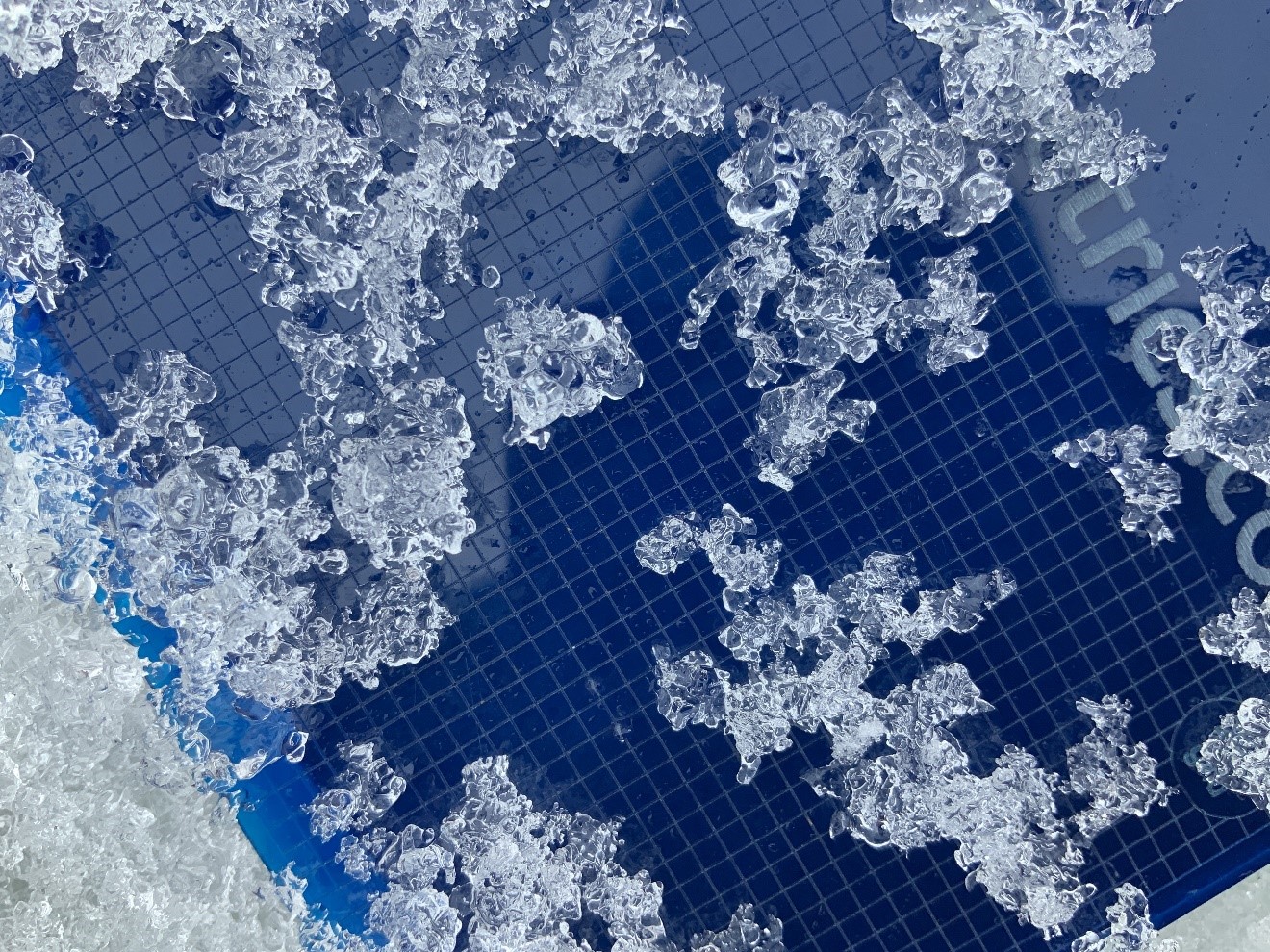 In 2007, Sturm and six hardy companions set off on snowmachines for a 2,500-mile science expedition across Alaska and Canada to Hudson's Bay. He was determined to experience "the immensity and remoteness of Arctic land," Sturm wrote of the journey. That kind of scale is a change from what he calls science's typical "plot-level" point of view, measured in a few square hectares or meters.
The expedition is the subject of Sturm's  2012 book, Finding the Arctic, a science, culture, and history account of "the scales of understanding that were escaping us," he wrote, describing it as an attempt to capture the expansive view you get from aircraft and satellite images.
Despite this journey, along with decades of climbing and hiking in Alaska, Sturm hesitates to call himself an explorer. But he does admit to being bitten hard, and early in life, by a sense of adventure in cold places. As a boy, Sturm devoured stories and books about explorers of the Arctic from the 17th century onward. "By the time I was a kid," he says. "I was just passionate about this."
Sturm often sums up the cross-continent trip by simply saying that the Arctic is white―snow and ice white. He calls summer in Alaska "the unusual season."
The cross-continent snowmachine trip involved pauses to collect snow samples at predetermined intervals, but side trips and stays at native villages too. Finding the Arctic also gave Sturm, an amateur linguist, the chance to write about the 70 or so words for snow in Inupiaq, a native language in Alaska's North Slope.
"Masallak," he notes, is the best kind for making snowballs.
Glaciers, Then Snow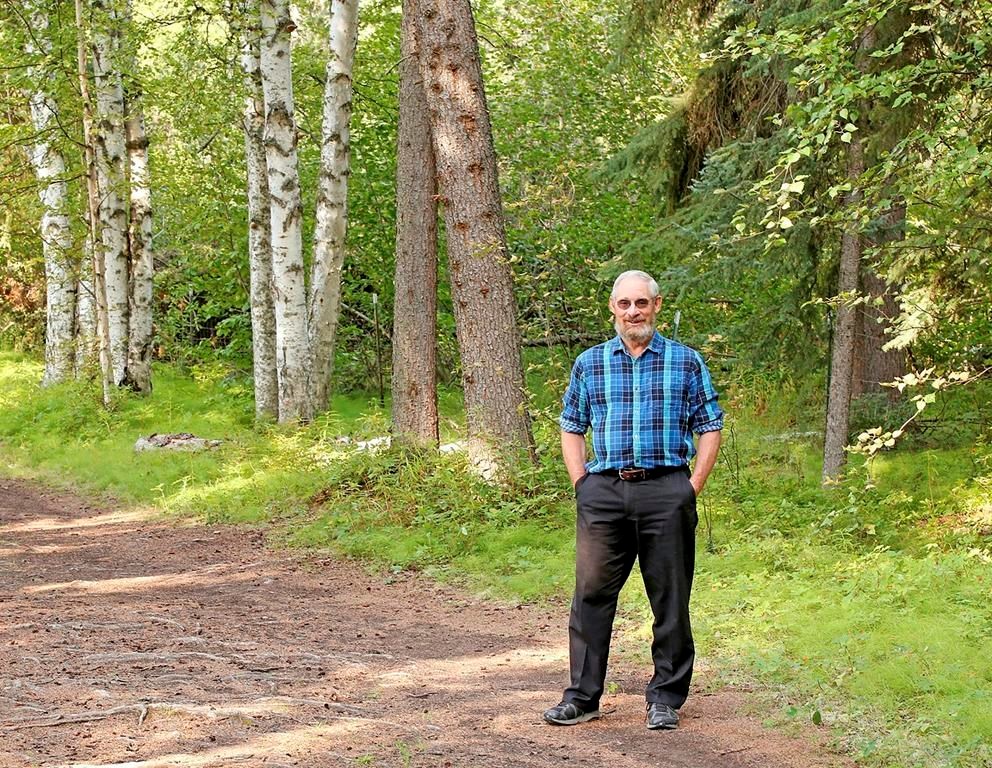 In an oddity of fate for a scientist who specializes in snow, Sturm was born in Florida. He grew up in New Mexico, where he first encountered snow on climbs into the local mountains.
At age 17, he joined the U.S. Coast Guard, where he embraced the opportunity to travel aboard ship to both the Arctic and Antarctic. By 1971, he was stationed on a buoy tender based at Adak in the Aleutian Islands of Alaska.
After the service, Sturm took up geology studies at New Mexico Tech (B.S., 1980). Then, after one year as a mining geologist in New Mexico, Sturm heard the call of the deep cold again. The prospect of working with Benson, the now-emeritus glaciologist, drew him to the University of Alaska Fairbanks for graduate studies in geophysics (M.S. 1983 and PhD 1989).
He studied glaciers first, which were then Benson's main interest. Sturm wrote a master's thesis comparing the flow of two glacier systems on Mt. Wrangell in Alaska.
But in time for his PhD dissertation, Sturm followed Benson back to snow.
"I owe Carl a great debt for that," he says in praise of the complex precipitate to which the world owes its temperature balance. "Carl's love and my love led us back."
From then on, Sturm has lived a life of inquiry mixed with adventure: a kind of Jack London―if Jack London had carried a tape measure.
# # #
This work was supported by the U.S. Department of Energy's Office of Science, through the Biological and Environmental Research program as part of the Atmospheric System Research program.