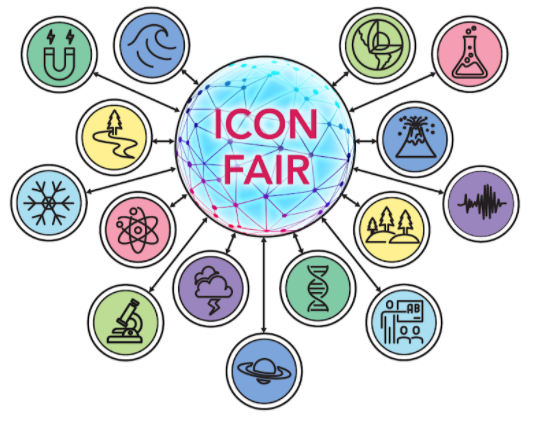 The American Geophysical Union (AGU) invites scientists to participate in a special collection for the Earth and Space Science (ESS) journal.
Open to all 25 AGU sections, the collection is entitled "The Power of Many: Opportunities and Challenges of Integrated, Coordinated, Open, and Networked (ICON) Science to Advance Geosciences."
From undergraduates through senior scientists, researchers of all levels will collaborate on experiences, ideas, and lessons learned about engaging in science following ICON principles (integrated, coordinated, open, networked). The collection will bring together collaborative writing teams to create commentaries describing scientific approaches that embody synthesis, cross-disciplinary integration, and open science across geosciences.
To sign up, complete the form at https://forms.gle/zoCYGHKnqcmKa3zP9.
These commentaries will:
describe opportunities and challenges of applying ICON science within and across disciplines
demonstrate applications and efficacy of successful tools and methods
elucidate gaps among disciplines in their opportunity and motivation to implement ICON science
identify opportunities for cross-discipline collaboration, thus reducing the activation energy to apply ICON principles
The organizers welcome contributions from communities historically underrepresented in science, including women, BIPOC (black, Indigenous and people of color), people with diverse abilities, and LGBTQ+ scientists. The only limitation on involvement is that you must fall within the categories of AGU's science.
Learn more about the special collection, and sign up to get involved. Writing teams will be finalized in February 2020.
The organizers are:
Amy E. Goldman, Pacific Northwest National Laboratory
Sujata R. Emani, USDA, Agricultural Research Service
Lina C. Pérez-Angel, University of Colorado Boulder
Josué A. Rodríguez-Ramos, Colorado State University
James C. Stegen, Pacific Northwest National Laboratory
# # #
This work was supported by the U.S. Department of Energy's Office of Science, through the Biological and Environmental Research program as part of the Atmospheric System Research program.