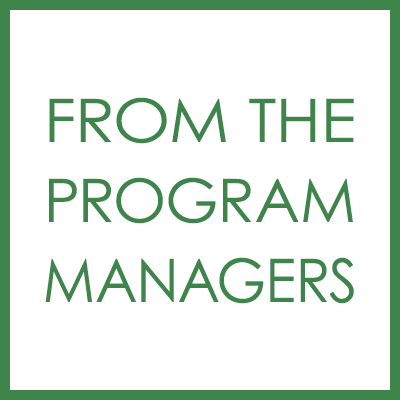 It may seem early, but we want to remind you to start thinking about progress reports and no-cost extension requests if you have an ASR project with a project period end date during the summer.
 COVID Complications
if your project has been directly affected by COVID, please get in touch with us as soon as possible and before you request a no-cost extension. We know that a number of PIs have had disruptions to field experiments and/or limited access to laboratory equipment. Other projects have had significant personnel impacts. In addition, we know that the TRACER campaign postponement will impact several ASR projects. We are working to provide an efficient solution to these issues and are gathering impacts to make a strong case for you.
No-cost Extensions
If you have a project that is scheduled to end this year but were unable to complete the project as planned, your office of sponsored research is encouraged to submit a request for a no-cost extension sooner rather than later. If you have a project with a project end date between August 1 and September 31, please have the no-cost extension request submitted to DOE's PAMS system no later than June 1. If your project period end date is earlier in the year than August 1, the no-cost extension request should be submitted no later than 60 days before the final project period end date. Please note that in recent years there have been considerable delays (e.g., mid-October) in receiving official notification that a no-cost extension will be granted for requests that we receive after June 1.
Progress Reports
Grants: PAMS sends a notification 120 days before the budget period end date, reminding you to send in your progress reports. You aren't able to submit a progress report until PAMS asks for it. We encourage you to submit your progress report soon after you receive the first request from PAMS. The next year of your funding will not be released until after the progress report is approved and award paperwork is processed by our office and by DOE's Contracting office in Chicago. If you have questions about what is being asked for in the progress report, please contact us.
Interagency Agreements (Continuations): As stipulated in the first year of the agreement, federal PIs will have to provide progress reports. Such agreements will get the same reminders as for grants.
Final Reports
Final reports are due to the OSTI E-Link website no later than either 90 days or 120 days (depending on the terms of the award) after the project period end date. Our office sends out reminders to all projects that have ended. This is not done through PAMS but through another system, OSTI's E-Link, so please work with your office of sponsored research to ensure these reports are submitted on time.
# # #
This work was supported by the U.S. Department of Energy's Office of Science, through the Biological and Environmental Research program as part of the Atmospheric System Research program.