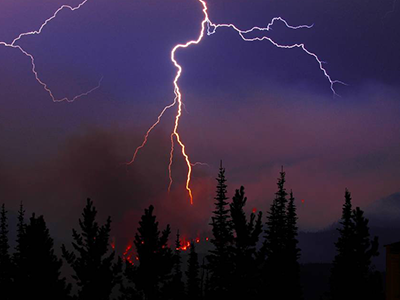 A new paper published by researchers at the University of California, Irvine (UCI) in the journal Nature Climate Change details how more frequent lightning strikes in the Arctic may double by the end of the century as climate warming continues.
Lightning strikes are almost unheard of above the Arctic Circle, but in 2019, the National Weather Service spotted the first-known lightning strikes within 300 miles of the North Pole.
The research—funded by the U.S. Department of Energy's Atmospheric System Research, Earth and Environmental System Modeling—Regional and Global Model Analysis (RGMA) program area, and Terrestrial Ecosystem Science—projects that lightning in high-latitude boreal forests and arctic tundra regions will change across North America and Eurasia. See the research highlight.
More lightning strikes will result in more wildfires—a trend already observed over the past half decade. When the tundra burns, carbon trapped in underlying permafrost for millennia can escape to the atmosphere and contribute to greenhouse gas concentrations.
Read the full UCI news release.
# # #
This work was supported by the U.S. Department of Energy's Office of Science, through the Biological and Environmental Research program as part of the Atmospheric System Research program.