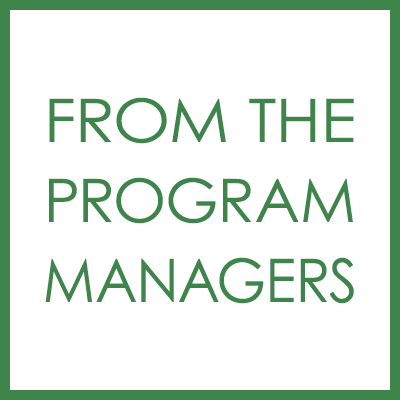 Happy New Year! Our newsletter publishing schedule makes this message a few weeks late, but we sincerely appreciate you, the ASR Community, and all that you do for atmospheric science. We know that 2022 will be another banner year for us all.
Much has happened since our last newsletter: Thanksgiving and the holiday rush, the 2021 American Geophysical Union (AGU) Fall Meeting, another COVID-19 spike, and most recently, the 2022 American Meteorological Society (AMS) Annual Meeting.
Over the New Year, Colorado was hit with two devastating wildfires. Before heavy snowfall put out the flames, more than 1,000 structures were destroyed. But more significant was the loss of life, injuries, and disruption to the lives of tens of thousands of people. To our friends throughout the ASR community who were affected by this fire, please know that our thoughts are with you, your families, and your community.
As we begin the review of 94 FOA applications, we want to thank those of you who submitted proposals. We know how much hard work goes into these, and we appreciate your dedication to doing this during one of the busiest times of the year.
We are recruiting volunteers to review FOA applications. Reviewing is an unparalleled way for early-career scientists and postdoctoral researchers to learn about the process of funding science and what goes into a well-written and organized proposal. If you are interested in volunteering or know of someone who would be great for the role, please let us know!
And for our new principal investigators—and our existing research teams—we want to introduce you to a new resource on the ASR website. The Resources for Newly Funded Investigators page shows you how to create and update project pages and share publications and research highlights. You can learn how to engage with the ASR Community through the ARM/ASR Joint Meetings. You can also learn how to write an effective final report. In addition, the page includes links for subscribing to ASR and ARM publications, along with links to engaging with ASR working groups and information on accessing freely available ARM data.
We're quite pleased with this resource page and intend to expand it in the future with your ideas and suggestions. Please send us your ideas for what should be on this page!
We hope you enjoyed AMS this year. We thank those who presented your science at this important annual meeting. While we missed seeing you in person, it was still great to see the progress you have made in the last year.
Once again, thank you for a great 2021. We look forward to greater things in 2022!
– Jeff Stehr and Shaima Nasiri, ASR Program Managers
# # #
This work was supported by the U.S. Department of Energy's Office of Science, through the Biological and Environmental Research program as part of the Atmospheric System Research program.