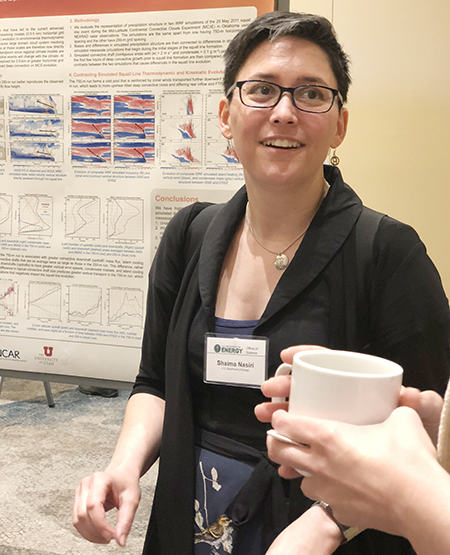 Our last in-person Joint Atmospheric Radiation Measurement (ARM) user facility/Atmospheric System Research (ASR) Principal Investigators (PI) Meeting was in June 2019. And while virtual meetings have many strengths, getting to know people is not one of them.
Since that 2019 Joint Meeting, the Department of Energy (DOE) has made awards from four ASR funding opportunity announcements (FOAs), as well as one atmosphere-themed Early Career Research Program FOA and the Research Development and Partnership Pilot (RDPP) FOA.
Please take time to review the Joint Meeting website and register now.
Typically, our meetings are held earlier in the year, so the timing of this year's meeting—at the beginning of the FOA-0002579 (ASR) and FOA-0002688 (RDPP) awards—is unique. There are no programmatic expectations that these recent awardees attend the meeting, although they are, of course, welcome.
On Monday, October 24, we will host a new-PI lunch for awards made in 2021 and 2022; invitations will go out soon.
If this is your first time attending the Joint Meeting, either in person or virtually, the following five components of the ARM/ASR Joint Meeting may help you get oriented:
Plenary Sessions
The first component is the plenary sessions. These sessions include programmatic updates from ARM and ASR plus a set of presentations selected by the ARM-ASR Coordination Team, also known as the AACT, to appeal to a broad audience.
Breakout Sessions
Breakout sessions are proposed by members of the ARM and ASR community. There will typically be three or four concurrent breakout sessions during each breakout session block in the agenda. These sessions allow attendees to talk about the nitty-gritty details of their research on highly specialized topics.
If you haven't already looked at the detailed breakout session agenda on the meeting website, I encourage you to do so and to reach out to the conveners of sessions you plan to participate in. I think of the breakout sessions as the grassroots part of the meeting, and different session conveners have different ways of organizing the sessions.
Poster Sessions
Poster sessions allow ASR PIs and ARM users to present what they are working on. There's a general expectation that each funded ASR project will present a poster at the meeting unless circumstances prevent team members from attending. This year, we will have two in-person poster sessions—on Wednesday and Thursday—and virtual posters will be available throughout the meeting. To make it easier for you to put together your posters, templates for both in-person and virtual posters are available on the ASR Joint Meeting webpage.
Working Groups
Working groups unite the detailed process studies and connect researchers working on different parts of larger scientific problems. This connection is critical, enabling ASR researchers to build on each other's progress and move the science forward.
You!
The fifth component of the Joint Meeting is you! I encourage you to not only attend the meeting and present your research but also to listen to and view the other presentations and posters. Moreover, I encourage you to engage with other attendees. There is time in the schedule to socialize, and I know that at least some of you will go home with new ideas for research and new collaborators.
I look forward to catching up with you in October.
# # #
Author: Shaima Nasiri, ASR Program Manager, U.S. Department of Energy
This work was supported by the U.S. Department of Energy's Office of Science, through the Biological and Environmental Research program as part of the Atmospheric System Research program.