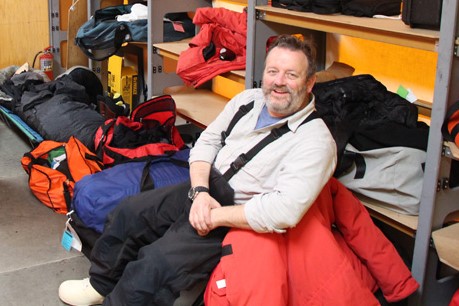 He led a 14-month field campaign in Antarctica that is still a lollapalooza of useful data
If you ever find yourself on a plane seated next to Dan Lubin, buckle up and start asking questions.
Your captive for the duration of the flight is a research physicist at the Scripps Institution of Oceanography, an affiliate of the University of California, San Diego (UCSD). Lubin is also an atmospheric scientist, deep-space expert, and polar adventurer.
Lucky for us, the work he does is funded well. Deep space aside, his research gets frequent support from the Atmospheric System Research (ASR) program at the U.S. Department of Energy (DOE).
ASR has been a strong supporter of Lubin's work, going back to 2004.
Lubin is best known for research in Antarctica, where Palmer Station was the site of his first fieldwork. He was a graduate student measuring thinning stratospheric levels of ozone, which shield Earth from harmful levels of ultraviolet radiation.
Outer Space and Places Like It
That plane ride: Oh, the places you'll go!
Lubin has been a classical musician, a bass guitar player in a San Diego dance band, a freshwater sailor, and an aerobatic pilot doing loops and rolls. In atmospheric science, he studies polar clouds, surface irradiance, remote sensing techniques, surface albedo, sea ice, Arctic haze, satellite data retrievals, and ultraviolet radiation in the Southern Ocean.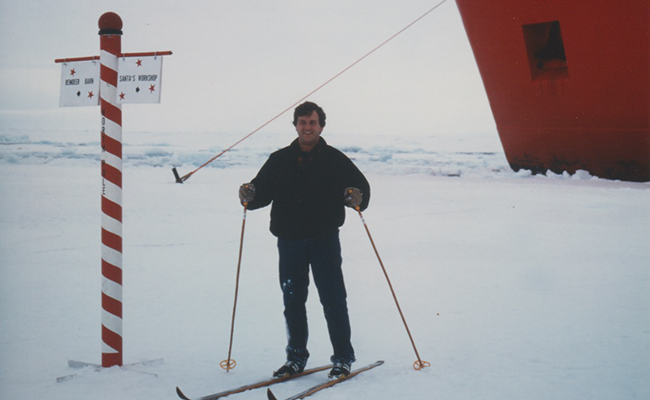 Lubin has also maintained a parallel research track in observational astronomy, including a particular interest in sun-like stars. Feel free to also ask him about cosmology, deuterium in the early universe, the Big Bang, quasars, interstellar lithium, and ultraviolet astronomy.
Like many scientists, Lubin is also kind of a travel writer. He transports us to places we will never see, such as the rolling, raging Southern Ocean; the North Pole; or Antarctica, an icy, desert continent Lubin compares to the unforgiving vastness of outer space.
In the introduction of his two-volume Polar Remote Sensing (2006), coauthored with sea ice scientist Robert Massom of the University of Tasmania, Lubin tells the story of the early 19th-century American expedition that discovered the Antarctic continent. He compares it to modern-day NASA, politics and all.
ASR Projects
And that ASR work? Two answers.
For one, Lubin is a co-investigator in EPCAPE, the Eastern Pacific Cloud Aerosol Precipitation Experiment.
Led by a Scripps colleague Lynn Russell, EPCAPE will take a full year to investigate urban influences on marine clouds. It's slated to begin in February 2023.
For another, Lubin is leading his own 2021―2024 ASR project, an investigation of cloud-phase transitions in the arctic climate system. His two co-investigators are from Brookhaven National Laboratory in New York, radiative energy expert Andrew Vogelmann and remote sensing engineer Edward Luke. Another collaborator, physicist Johannes Muelmenstaedt, is at Pacific Northwest National Laboratory in Washington state.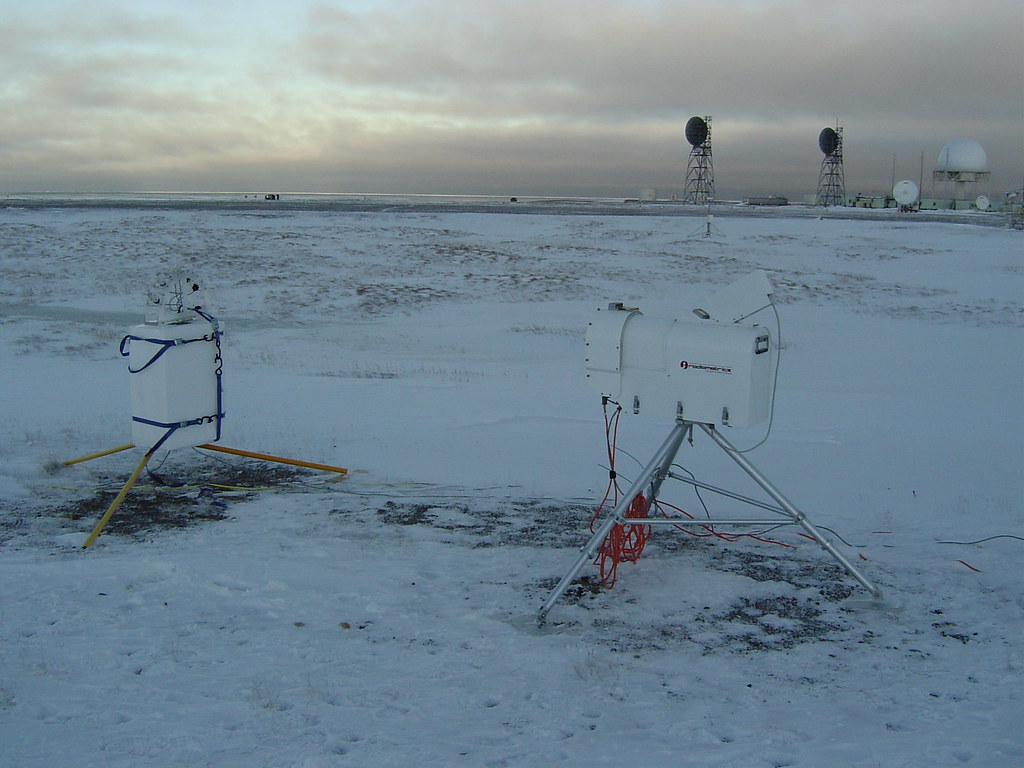 The ASR team uses multi-source datastreams to study the transitions that occur when mixed-phase clouds (those containing both ice and liquid water) become clouds made entirely of water.
Such cloud transitions are critical in the Arctic. Warming trends there are linked to clouds that hover just below or just above the freezing point of water.
In mixed-phase clouds, "the ice microphysics is very complicated," says Lubin, including temperature transitions that are a key factor in the warming Arctic. "We're looking at how those clouds behave."
ARM Arctic Data
Data for the ASR project comes from another pillar of Lubin's research―the Atmospheric Radiation Measurement (ARM) user facility. ARM operates three fixed and three mobile atmospheric observatories in climate-critical regions of the world.
Lubin's ASR team is in the early stages of looking at deep troves of data from ARM's North Slope of Alaska (NSA) atmospheric observatory; an epic, multi-national 2019―2020 expedition in the Central Arctic called the Multidisciplinary Drifting Observatory for the Study of Arctic Climate (MOSAiC); and a unique ARM field campaign around the same time as MOSAiC called the Cold-Air Outbreaks in the Marine Boundary Layer Experiment (COMBLE). COMBLE took place in the Norwegian Sea, a cloud-making warm-water edge of the Arctic.
The globe-spanning data sources are being investigated together for the first time, says Lubin. "Those three give us very complete geographic coverage and geographic contrasts."
'The Single Largest'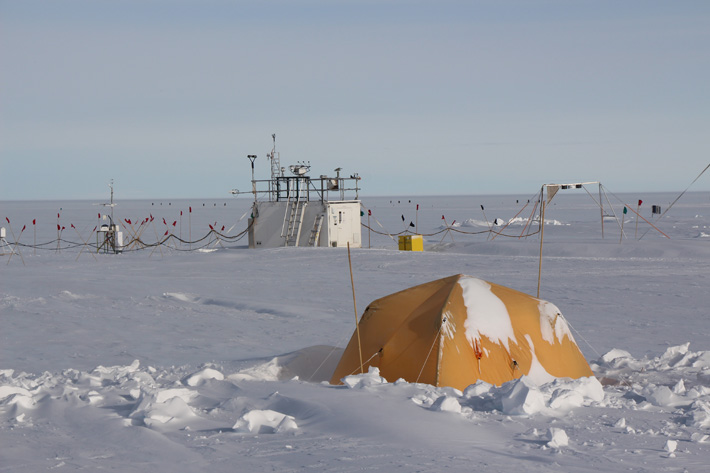 ARM was the chief funding source for a 2015―2017 field campaign that Lubin designed and led. The mission of the ARM West Antarctic Radiation Experiment (AWARE) was to document the complex atmospheric teleconnections associated with rapid warming, especially on the West Antarctic Ice Sheet (WAIS).
Global warming trends and changes in air circulation above West Antarctica threaten the mechanical integrity of its floating ice shelves, which provide essential stability for the continent's great ice sheets.
Justly, AWARE is Lubin's strongest brush with science recognition so far.
"To my knowledge," he says, "AWARE is the single largest atmospheric and climate science field program ever sent to Antarctica."
AWARE datasets have inspired many papers. Lubin points to a 2019 study led by his then-graduate student Ryan C. Scott, which reported on the large-scale meteorological factors that lead to dramatic West Antarctic ice-melt events.
Lubin also admires AWARE-related work on the modeling side by Israel Silber and Ann M. Fridlind. He singled out a 2019 study of supercooled drizzle in a widespread cloud field over McMurdo Station. The authors speculate that these fine droplets of rain might be common under low-aerosol conditions in the Antarctic and over the Southern Ocean.
Music Man
Long before Lubin studied ice sheets and snow and ozone, he studied music.
Starting in childhood, at the behest of his charismatic father, the late laser energetics scientist Moshe J. Lubin, the younger Lubin set out to be a classical musician in suburban Rochester, New York.
He took up the clarinet, keyboards, horn, viola, and other instruments. In time, Lubin focused on the oboe, a 46-key, double-reed woodwind instrument that is difficult to master. It also requires a lot of stamina. And players carve their own reeds.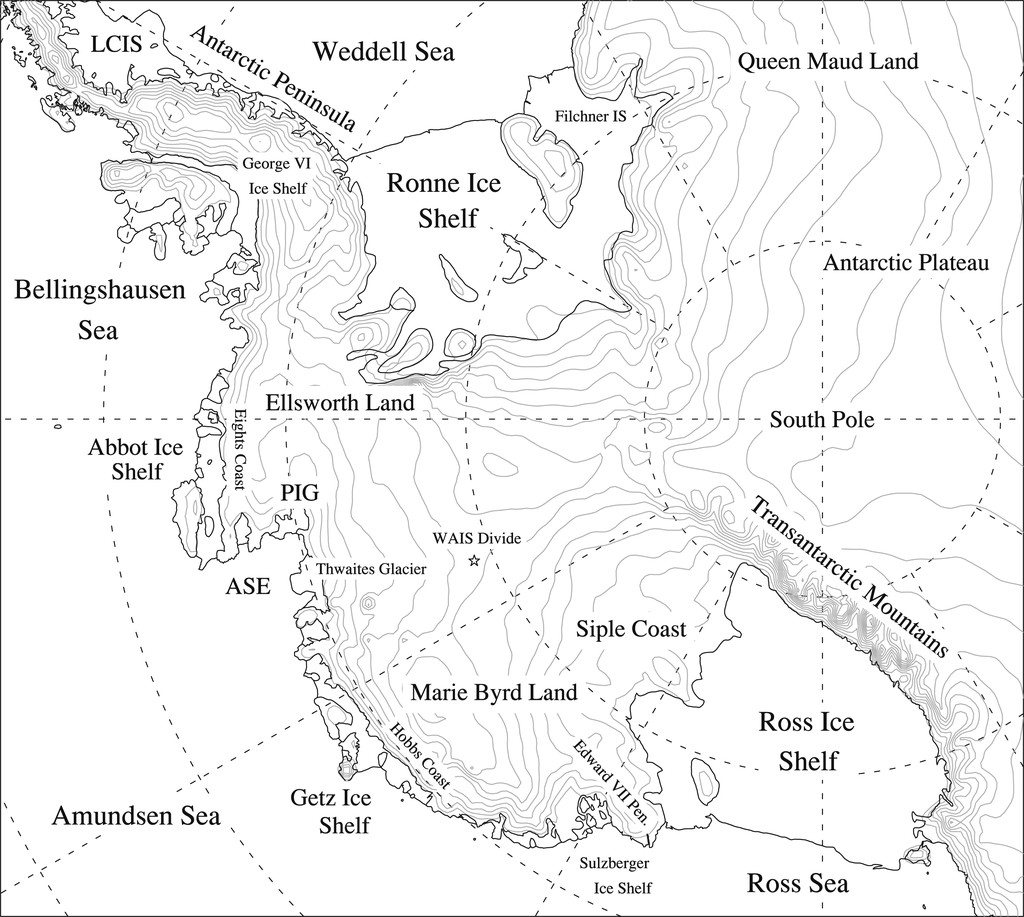 He had other diversions: a steady attraction in school to science and technology, for one. Also, a ham radio license, a small Newtonian telescope that Lubin says, "could resolve Jupiter's moons and Saturn's rings," and model airplanes he made from balsa wood.
Lubin also became an all-season sailor on Lake Ontario with a local division of the Sea Scouts. There he learned to sail and race Dragon keelboats.
To this day, "the cold does nothing to me," says Lubin, who had no fear of the cold even when he reached Antarctica for the first time.
Sailing on windy Lake Ontario got him used to it, he says. Winter winds sweep along this easternmost Great Lake, picking up the moisture to create New York's most reliably epic snowfalls every year.
The elder Lubin founded the Laboratory for Laser Energetics at the University of Rochester in New York to search for safe and efficient energy from nuclear fusion.
The younger Lubin, of course, was at his father's laboratory a lot and admits to climbing all over the machinery. Music was the verse of his childhood. But science was the chorus―always coming back again.
A Rebellious Swerve
Music led Lubin to Chicago, where he started as a performance major at Northwestern University (B.A., physics, 1986). In his freshman year, he took two courses in astronomy.
"Science became more and more interesting," says Lubin. "Astronomy really got me hooked."
Then came a rebellious swerve into the sciences; physics seemed the way to go―and it fit in with his growing dream of being an astronaut. (That went by the wayside in 1999 because of a kidney stone.)
Lubin's father was so displeased that he threatened to stop paying tuition. But rebellion worked. Lubin's mother, Leonie, interceded.
To catch up with other physics majors, "I studied like crazy," says Lubin.
He taught himself calculus and finished his coursework in three years, graduating with departmental honors.
Music abided, in its own way, as a vessel for 1980s dance tunes. Lubin learned bass guitar and joined a band that played at college fraternities. He saved up money from these gigs and from summer jobs to pay for flying lessons. While a junior at Northwestern, Lubin earned his private pilot's license.
After Oboe: Ozone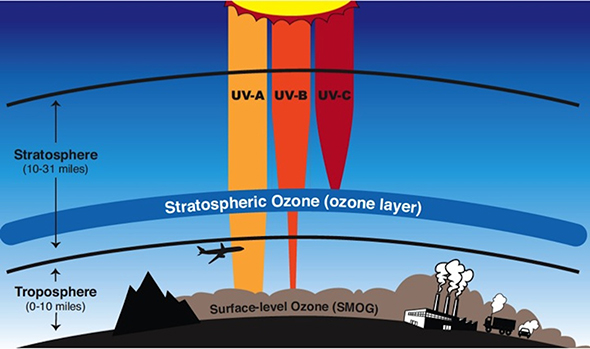 By the summer of 1986, Lubin was enrolled in a doctoral program at the University of Chicago (M.S. geophysical sciences, 1987; M.S. astronomy and astrophysics, 1987; PhD geophysical sciences, 1989).
His mentor there, the late atmospheric chemist John Frederick, was starting work on the ozone hole over Antarctica, a growing void in the stratosphere the size of North America.
Frederick got Lubin into ozone research and to Antarctica for the first time. The young PhD student joined a 1988 National Science Foundation (NSF) project at Palmer Station to measure ultraviolet (UV) radiation reaching the Earth's surface through the ozone hole.
There was concern about the potential devastating effects above-normal UV could have on Antarctica's "almost entirely marine ecosystem," he says, and the fragility of its very short food web.
Lubin deployed, on his own, in the cold and with little guidance, "a spectral radiometer optimized for (measuring) biologically relevant ultraviolet wavelengths."
"I was beta-testing an instrument in the field," he says, and for data "could only read the raw machine counts."
But by the end, adds Lubin, "I made one of the first two sets of measurements of ultraviolet radiation under the Antarctic ozone hole."
After four months of "anxious and miserable" fear that the raw machine counts showed the instrument was not working correctly, he says, in the last month they turned out to be "good enough to publish, after some post-season corrections."
"I always get ideas from what people are doing in other fields. It has made me a better scientist over the years."
– Dan Lubin
Lubin praises the equipment manufacturer, Biospherical Instruments of San Diego, for doing a great job responding to NSF's research requirements on very short notice.
"But it was a nail-biter," he adds, "for a nervous graduate student at Palmer Station."
Firming Up Specialties
Lubin's Palmer Station ozone data allowed him to complete his dissertation the following year, in 1989, after just three years of graduate study.
Palmer Station was also where he befriended a team of marine biologists from Scripps. They became his entre to that institution.
Once at Scripps, "I never looked back," says Lubin, who spent from 1990 to 1997 at an affiliate called the California Space Institute (CalSpace). The director in that era was former astronaut Sally Ride, the first American woman to fly in space.
During those first few years in San Diego, Lubin joined the U.S. Navy Reserve. He is a commander now, specializing in systems engineering.
He also revisited Palmer Station, though on behalf of atmospheric science this time.
Later, in 1993, he joined a shipboard research project called the Central Equatorial Pacific Experiment (CEPEX), sponsored by the National Center for Atmospheric Research (NCAR) in Colorado.
Lubin operated an infrared spectroradiometer onboard the NOAA Research Vessel John V. Vickers, which occasioned "my best early paper," he says: a 1994 study in Science on water vapor forcing. "A fun little paper (that) informed a lot of what I did with ARM later on."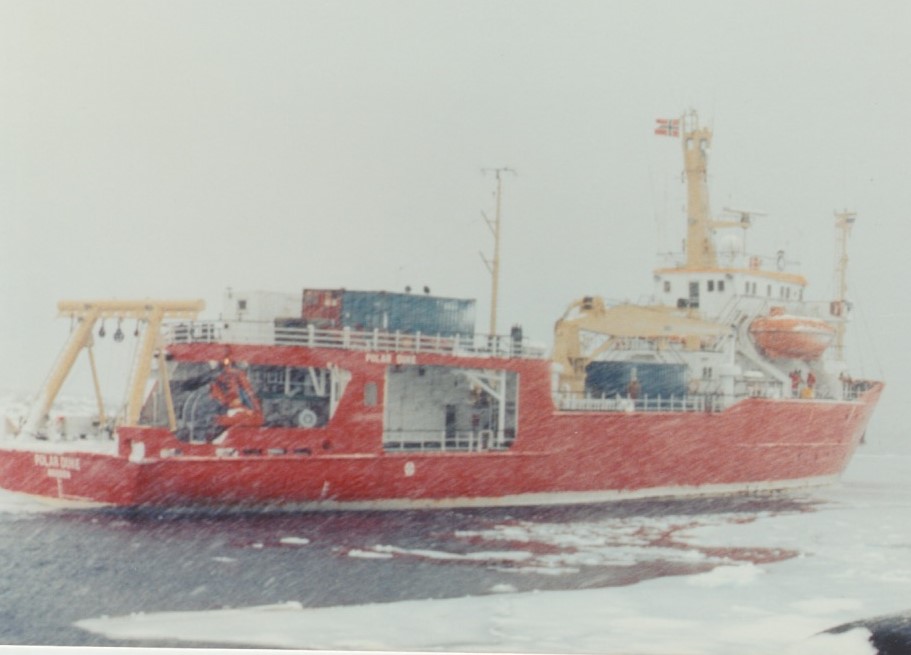 In 1994, Lubin headed for the North Pole on board the U.S. Coast Guard icebreaker Polar Sea. He was part of a program on atmospheric radiation, climate, and satellite remote sensing―subjects that by then Lubin was firming up as his specialties.
Pole to Pole
Starting in 1998, Lubin embarked on a nearly 20-year string of field programs that gravitated to the Earth's chilly high latitudes.
The first was Surface Heat Budget of the Arctic Ocean (SHEBA), a year-long drifting campaign in the Arctic Ocean that set the stage for MOSAiC two decades later. Lubin was co-principal investigator of the expedition's satellite remote sensing research program.
In 1999 and 2000, Lubin traveled to Palmer Station again, this time to help investigate atmospheric optics and satellite remote sensing.
In 2008, Lubin deployed a light-measurement tool called a shortwave spectroradiometer during ARM's Indirect and Semi-Direct Aerosol Campaign (ISDAC), an arctic aerosols experiment in and around the North Slope of Alaska.
By 2014, he was aboard a C-130 research aircraft, flying transects over the nearby Beaufort Sea during NASA's Arctic Radiation-IceBridge Sea and Ice Experiment (ARISE). Lubin was part of the cloud physics mission.
AWARE Lives On
Then came AWARE, the first substantial investigation of the West Antarctica Ice Sheet since 1957.
Years will pass before anything on that scale happens again, but Lubin has not stood still.
For one, "we just milk AWARE data," he says, and help papers roll in.
But Lubin is also miniaturizing core ARM instruments used in AWARE and making them transportable by small aircraft.
In late 2019, Lubin and a team successfully deployed a suite of instruments on Antarctica's Siple Dome, a polar desert whose ice cap climate never goes above freezing. (In September 2022, the team submitted a paper to the Journal of Climate.)
In time, with the right rugged instruments to revive an iteration of AWARE, "we could go anywhere in Antarctica," says Lubin. "And what we need to work towards are (automated weather stations) that can go year 'round."
'A Better Scientist'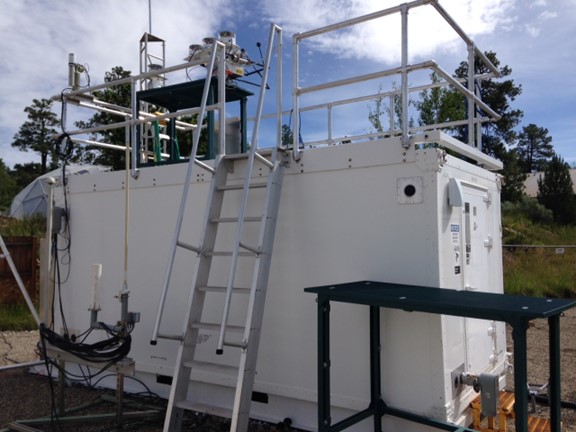 With Lubin still in the seat next to you, the plane is coming in for a landing.
But for a moment, he steers you back into outer space.
In the 1990s, Lubin was establishing himself as an atmospheric scientist. But he also kept alive the dream of deeper research into astrophysics and eventually starting his own observational astronomy program.
Lubin apprenticed with some UCSD astronomers, learned how to work the telescopes at Lick Observatory in California, and kept up a steady beat of studies that he says guarantee "you will see a lot of bizarre papers in my CV."
A recent point of pride is his research with David Tytler, a UCSD observational cosmologist, on ultraviolet fluxes from sun-like stars.
Thanks to such versatility and curiosity, Lubin has had a career of high flying and smooth landings.
"I always get ideas from what people are doing in other fields," he says, including Tytler and the marine biologists in long-ago Antarctica. "It has made me a better scientist over the years."
# # #
Author: Corydon Ireland, Science Writer, Pacific Northwest National Laboratory
This work was supported by the U.S. Department of Energy's Office of Science, through the Biological and Environmental Research program as part of the Atmospheric System Research program.