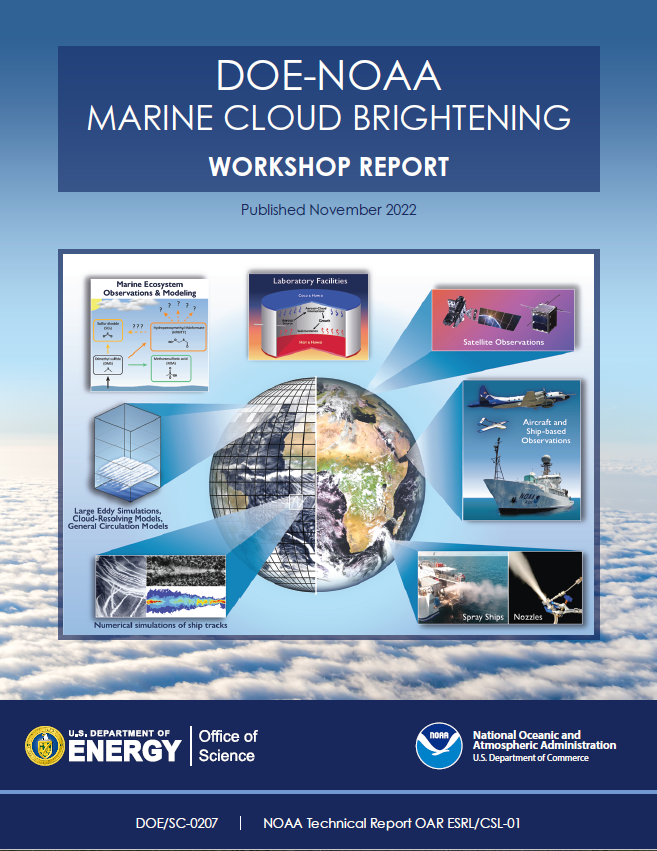 The U.S. Department of Energy's (DOE) Atmospheric System Research (ASR)—an Office of Science, Office of Biological and Environmental Research (BER) program, together with the National Oceanic and Atmospheric Administration's (NOAA) Office of Oceanic and Atmospheric Research (OAR), have published a new scientific report, DOE-NOAA Marine Cloud Brightening Workshop Report (PDF).
Marine Cloud Brightening (MCB) refers to the deliberate injection of aerosol particles into marine clouds to increase their reflection of solar radiation to temporarily cool the planet while decarbonization efforts are pursued. ASR and NOAA jointly sponsored a workshop to assess the state of knowledge of MCB and to provide a possible research path toward reducing unknowns in key components of the underlying physical science.
Workshop attendees spent three days in April 2022 discussing fundamental science questions and identifying key physical science knowledge gaps.  For more details, please see the workshop report.
The workshop focused on identifying key physical science knowledge gaps necessary to answer the following driving questions:
Is MCB feasible over sufficiently large regions, and is implementation practicable for long-enough durations to avert the worst impacts of global warming?
If practicable, what will be the regional impacts of such MCB interventions?
Do we have adequate systems in place to detect and quantify the effects of such interventions?
What physical and engineering science challenges must be resolved satisfactorily before we can consider embarking on MCB?
For more details, please see the workshop report (PDF).
# # #
This work was supported by the U.S. Department of Energy's Office of Science, through the Biological and Environmental Research program as part of the Atmospheric System Research program.