DOE Announces $12 Million to Fund ASR Science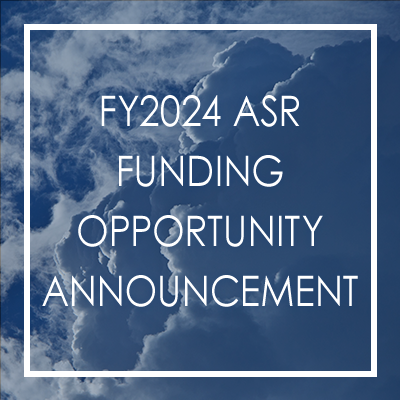 The U.S. Department of Energy (DOE) has announced $12 million in new research grants for Atmospheric System Research (ASR) program science.
DOE funding opportunity announcement: DE-FOA-0003194 (PDF)
ASR pre-application due date: November 30, 2023, 5 p.m. ET
Pre-application response from DOE: December 21, 2023, 5 p.m. ET
ASR application due date: February 13, 2024, 11:59 p.m. ET
Successful applicants will focus their research on observational, data analysis, and/or modeling studies that use observations supported by DOE's Biological and Environmental Research (BER) program, including the Atmospheric Radiation Measurement (ARM) user facility, to address one of the following research topics:
Aerosol processes at ARM sites;
Convective cloud processes;
Aerosol and cloud processes from ARM's Eastern Pacific Cloud Aerosol Precipitation Experiment (EPCAPE)
Mixed-phase cloud and ice cloud processes
"Researchers in the ASR community work on some of the most important and exciting questions facing atmospheric and climate science today," says ASR Program Manager Shaima Nasiri. "This announcement will help fund critical research on cloud, aerosol, precipitation, and the radiative transfer processes that affect our planet's radiative balance and hydrological cycle—especially those processes that limit the predictive ability of regional and global models."
Funding will be awarded competitively based on peer review and is expected to have total award amounts ranging from $200,000 to $945,000, beginning in fiscal year 2024.
More details about the research topics, award amounts, length of research projects, eligibility, and the new Promoting Inclusive and Equitable Research (PIER) Plan requirement are delineated in the funding opportunity announcement document linked above.
On November 9, BER hosted an informational webinar about this FOA. If you missed the webinar, the slides and recording are now available.
Pre-applications are required and should contain a concise description of the objectives and the technical approach that makes clear how the proposed research addresses the research topics of the FOA and how ARM-supported observations are integral to the proposed research.
Full details and application instructions are available in the funding opportunity announcement DE-FOA-0003194 (PDF). Pre-applications must be submitted by 5 p.m. ET, Thursday, November 30, 2023. DOE will respond to pre-application submitters, informing them whether a full application is encouraged or discouraged by December 21, 2023. Formal applications will be due Tuesday, February 13, 2024.
# # #
This work was supported by the U.S. Department of Energy's Office of Science, through the Biological and Environmental Research program as part of the Atmospheric System Research program.