Hurricane Sandy Falls on ASR Working Group Meeting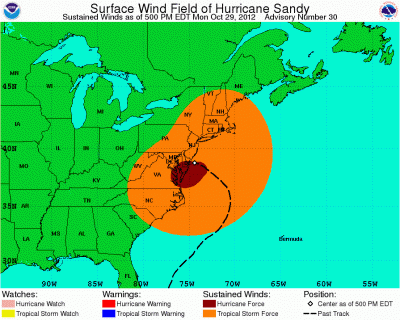 The Atmospheric System Research (ASR) working group meeting started on schedule this Monday, in spite of the imminent arrival of Hurricane Sandy. Most of the Cloud-Aerosol-Precipitation Interactions registrants are present, having arrived before the storm. There are many in the other two working groups—Aerosol Life Cycle and Cloud Life Cycle—whose flights were cancelled and several participants were wondering if they should reschedule their flights.
Weather conditions at the meeting location in Rockville, Maryland, are deteriorating and travel is not considered safe. In view of the difficulty and potential danger of travel, meeting organizers advise that working group members not attempt travel before the wind and rain from Sandy subside. The following steps are being taken to accommodate the registrants who were not able to make it to Rockville:
First, we have requested and hope to implement the ReadyTalk remote conference tool for the Aerosol Life Cycle and Cloud Life Cycle sessions starting Wednesday. Second, the leads for each of these sessions are revising their agendas to accommodate missing speakers and attendees for some of the topics. The revised schedules will be condensed and will conclude by midday Thursday. This will allow wider participation in the remaining sessions and eliminate the need for those considering heroic measures to arrive before the end of the meeting. Third, we will post the revised agendas and further information about ReadyTalk access on the ASR and Fall Meeting websites as soon as it is available.
While we are disappointed at having to scale back discussion of some of the key science topics, we hope to further accommodate some of these discussions next spring at the Science Team Meeting.
Ashley Williamson
DOE Program Manager
Atmospheric System Research Program Director