Highlights from the ASR First Science Team Meeting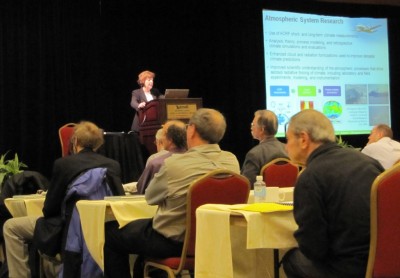 In mid-March, more than 350 participants gathered in Bethesda, Maryland, for the first scientific meeting of the newly established U.S. DOE Atmospheric System Research (ASR). Formed from the merger of DOE's former Atmospheric Science Program and Atmospheric Radiation Measurement science program, ASR's inaugural meeting provided an opportunity for scientists to discuss shared interests and review the latest results from cloud, aerosol, and precipitation studies.
The opening plenary session was highlighted by remarks from Anna Palmisano, Associate Director of the DOE Office of Biological and Environmental Research. She described how ASR fits into the broader structure of related DOE programs and the importance of its past contributions to climate model improvements. She also emphasized the teaming relationship between ASR and the ARM Climate Research Facility and complimented ASR on its recently published Science Plan. The remaining plenary included:
ASR programmatic updates from Kiran Alapaty and Ashley Williamson. They also presented awards to former chief scientists Steve Schwartz and Warren Wiscombe in recognition of their contributions to and leadership of ASP and ARM, respectively.
Working Group updates from Anthony Del Genio, Peter McMurry, and Steven Ghan, for the Cloud Life Cycle; Aerosol Life Cycle; and Cloud, Aerosol, and Precipitation Interactions groups, respectively.
Invited talks from external speakers Alexander Khain, the Hebrew University of Jersualem; Paul Ginoux, NOAA Geophysical Fluid Dynamics Laboratory; and Alan Blyth, National Centre for Atmospheric Science, United Kingdom.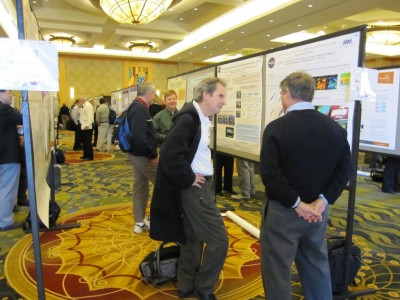 More than 265 posters were presented on Tuesday and Wednesday afternoon to review research progress and results; several of the posters were also chosen for oral presentations during the Wednesday afternoon plenary. People's Choice Poster Awards, voted on by meeting attendees, were presented to Christopher Lenhardt and Raymond McCord, from Oak Ridge National Laboratory, and Alla Zelenyuk, from Pacific Northwest National Laboratory. Working group chairs presented Student Poster Awards to Partha Bhattacharjee, Jianjun Liu, Emily Bruns, Matt Erickson, Stuart Evans, and Tyler Thorsen.
The meeting wrapped up on Thursday with breakout sessions for the Working Groups, and attendees were encouraged to participate in the group most closely aligned with their research area. See the ASR meeting website for the full meeting agenda and presentation PDFs.