From understanding of small-scale cloud processes to improvements to global climate models, a new brochure highlights advances in atmospheric science during the past five years from two tightly linked components within the U.S. Department of Energy's Office of Biological and Environmental Research: the Atmospheric System Research (ASR) Program and the Atmospheric Radiation Measurement (ARM) Climate Research Facility. These entities work cooperatively to connect observations and studies of Earth's atmospheric system with the computer models that open a window to Earth's future climate.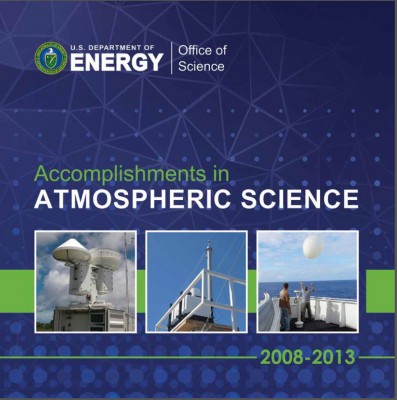 Available on the BER website, the brochure describes accomplishments in the following areas:
Improvements to Global Climate Models
New Techniques Improve Model Efficiency and Accuracy
Improved Measurements of Infrared Radiation
New Products for Evaluating Models.
Understanding Atmospheric Processes
African Aerosols as Seeds for Hurricanes
Vertical Motion Drives Cloud Lifetimes
Dissecting Tropical Storm Clouds
Unraveling the Mystery of Complex Arctic Mixed-Phase Clouds
Confirming the Impact of Aerosols on Clouds and Precipitation
Effects of Black Carbon on Heating
Measuring Trends in Carbon Dioxide Concentrations
Shedding Light on Organic Aerosols
Getting on the Scale to Reduce Variability and Uncertainty
Joining Forces to Address Global Climate Issues.
The brochure wraps up with a look to the future that emphasizes data and research for studying the life cycle of both clouds and aerosols, as well as their interactions. Applied to high resolution process modeling, advances in these areas will enhance the predictive capabilities of regional and global climate models.
To request a copy(ies) of the brochure, please contact armpubs@arm.gov.
# # #
This work was supported by the U.S. Department of Energy's Office of Science, through the Biological and Environmental Research program as part of the Atmospheric System Research program.