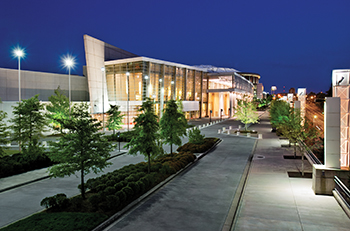 At the 94th Annual Meeting of the American Meteorological Society (AMS) from February 2-6, numerous scientists are presenting their research sponsored by the DOE Atmospheric System Research program. They are joining nearly 3,000 scientists, technologists, academics, students, and vendors in Atlanta, Georgia, to the meeting theme "Extreme Weather – Climate and the Built Environment: New Perspectives, Opportunities, and Tools." Research results at this year's meeting cover a range of topics relevant to the program's Working Groups: Aerosol Life Cycle, Cloud Life Cycle, and Cloud-Aerosol-Precipitation Interactions.
Among the student awardees to be recognized at the meeting, Shirley W. Leung, from the University of Washington (UW), received an AMS graduate fellowship this year sponsored by ASR. Leung received her undergraduate degree from the University of Pennsylvania and completed an internship at the Joint Institute for the Study of the Atmosphere and Ocean at UW. During her internship, she used a simple one-dimensional advection-diffusion model to simulate heat uptake in different regions of the ocean. Her graduate studies in physical oceanography at the School of Oceanography in the UW College of the Environment focus on understanding the physical and biogeochemical drivers of phytoplankton biomass and community structure in the Southern (Antarctic) Ocean.
See the presentations page for a complete list of oral and poster sessions featuring ASR research results.
Researcher Accomplishments Recognized
Several scientific colleagues recieved well-deserved recognition at this year's meeting. Our congrats to:
David Randall, Professor, Department of Atmospheric Sciences, Colorado State University, Fort Collins, Colo.—for transformative research into atmospheric convection and cloud processes and their improved representation in global weather and climate models, he is receiving the Jule G. Charney Award.
Courtney Schumacher, Professor, Department of Atmospheric Sciences, Texas A&M University, College Station, Tex.—for innovative use of observations to clarify the vertical structure of latent heating and the geographical distribution of convective and stratiform precipitation, she is receiving the Clarence Leroy Meisinger Award.
Gerald Geernaert, Director, DOE BER Climate and Environmental Sciences Division, Washington D.C.—AMS Fellow.
# # #
This work was supported by the U.S. Department of Energy's Office of Science, through the Biological and Environmental Research program as part of the Atmospheric System Research program.