Research Progress Reviewed at ASR Principal Investigator's Meeting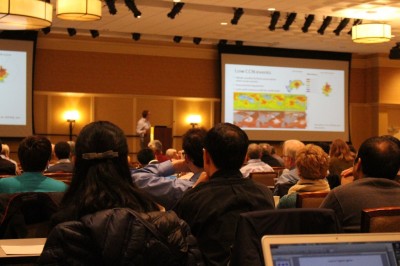 In mid-March, around 350 scientific colleagues convened at the Bolger Center in Potomac, Maryland, for the fifth annual Principal Investigator's Science Team Meeting of the U.S. Department of Energy's (DOE) Atmospheric System Research (ASR) program. Held from March 10-13, the weeklong meeting allowed scientists and colleagues to review group progress and discuss future directions for ASR research to continue its leadership role in atmospheric process research.
The meeting kicked off Monday afternoon with parallel sessions among the ASR working groups to review progress and results from the past year. The rest of the week's packed agenda included morning plenary presentations by selected principal investigators, afternoon poster sessions on Tuesday and Wednesday, and numerous evening breakout sessions.
Sharlene Weatherwax, Associate Director for the Office of Biological and Environmental Research (BER), opened Tuesday's plenary session, followed by Gary Geernaert, director of BER's Climate and Environmental Science Division, who emphasized the connections between the BER programs. Updates were then provided by the BER program managers:
Dorothy Koch, Climate Modeling: described the development of the Accelerated Climate Model for Energy (ACME), a 3-year project to improve codes and speed advances in DOE's Earth System Model.
Wanda Ferrell, Atmospheric Radiation Measurement (ARM) Climate Research Facility: outlined plans for the ARM Facility reconfiguration, including a series of upcoming workshops to discuss the science questions and need for improved and higher-density measurements to accelerate progress in model development.
Ashley Williamson and Sally McFarlane, ASR: provided a budget update and forecast for upcoming funding opportunities focused on specific topics, and emphasized the need for research highlights when papers are accepted for publication.

DOE also formally recognized two long-time leaders within the ASR and ARM communities:

Bob Ellingson, Professor of Meteorology at Florida State University, was recognized for over two decades of sustained scientific and personal contributions in a number of leadership roles, notably as leader of the original ARM Instantaneous Radiative Flux Working Group, Mission Scientist for the ARM UAV Program from 1994-2003, Chair of the ARM Science Team Executive Committee from 1995 to 2009, and for the last five years as Chair for the ARM and ASR Science and Infrastructure Steering Committee.
Kevin Widener, an engineer at Pacific Northwest National Laboratory who plans to retire this summer, was recognized for his 20 years of dedicated contributions as chief architect of the ARM Facility's one-of-a-kind global radar network; designer and builder of the original ARM Mobile Facility; and his 16 isolated weeks of participation in the ground- (or ice-) breaking field campaign, SHEBA.

During afternoon poster sessions on Tuesday and Wednesday, students and researchers presented over 200 posters on topics ranging from aerosol mixing state, warm low clouds, and deep convection, to vertical velocity, ice nucleation, and research infrastructure. The best student posters were announced during the closing plenary session on Thursday morning:

See the ASR meeting website for the full meeting agenda and presentations.